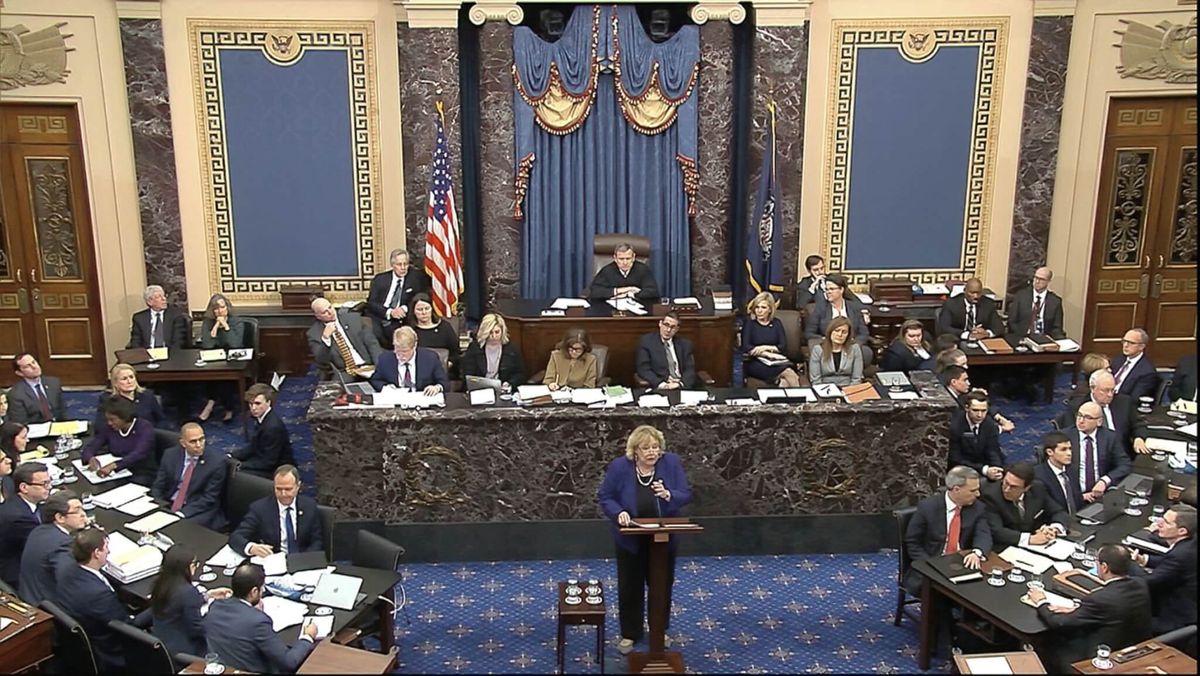 Trump Impeachment Trial: Forceful Closing Arguments for Conviction and Acquittal
February 3, 2020, 5:30 PM
Before members of Congress gather to hear U.S. President Donald Trump's State of the Union address Tuesday, senators will have the chance to give speeches on the floor of their chamber explaining where they stand on the president's impeachment trial.
The speeches by the senators, who are serving as the jurors in the trial, are not officially part of the trial itself, and are unlikely to make much difference in the senators' expected acquittal of Trump when they cast a final vote on Wednesday.
House Democrats prosecuting the impeachment case against Trump and his defense team offered forceful closing arguments Monday after two weeks of trial proceedings.
Congressman Adam Schiff, the lead House manager prosecuting Trump on two articles of impeachment, passionately implored the 100 members of the Senate acting as jurors, "We have proven Donald Trump guilty. Now, do impartial justice and convict him."
Schiff asked the majority bloc of 53 Republicans, "Is there one among you who will say, 'Enough'?" Schiff said Trump should be removed from office for his request last July to Ukrainian President Volodymyr Zelenskiy to launch an investigation into one of Trump's chief 2020 Democratic rivals, former Vice President Joe Biden, while at the same time blocking release of $391 million in military aid Kyiv wanted to fight pro-Russian separatists.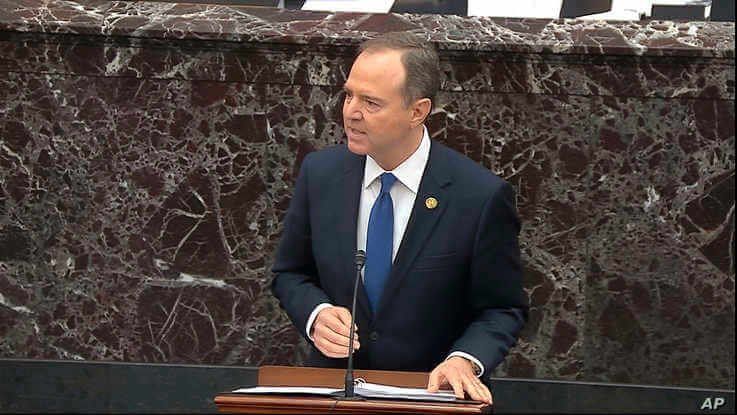 Senator Joe Manchin, a moderate Democrat, called on Congress to censure Trump.
"What the president did was wrong," the West Virginia Democrat said on the Senate floor Monday, but added, "I see no path to the 67 votes required to impeach."
"However, I do believe a bipartisan majority of this body would vote to censure President Trump for his actions in this manner," Manchin said. "Censure would allow this body to unite across party lines, and as an equal branch of government to formally denounce the president's actions and hold him accountable."
White House counsel Pat Cipollone told senators there was no evidence of Trump wrongdoing, and that rather than ousting Trump from office, the only solution was "to leave it to the voters" to decide his fate.
Despite the arguments, the impeachment outcome seems preordained, with 67 votes needed for conviction, and no Republican calling for his ouster nine months ahead of the November presidential election.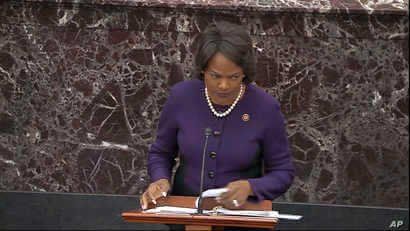 Congresswoman Val Demings, another of the House lawmakers prosecuting Trump, contended that Trump perpetrated "a grave abuse of power unparalleled in American history."
She said that when Trump asked Zelenskiy for the investigation of Biden and his son Hunter's work for a Ukrainian natural gas company, "the president was not focused on corruption," but rather looking to help himself politically on the assumption that Biden would be his opponent in next November's national election.
Demings said that Trump then blocked key aides from cooperating with House impeachment investigators and refused to turn over White House documents about his Ukraine-related actions.
"That's what guilty people do," Demings argued.
But Trump defense attorney Kenneth Starr called the House impeachment investigation of Trump "a rush to judgment," said it was unfairly conducted, and added that the Senate "shouldn't reward the prosecutors." He said that to convict Trump would be to tell Trump's 2016 voters, "Your vote in the last election is hereby null and void."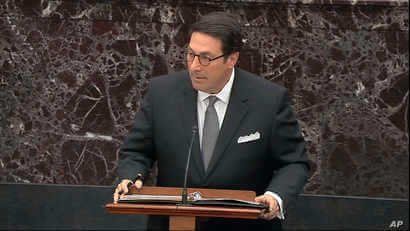 Trump lawyer Jay Sekulow added, "This entire campaign of impeachment … was a partisan effort" targeting Trump. He said House Democrats "have cheapened the power of impeachment and, unfortunately, the country is not better for that."
But another House impeachment manager, Congressman Hakeem Jeffries, said that if Trump is not removed from office for his conduct, it would deal "a death blow" to the possibility of impeachment of U.S. presidents in the future as laid out in the U.S. Constitution. Jeffries said behavior such as Trump's "would become the new normal."
The Wednesday vote will be on two articles of impeachment against Trump — that he abused the power of the presidency with the Ukraine request, and obstructed congressional review of his actions. With Trump's exoneration all but assured, the only question on the outcome appears to be whether any Democrats will vote to clear Trump, or possibly a Republican vote to convict him.
Trump's lawyers, and the president himself, argue he did nothing wrong, and that his actions did not rise to the level of an impeachable offense. Trump has long described his call to Zelenskiy as "perfect."
WATCH: Trump Trial Coming to an End
Sorry, but your player cannot support embedded video of this type, you can download this video to view it offline.
Embed" />Copy
Original Article