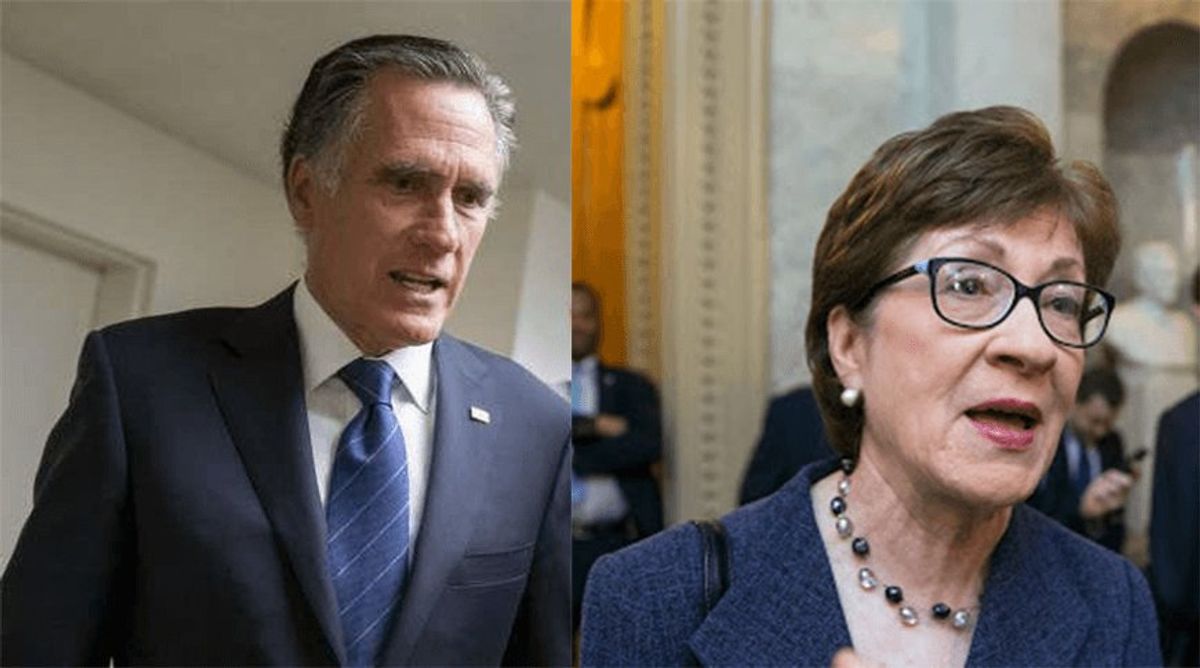 Collins, Romney join Dems in 51-49 vote against impeachment witnesses
On Friday, the Senate voted 51-49 to reject a motion to call witnesses in the impeachment trial of President Trump.  Two Republicans — Mitt Romney (a.k.a. Pierre Delecto) and Susan Collins — joined the Democrat minority calling for additional witnesses.
The vote all but ensured that Trump will be acquitted of the two charges brought forward by the Democrats.
Breitbart added:
House Democrats' impeachment managers failed to convince enough moderate Republicans to cross the aisle, falling short of the 51 votes need for more witnesses. Late Thursday evening, Sen. Lamar Alexander (R-TN) revealed that he will join the overwhelming majority of his colleagues to vote against hearing from others.

"I worked with other senators to make sure that we have the right to ask for more documents and witnesses, but there is no need for more evidence to prove something that has already been proven and that does not meet the United States Constitution's high bar for an impeachable offense," the retiring Tennessee Republican said in a statement.

Despite Alexander's opposition, Democrats still had a glimmer of hope if Sen. Lisa Murkowski (R-AK) voted their way, which would have set up Supreme Court Chief Justice John Roberts to decide on casting the tie-breaking vote. However, Roberts' aversion to politics had always made the prospect of him voting highly improbable.
Murkowski, the report said, slammed the "partisan nature" of the impeachment process and said Congress had failed to do its job.
"I worked for a fair, honest, and transparent process, modeled after the Clinton trial, to provide ample time for both sides to present their cases, ask thoughtful questions, and determine whether we need more," she said. "The House chose to send articles of impeachment that are rushed and flawed. I carefully considered the need for additional witnesses and documents, to cure the shortcomings of its process, but ultimately decided that I will vote against considering motions to subpoena."
Romney, Breitbart reported, said he thought it was important to hear from John Bolton.  Collins said she thought that hearing from witnesses was "the most sensible way to proceed."
Senate Majority Leader Mitch McConnell, R-Ky., stated: "Senators will now confer among ourselves, with the House Managers, and with the President's counsel to determine next steps as we prepare to conclude the trial in the coming days."
###
By Joe Newby
Joe Newby is a 10-year veteran of the U.S. Marine Corps, Joe ran for a city council position in Riverside, Calif., in 1991 and managed successful campaigns for the Idaho state legislature. Co-author of "Banned: How Facebook enables militant Islamic jihad," Joe wrote for Examiner.com from 2010 until it closed in 2016 and his work has been published at Newsbusters, Spokane Faith and Values and other sites. He now runs the Conservative Firing Line.