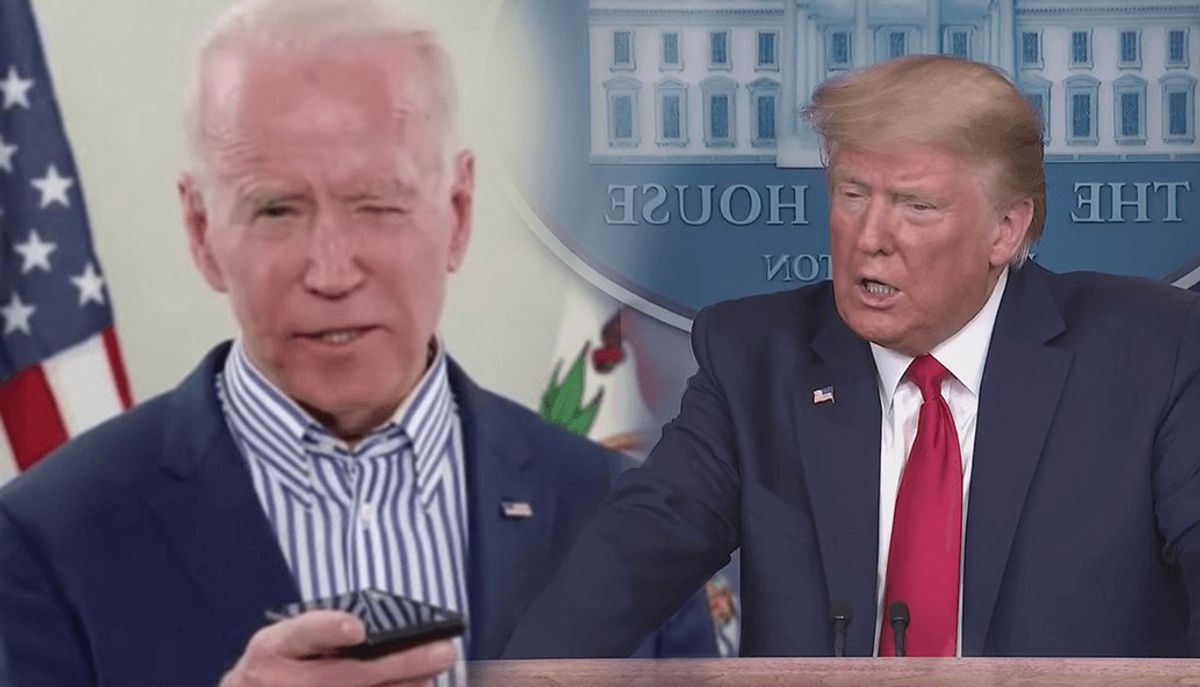 President Trump Outplays Biden on Chinese Virus Response
President Donald Trump is outplaying his Democrat rival Joe Biden in showing competence to the American people amid public health crisis and economic turmoil. An ABC/Ipsos poll released Friday showed Trump holding a 55 percent approval rating on his Coronavirus response, and his efforts have only gotten stronger in the past few days.
President Trump's White House press conference Sunday night made him seem like a resolute, details-oriented on the ground leader, in sharp contrast to his mentally confused Democrat counterpart.
"We will win the war," President Trump vowed, referring to himself as a wartime president fighting an invisible enemy. He promised that economic "pent-up demand" exists and the "economy will skyrocket" after America defeats the virus. He touted his delivery of respirators, surgical masks, face shields, and gloves to patients who need them, and highlighted the good work being done by his Veterans Affairs emergency operations centers. Beginning Tuesday morning, the Trump administration will have medicines delivered for analysis, and "we'll see if they work…they're effective in other ways."
Joe Biden emerged from relative hiding Monday with a low-quality video broadcast from his recreation room, which he has converted into a makeshift studio. Biden tripped over his words, spouted easily debunked falsehoods, and rambled in characteristic fashion, saying Trump is not responsible for Coronavirus but "he does bear responsibility for our response." Biden condemned "political attacks" during crisis, then launched political attacks on President Trump.
Biden seemed completely unfamiliar with what President Trump has actually done, or what Trump said in his evening White House press conference Sunday.
Biden took credit for suggesting that U.S. scientists should have been put on the ground in China in the early period of the outbreak. Trump already addressed that Sunday, saying he tried to get CDC scientists on the ground in China but the Chinese leaders would not allow the Americans in to their country, out of "pride." 
Biden went with the talking point that Republicans are pushing corporate stock buybacks, but Trump already said Sunday that he is totally opposed to stock buybacks and there's no reason the Democrats should disagree with him on that front. Rep. Kevin McCarthy, the House Republican leader, made clear that the Republican plan prohibits big corporate stock buybacks. Biden also criticized Trump for not compelling companies to produce medical supplies, though Trump already addressed that issue Sunday – saying that an effective nationalization of companies would not work, and that companies are already calling the White House to do their patriotic part. 
President Trump said Sunday that the Hanes underwear company is stepping up to make medical face masks, alcohol distilleries are stepping up to make hand sanitizer, and he's discussing ventilator production with General Motors and Ford. IBM is now partnering with the White House and the Department of Energy to run a super-computing program to "fight the Chinese virus" and "help researchers discover new treatments and vaccines."
This patriotic America First production, in the face of crisis, should be celebrated.
These are the kinds of initiatives that allow America to circumvent the Chinese, which is outright threatening to withhold medical supplies and pharmaceuticals from the United States. The Chinese have been hoarding American medical face masks manufactured in China, as even the liberal New York Times reported.
https://twitter.com/WBYeats1865/status/1241459766175522816
That's what President Trump is dealing with on an international level. Meanwhile, on a domestic level, he is dealing with politicized Democrat obstructionists. 
Biden criticized Trump for supposedly not moving fast enough, but it's the Democrats who are blocking the Republican fiscal stimulus bill, with debates in the Senate breaking down again Monday. Democrats are agitating for various provisions in the bill including $2 billion in "election funding" for early voting and Vote By Mail, a program that would abolish the current poll system that we have in favor of mail-in voting that an expert study has found to be vulnerable to fraud. 
House Republican leader Kevin McCarthy is placing blame on the Democrats for stalling the recovery package.
Biden has his own problems regarding China, as do his fellow Democrats.
As I noted for America's Voice News: When Hunter Biden joined his Vice President Dad on an official China trip in 2013, Hunter introduced Joe to Chinese private equity guru Jonathan Li, the eventual CEO of Bohai Harvest RST, the Chinese government-backed investment firm that Hunter's firm Rosemont Seneca Partners became a partner in less than two weeks after the trip, as reported by Peter Schweizer and Jacob McLeod for the New York Post.
Bohai Harvest RST just happened to invest in the China General Nuclear Power Company, which the U.S. Justice Department charged with espionage in 2016, alleging theft of American nuclear secrets.
In an unrelated exchange, Hunter picked up a nifty 2.8-carat diamond, worth $80,000 according to Hunter's aggrieved ex-wife, courtesy of Chinese energy businessman Ye Jianming during Hunter's stint on the board of World Food Program USA.
Don't expect "Sleepy" Joe Biden to wake up to China's aggression against the United States anytime soon.
When President Trump enacted travel restrictions with China on January 31, which a CDC official cited as making a huge difference in containing the virus in America, Joe Biden used his campaign perch in Iowa to growl, "This is no time for Donald Trump's record of hysteria and xenophobia."…
California Sen. Dianne Feinstein, currently plagued by revelations that she dumped stock after receiving an insider Coronavirus briefing for senators in late January, was caught Red-handed employing a Chinese spy for almost two decades.
Feinstein's driver and Asian-community liaison was a spy for the Chinese Communist Party during the period in which Feinstein served as chairwoman of the Senate Intelligence Committee – a period in which the Chicoms murdered or jailed at least 18 CIA sources between the years 2010 and 2012.
If common sense governed our political culture, Feinstein would not only have been immediately expelled from the Senate and stripped of all access to classified material, she would have also been investigated for treason. But America's political culture has not been serious in a very long time, due in large part to the fact that globalist elites brazenly deal with foreign enemies while the mainstream media diverts our attention or runs cover for the double-dealers selling off our country for scrap.
Feinstein's private equity billionaire husband Richard Blum expanded his portfolio in the 1990's by buying stakes in Chinese steel, candy, and soybean milk.
Some in the press tried to warn the world about Blum's multi-million dollar China dealings in 2000, as Feinstein was helping Clinton push through U.S. trade normalization with China. But crony corporate globalism proved too strong.
By Patrick Howley
###