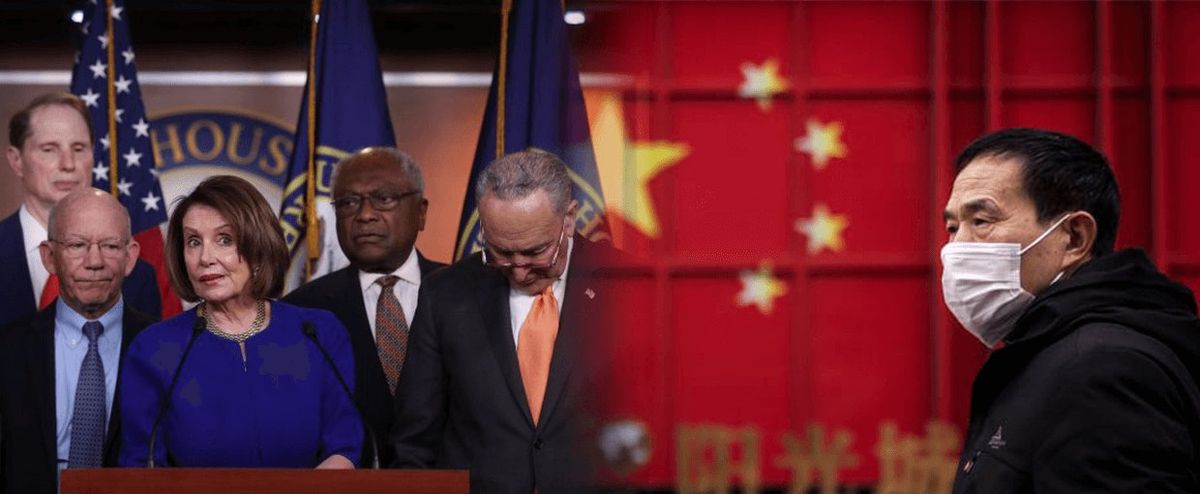 Democrat Dirty Deals With China Shed Light On Global Crisis
Democrats are abdicating their responsibility to positively contribute to the nation's Coronavirus outbreak response, instead pushing for politicized changes to November's election process and openly flacking for China, where the virus originated.
Democrats' close relations with the Chinese make them more toxic than ever, as Americans wake up to the perfidy of the Chinese Communist government, operators of the Wuhan Institute of Virology bioweapons laboratory. China has been a bad actor during this outbreak, exploiting political correctness by producing an ad through its China Global Television Network promoting Italian people hugging the Chinese while also warning through its domestic Xinhua News that it could withhold pharmaceuticals to ensure America is "plunged into the mighty sea of coronavirus." Talk about mixed messaging.
Insiders know that China has been waging a cold war against the United States for decades, emboldened by their entry into the World Trade Organization in 2001, which gutted American manufacturing and forged our reliance on Chinese imported goods including pharmaceuticals. Now, Democrat dealings with the hostile "Chicoms" are coming under scrutiny. 
"It is true. Justice always speak loudly," said China's ambassador to South Africa in a grammatically incorrect tweet, praising Democrat Hillary Clinton's criticism of President Trump for using the term "Chinese Virus." The ambassador's Twitter timeline is rife with retweets critical of President Trump and the United States.
Clinton, who is agitating for Congress to install a nationwide "Vote By Mail" system for November's election, knows where her rice is pork-fried.
The Clinton Foundation actively partnered with the Chinese pharmaceutical industry beginning in 2005 and provided cover for Chinese vaccine makers with the World Health Organization so they would not have to meet testing standards in many countries. During the Bill Clinton administration, which spearheaded the corporatist legislative effort to get China into the WTO, the Washington Post's Bob Woodward sounded the alarm on the Democratic National Committee's Chinese fundraising scandal.
"A Justice Department investigation into improper political fund-raising activities has uncovered evidence that representatives of the People's Republic of China sought to direct contributions from foreign sources to the Democratic National Committee before the 1996 presidential campaign, officials familiar with the inquiry said," Woodward and Brian Duffy wrote for the Post in 1997. "Sensitive intelligence information shows that the Chinese Embassy on Connecticut Avenue NW here was used for planning contributions to the DNC, the sources said. Some information was obtained through electronic eavesdropping conducted by federal agencies."
Hillary Clinton is known for her close association with the late banker David Rockefeller, who along with his informal subordinate Henry Kissinger is almost wholly responsible for the elevation of Communist China in the twentieth-century trade game. Rockefeller steered money to hundreds of Chinese institutions and met with the Chinese Premier in 1973. Rockefeller celebrated Mao Zedong's Communist movement "not only in producing more efficient and dedicated administration but also in fostering high morale and community of purpose," according to a prescient 1989 anti-China William F. Buckley column.
This China First economic system certainly benefited Michael Bloomberg, the anti-Trump billionaire whose querulous run for the presidency inspired populist graffiti and vandalism at his campaign offices.
Bloomberg recently promoted the cause of U.S. corporate trade in Chinese currency, and oversaw the expansion of a Bloomberg financial index that could lead to bigtime fees for Bloomberg while pumping $150 billion into Red China, according to the Washington Post. No wonder the former New York City mayor called Xi Jinping "not a dictator," which is one of the nicer things any responsible observer could say about the Chinese leader.
Meanwhile, the press should certainly ask House Speaker Nancy Pelosi some questions about her son Paul Jr.'s experiences visiting China in 2016.
California Sen. Dianne Feinstein, currently plagued by revelations that she dumped stock after receiving an insider Coronavirus briefing for senators in late January, was caught Red-handed employing a Chinese spy for almost two decades.
Feinstein's driver and Asian-community liaison was a spy for the Chinese Communist Party during the period in which Feinstein served as chairwoman of the Senate Intelligence Committee – a period in which the Chicoms murdered or jailed at least 18 CIA sources between the years 2010 and 2012.
If common sense governed our political culture, Feinstein would not only have been immediately expelled from the Senate and stripped of all access to classified material, she would have also been investigated for treason. But America's political culture has not been serious in a very long time, due in large part to the fact that globalist elites brazenly deal with foreign enemies while the mainstream media diverts our attention or runs cover for the double-dealers selling off our country for scrap.
Feinstein's private equity billionaire husband Richard Blum expanded his portfolio in the 1990's by buying stakes in Chinese steel, candy, and soybean milk. Some in the press tried to warn the world about Blum's multi-million dollar China dealings in 2000, as Feinstein was helping Clinton push through U.S. trade normalization with China. But crony corporate globalism proved too strong.
Joe Biden, inexplicably the Democrat presumptive nominee in the 2020 presidential race, also knows his way around a pair of chopsticks. 
When Hunter Biden joined his Vice President Dad on an official China trip in 2013, Hunter introduced Joe to Chinese private equity guru Jonathan Li, the eventual CEO of Bohai Harvest RST, the Chinese government-backed investment firm that Hunter's firm Rosemont Seneca Partners became a partner in less than two weeks after the trip, as reported by Peter Schweizer and Jacob McLeod for the New York Post.
Bohai Harvest RST just happened to invest in the China General Nuclear Power Company, which the U.S. Justice Department charged with espionage in 2016, alleging theft of American nuclear secrets.
In an unrelated exchange, Hunter picked up a nifty 2.8-carat diamond, worth $80,000 according to Hunter's aggrieved ex-wife, courtesy of Chinese energy businessman Ye Jianming during Hunter's stint on the board of World Food Program USA.
Don't expect "Sleepy" Joe Biden to wake up to China's aggression against the United States anytime soon. When President Trump enacted travel restrictions with China on January 31, which a CDC official cited as making a huge difference in containing the virus in America, Joe Biden used his campaign perch in Iowa to growl, "This is no time for Donald Trump's record of hysteria and xenophobia."
A patriotic pundit might say this is no time for Joe Biden's record of cronyism and anti-Americanism. 
China's karate grip on the U.S. economy might compel the Non-Playable Characters in the American mainstream media to whine about Trump's supposed xenophobia when he mentions the "Chinese Virus," and it might lead the New York Times to erase the word "Wuhan" from its Coronavirus map. But it can't whitewash the American public's growing righteous skepticism of the Chinese. The American flag still means something to people outside Washington, D.C., especially in a crisis. The more Democrats cozy up to our Chinese counterparts, the more shame they bring on our American ancestors. And the bleaker their electoral fortune cookie becomes.
By Patrick Howley
###