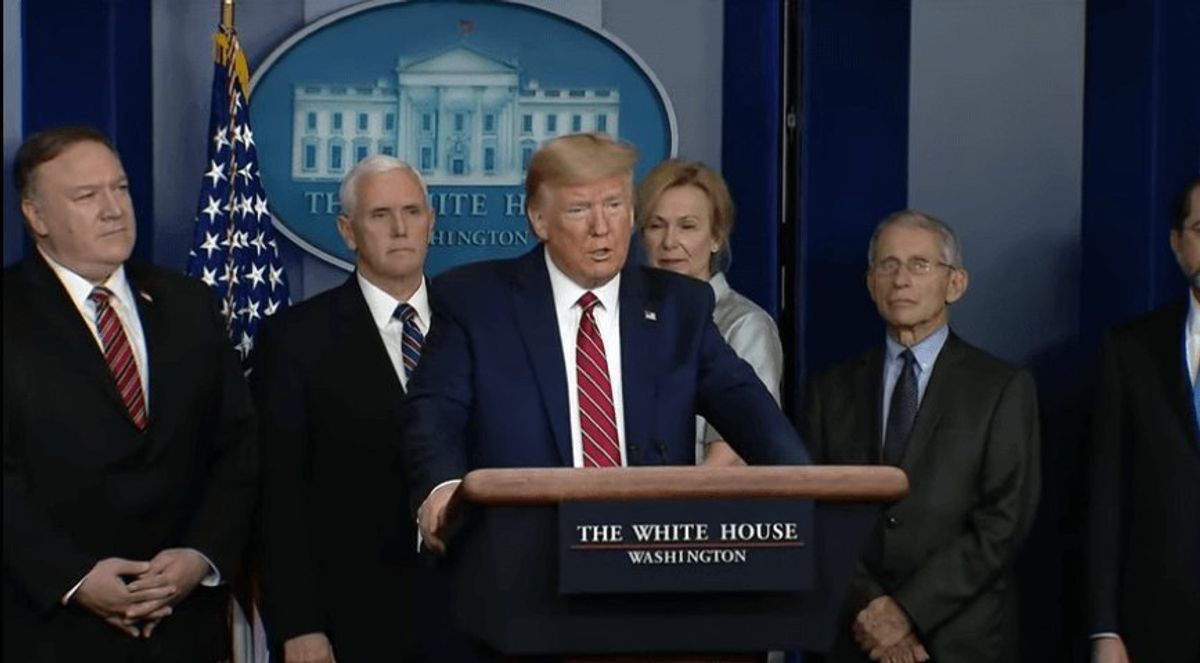 Trump Team Doubles Down In Fighting The "Chinese Virus"
President Donald Trump and his team highlighted their commitment to fighting the global Coronavirus pandemic at a White House press briefing Friday, with Secretary of State Mike Pompeo taking aim at the "Chinese virus."
Trump is doubling down on spotlighting the national origin of the virus, which started in Wuhan, China, home of the Chinese government-controlled Wuhan Institute of Virology bioweapons laboratory. 
Trump is taking wide-ranging steps to fight the virus and to help Americans affected by record economic volatility, caused in part by stock market tumult due to the fact that America imports goods on a mass level from China.
Trump is waiving interest on student loans owed to the federal government, and he teased a more extensive student loan fix Friday to be announced in the future. The Republicans are offering Americans a tax rebate to help offset financial costs while also bailing out select industries. Trump is also discussing a potential executive order to fix America's reliance on Chinese-made pharmaceuticals. The Clinton Foundation notably partnered with the Chinese pharmaceutical industry in recent years while also helping Chinese vaccine makers skirt World Health Organization scrutiny.
The Trump administration is upping its border security measures, announcing that illegal alien border crossers will be turned right around and sent back home to their own countries, not given safe haven with a court date in the United States, as has been customary. This emergency policy hopefully suggests the administration's permanent commitment to stopping illegal immigration going forward.
Trump and Pompeo were both dismissive of the press during Friday's briefing. The media has mostly focused during this crisis on supposed xenophobia stoked by Trump acknowledging the virus' Chinese origin. The New York Times even went so far as to erase the word "Wuhan" from its online Coronavirus Map and associated article, either out of an abundance of political correctness or to appease the Swamp's Chinese Communist masters.
Trump did not take any guff Friday from one "terrible reporter" in particular.
Pompeo, likewise, brushed off a question from a reporter who simply wanted to complain about perceived mistreatment of the press itself.
Trump is resolute in spotlighting China, even using a Sharpie to revise a reference to "Coronavirus" in a speech earlier in the week to "Chinese Virus."
Trump does not suffer fools with regard to the China issue, brushing off media gossip that an unidentified member of his White House referred to the virus as "Kung Flu."
One America News' Chanel Rion put the issue in perspective Thursday, allowing President Trump to shoot down fatuous xenophobia accusations during this time of crisis.
Republicans are mostly putting up a united front when it comes to spotlighting China. Texas Senator John Cornyn made it clear that China is home to barbaric culinary practices that undermine public health.
Cornyn is correct in his assertion that people eat "bats, and snakes, and dogs" in Chinese culture, as evidenced by the 2015 appearance of dog meat at a Chinese restaurant in Tijuana, Mexico. Here is one disturbing video out of China of a man cooking a dog alive:
https://twitter.com/JenniferHYChan/status/1240143066922655746?s=20
Experts have traced the virus' arrival in America to exposure from three different overseas locales: China, Iran, and Europe. President Trump attempted to ban travel from a number of terrorist-rich Islamist countries in the early days of his administration, including Iran.
Trump's Democrat 2020 presidential rival Joe Biden has been relatively absent from the major headlines during the outbreak, save for a clueless debate performance against his now-vanquished primary opponent Bernie Sanders, in which neither man seemed to have a grip on how to handle a public health crisis.
Biden already disparaged President Trump's initial travel restrictions on China, which a CDC official credits with staving off a more catastrophic doomsday scenario in the United States.
Biden echoed the sentiments of the mainstream media and other progressive Democrats by accusing Trump of "xenophobia," right after Trump first enacted the Wuhan travel restriction at the end of January.
"The American people need to have a president who they can trust what he says about it. That he's going to act rationally about it. In moments like this, this is where the credibility of our president is most needed, as he explains what we should and should not do. This is no time for Donald Trump's record of hysteria and xenophobia," Biden said in a speech in Iowa on January 31.
President Trump and his response team continue to handle the crisis responsibly, while reporters act like petulant teenagers unable to cope with reality.
The American people do not care about the media's pet obsessions – including manufactured cries of xenophobia and navel-gazing media victimization narratives. It's jarring to see how much the American media has declined in quality since the aftermath of the September 11 attacks, when national interests were at least put above the liberal media's own partisan concerns.
The political class and its scribes and pharisees don't even pretend to care anymore about the health of the nation, either physically, financially, or spiritually. We have entered total politicization. We realize that many of our leaders and people tasked with giving us information are juvenile to the point of total worthlessness. Even worse, they are an outright strain on society. Being the adult in the room, as President Trump knows, is not an easy job. But clearly no one else is going to do it.
### By Patrick Howley