US House Members Near Forcing 'Dreamer' Immigration Debate
US House Members Near Forcing 'Dreamer' Immigration Debate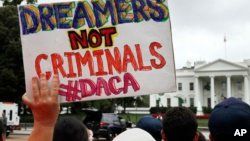 An effort in the U.S. House of Representatives aimed at forcing a debate on bipartisan legislation protecting young "Dreamer" immigrants from deportation edged closer to success Tuesday when two more Democrats signed on.
A petition was launched last month by centrist Republicans who say they are tired of inaction on immigration in the Republican-controlled Congress.
They want the House to debate and vote on several bills including a bipartisan one to protect immigrants brought illegally as children to the United States.
The issue has bitterly divided Republicans, but nearly all Democrats favor holding the debate and had signed the petition as of late last month. But there were three Democratic holdouts from the Texas border region who are worried an immigration deal might lead to the building of a U.S.-Mexico border wall that Republican President Donald Trump wants and that they oppose.
On Tuesday, two of the holdouts, Representatives Vicente Gonzalez and Filemon Vela, said they would sign the petition, leaving the effort just three names short of the 218 required to force a debate and votes on the House floor.
The sponsors have said they expect to have enough signatures, but House Republican leaders oppose the effort and have called a party meeting for Thursday to discuss the issue.
Gonzalez said in a statement that he was signing with the intent of helping immigrants, but added: "I will not accept" a fix "that includes funding for a border wall." Vela wrote a similar statement on Twitter.
Several House Republicans also oppose the construction of a wall and instead favor more high-tech solutions to border security.
One other Texas Democrat, Representative Henry Cuellar, still has not signed the petition, as well as many Republicans.
Cuellar said on Tuesday he needed a commitment from Democratic leadership "saying that they will not support a border wall in exchange for [helping] Dreamers" before he could sign.
"The construction of a physical wall is an expensive and inefficient use of our taxpayers' hard-earned dollars," he said in a statement.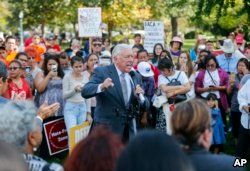 The No. 2 House Democrat, Steny Hoyer, said the goal was to have all 193 Democratic lawmakers sign the petition. It calls for debate and votes on four different bills to replace the Obama-era Deferred Action for Childhood Arrivals, or DACA, program, which Trump ended on March 5.
Several Republicans who favor allowing the young immigrants to get on a path to citizenship represent districts with large Hispanic populations, and fear a backlash if Congress fails to act.
JOIN US ON RUMBLE LIVE NOW!