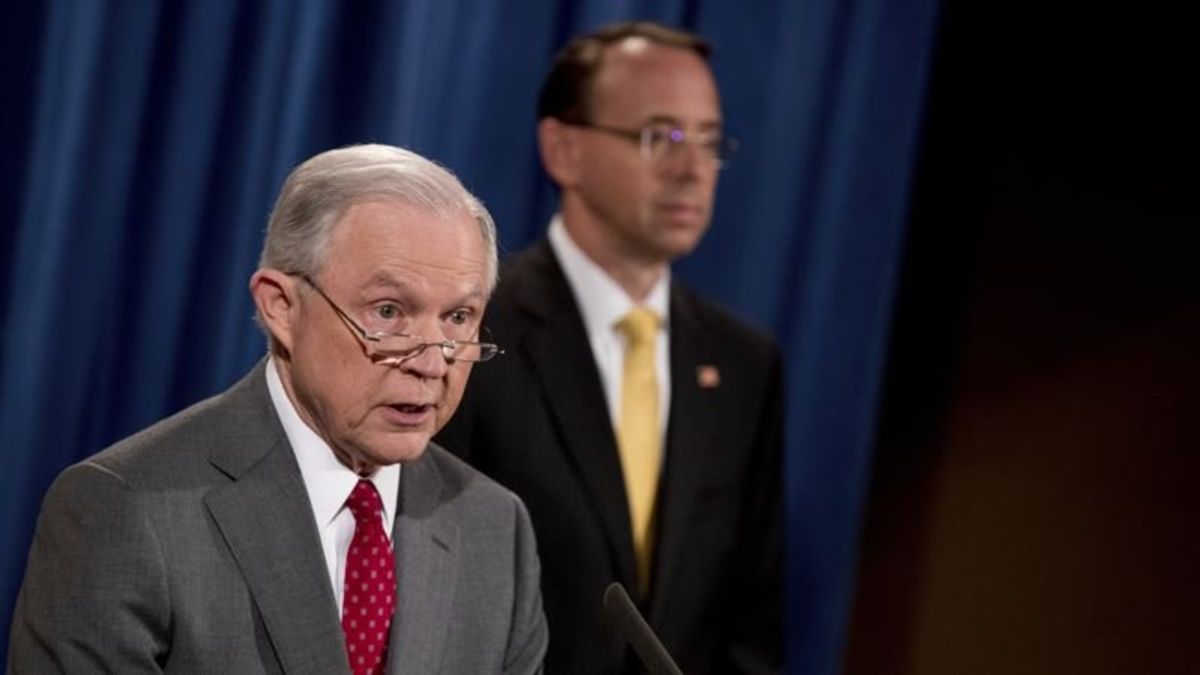 US Attorney General Backs Deputy Against Impeachment Demand
US Attorney General Backs Deputy Against Impeachment Demand
WASHINGTON —
U.S. Attorney General Jeff Sessions said Thursday he has the "highest confidence" in his deputy, Rod Rosenstein, rebuffing the demands of a conservative bloc of Republican lawmakers that Rosenstein be impeached and removed from office.
Speaking at a Boston news conference, Sessions said, "My deputy Rod Rosenstein is highly capable."
He added, "I'd like Congress to focus on some of the legal challenges out there. We need Congress to deal with immigration."
Sessions, the country's top law enforcement official and head of the Department of Justice (DOJ), offered his support for Rosenstein a day after 11 Republicans in the House of Representatives launched an effort to impeach Rosenstein, accusing him of misconduct and failing to adequately share information related to the special counsel, Robert Mueller's, criminal probe of Russian influence in the 2016 U.S. presidential election.
Rosenstein oversees Mueller's probe and has become a target of U.S. President Donald Trump's ire and his allies in Congress, including the lawmakers who started the impeachment process. The impeachment effort is opposed by Speaker Paul Ryan, leader of the Republican-controlled House.
There was no immediate vote set in the House on the impeachment demand and the chamber is shutting down Thursday for a five-week summer recess.
Rosenstein has overseen the Mueller investigation since Sessions recused himself from the matter because of his own contacts with Russia's ambassador to Washington during the election campaign. Rosenstein then appointed former FBI director Mueller to lead the investigation into whether Trump's campaign colluded with Russia and whether Trump as president obstructed justice in firing then-FBI chief James Comey, who was leading the agency's Russia probe at the time he was ousted. To date, Mueller's team has indicted 32 people, including several who worked for Trump's campaign, and secured a handful of guilty pleas to various charges.
'Witch hunt'
Trump and his allies have repeatedly decried the probe as a "witch hunt," and Trump has denied his campaign colluded with Russia to help him win the 2016 election.
Congressman Mark Meadows, one of the lawmakers seeking to impeach Rosenstein, said Wednesday the Justice Department "has continued to hide information from Congress and repeatedly obstructed oversight–even defying multiple congressional subpoenas. We have had enough."
Another impeachment supporter, Congressman Jim Jordan, said, "We can't get answers for the American people if we can't get information from the DOJ. It's time to impeach Rod Rosenstein."
The Justice Department says it has turned over more than 800,000 files the lawmakers have been seeking.
If the impeachment measure does come before the full House for a vote, it will not happen soon. With the summer recess, lawmakers are not due to return to work on Capitol Hill until September.
Rep. Adam Schiff, the top Democrat on the House Intelligence Committee, attacked the impeachment effort.
"These articles of impeachment against Rod Rosenstein were filed in bad faith and show extraordinary lengths to which House Republicans will go to protect Trump," he said. "History will record these members as willing accomplices in the most serious threat to the rule of law in a generation."
House Democratic Leader Nancy Pelosi responded to the impeachment articles by saying her party would call for a vote on "new sanctions against those who attack U.S. elections" while Republicans "ignore this threat to [national] security, attack Mueller's investigation & protect Trump from the rule of law."