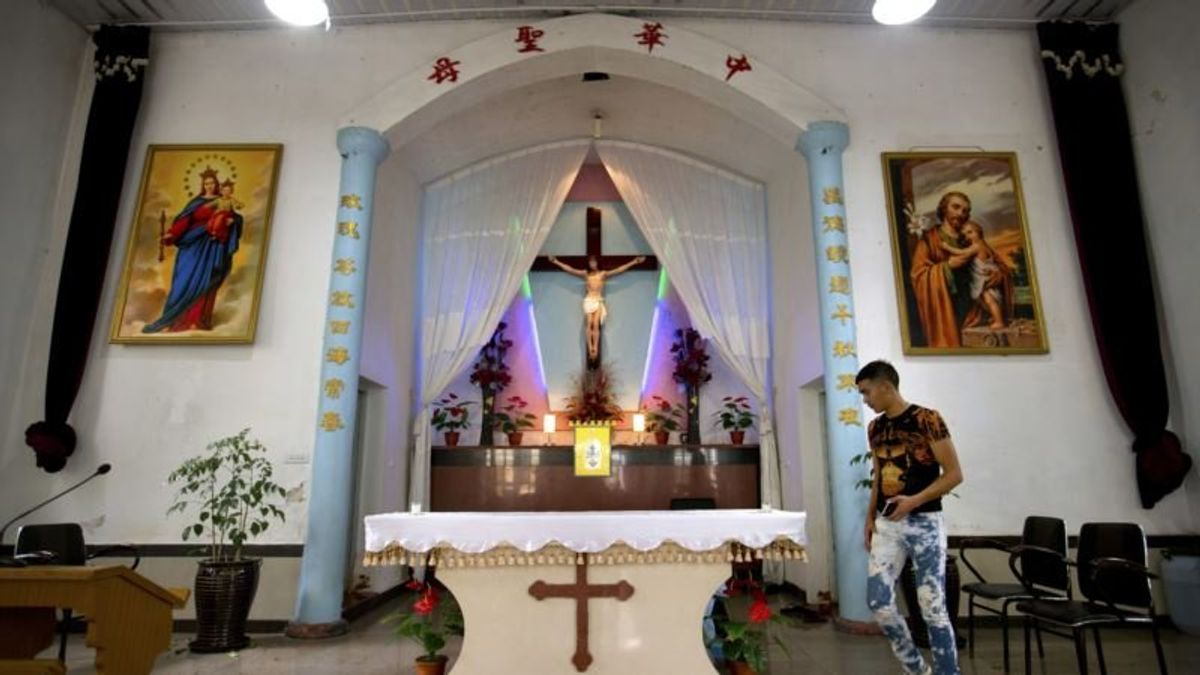 Trump Administration's Promotion of Religious Liberty Criticized at Home
Trump Administration's Promotion of Religious Liberty Criticized at Home
This week the Trump administration is hosting an international summit in Washington aimed at advancing religious freedom around the world.
Government representatives say the event showcases the link among freedom of worship, human rights and economic prosperity.
"America stands for religious freedom not only because it is the morally right thing to do, but because religious freedom also strengthens communities, supports economic development, and advances peace," Secretary of State Mike Pompeo told the summit Thursday.
Much of the focus is on preventing the persecution of religious minorities, and confronting legal challenges to religious freedom.
But at home in the United States, critics say the administration has embraced policies that elevate religious liberty over civil rights, in order to appeal to President Donald Trump's Christian evangelical base.
"There is a redefinition of religious freedom…by the religious right to define it as the right to take away rights from others if you have a religious disagreement with them," said Annie Laurie Gaylor, co-president of Freedom From Religion Foundation, the nation's largest atheist organization.
Trump is an unlikely champion of religious liberty. A Presbyterian Christian by birth, the U.S. president rarely discusses his faith and has said he goes to church "as much as I can."
But he won the 2016 presidential election with support from Christian evangelical voters, wooing them with the promise to promote religious liberty after a period during which politicians were in his words, "selling Christianity down the tube, selling evangelicals down the tube."
"I think he realized it was important to a number of his constituents," said Kelly Shackelford, president and CEO of First Liberty Institute, a religious freedom legal advocacy group, who attended aJune 2016 meeting of more than 1,000 evangelical and Catholic leaders with Trump in New York.
Questions about religious liberty dominated the discussion.
"Those kinds of meetings and things like that, I'm sure, highlighted it even more and he made promises to really pay attention to religious freedom," he said.
Balancing religious liberty and civil rights
There is a long history in the U.S. of the struggle to balance religious liberties with civil rights. On issues such as gay rights, religious groups arguing that the country's civil laws violate their beliefs have turned to the courts.
Since taking office, Trump has nominated pro-life Supreme Court justices and lower court judges favored by conservatives on these issues. He also has issued an executive order on religious liberty, declaring a new policy "to vigorously enforce Federal law's robust protections for religious freedom."
The May 2017 order directed all executive branch agencies to "respect and protect the freedom of persons and organizations to engage in religious and political speech."
It barred the Internal Revenue Service from penalizing individuals and organizations that have spoken "about moral or political issues from a religious perspective…."
And it instructed the Departments of Treasury, Labor and Health and Human Services to grant exemptions to religious objectors to Obamacare's controversial preventive care mandate.
Many on the right viewed the contraceptive mandate as an assault on religion. Religious organizations filed over 100 lawsuits to challenge it. When the Department of Health and Human Services rolled back the mandate last October, advocates hailed it as a triumph of religious freedom.
While Trump made religious freedom the centerpiece of his campaign to court religious voters, it was left to his attorney general, Jeff Sessions, to carry out much of his religion agenda.
Carrying out Trump's religious agenda
Sessions, a devout member of the Methodist Church, a mainline Protestant denomination, issued a guidance in October for federal agencies "to ensure the religious freedoms of Americans are lawfully protected."
Among 20 religious liberty principles, the guidance said that "the free exercise of religion includes the right to act or not to act" according to one's beliefs, that the freedom extends to both individuals and organizations, and that religious employers can hire their co-religionists.
"Except in the narrowest of circumstances, no one should be forced to choose between living out his or her faith and complying with the law," Sessions wrote.
Then in June, Sessions announced a new initiative by the Justice Department to bring more lawsuits against municipalities that discriminate against religious institutions building houses of worship, including synagogues and mosques.
The attorney general's advocacy of religious freedom has extended to courts. Over the past year, the department has successfully advocated before the Supreme Court on behalf of a Colorado baker who refused to bake a wedding cake for a gay couple, defended a law that allows the clergy to receive tax free housing allowances, and challenged Washington Metro's refusal to carry a religious ad by the Diocese of Washington.
While widely hailed by advocates of religious freedom, the administration's policies have been met with sharp criticism by civil rights organizations.
The Council on American-Islamic Relations of New York and Columbia Law School's Public Rights/Private Conscience Project said the president's executive order "will have the effect of favoring majoritarian faiths at the expense of religious minorities."
In a scathing report, the Columbia Law School project and the left-leaning Center for American Progress in Washington called the actions "a license to discriminate against LGBTQ people, women, religious minorities and non-religious people."
"The Trump administration has systematically redefined and expanded the right to religious exemptions, creating broad carve-outs to a host of vital health, labor, and anti-discrimination protections," the report said.
Shackelford of First Liberty Institute dismissed concerns the Trump administration's religious freedom policies are discriminatory against protected classes.
"Religious freedom is for everybody," he said. "There are people who because they think their issue, whatever that is, is so important that other people's religious freedom should be taken away, that's just not what our country was built upon."