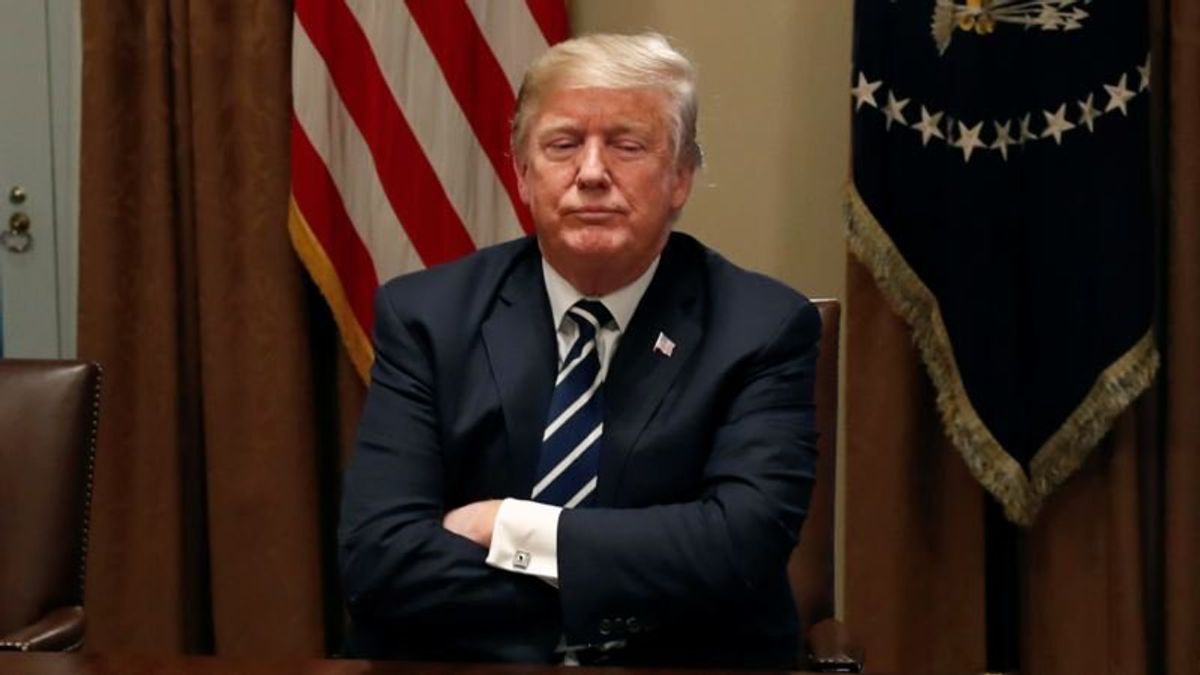 Trump Defends Putin Summit as Poll Shows High Disapproval
Trump Defends Putin Summit as Poll Shows High Disapproval
WASHINGTON —
President Donald Trump continues to defend his recent summit with Russian President Vladimir Putin. Trump said Monday on Twitter that he made no concessions to Putin in their meeting last week.
The president's performance got a negative review in the latest Washington Post-ABC News poll, which found that 50 percent of Americans disapproved of his handling of the summit, compared to 33 percent who approved.
Trump has been on the defensive over the summit since returning from Helsinki, especially during a key moment when he was asked about Russian meddling in the 2016 U.S. presidential election as Putin stood beside him.
"My people came to me, [Director of National Intelligence] Dan Coats came to me and some others; they said they think it's Russia," Trump said at his joint news conference with Putin. "I have President Putin; he just said it's not Russia."
'Gave up nothing'
In offering his defense on Twitter, Trump wrote that he "gave up nothing" in his meeting with Putin and talked about "future benefits for both countries."
Trump also renewed his attacks on the Russia probe in a tweet Sunday, describing it "as a big hoax."
In recent days, both Democrats and Republicans have criticized Trump's Helsinki performance.
"President Trump obviously seemed frightened in the presence of Putin," said House Democratic leader Nancy Pelosi of California. "What was he afraid of? What is President Putin blackmailing President Trump with?"
A larger than normal chorus of Republicans also expressed dismay about the Putin meeting – including one of Trump's few regular Republican critics, Arizona Senator Jeff Flake.
"We have indulged myths and fabrications and pretended that it wasn't so bad, and our indulgence got us the capitulation in Helsinki," Flake said in a speech on the Senate floor.
Trump defenders spoke up as well, including 2016 Republican rival and Texas Senator Ted Cruz.
"I think we are also seeing a lot of folks on the political left trying to take advantage of it, hyperventilating and using extreme rhetoric, using words like treason, which is ridiculous," Cruz told reporters. "It was a mistake. He shouldn't have said what he said."
Tougher stance
After several days of criticism, Trump issued a stronger statement on the threat of Russian interference in this year's midterm congressional elections.
"Unlike previous administrations, my administration has and will continue to move aggressively to repeal any efforts and repel. We will repel it. Any efforts to interfere in our elections," Trump told his Cabinet last week.
Trump's summit drew strong reactions from voters around the country as well.
"Putin is almost like an evil genius in a way. He is very manipulative and he knows what he is doing and I think Trump really got played," said one Trump critic interviewed by VOA's Russian Service in New York City.
Trump supporters were quick to jump to his defense. "I think it all boils down to, point blank, a sore loser. And they are just grasping at straws," said a woman, interviewed by Associated Press Television, outside a coffee shop in Mississippi.
Lasting damage?
Analysts continue to debate whether Trump has hurt himself politically.
"I think it is lasting political damage, but more importantly, it is lasting damage to his presidency," said Elaine Kamarck, a political expert with the Brookings Institution in Washington. "It raises very, very serious questions about either his competence or his integrity, and neither one is something you want to question in a president."
Kamarck argued the summit could have an impact on both Trump critics and supporters. "There are people who have been suspicious of the president from the beginning who are outraged at his behavior with Russia," she said. "And there are people who have wanted to believe him and are for him, and many of them are mystified."
Given Trump's loyal political base, will many of them be swayed? John Fortier of the Bipartisan Policy Center is not so sure.
"The average Republican voter is with Donald Trump," he said. "The elites of the Republican Party are very split on him, but the average Republican voter believes in him."
In addition to the recent Washington Post-ABC News poll, a survey by CBS News found only 29 percent approved of Trump's handling of the summit, while 56 percent disapproved. Among Republicans in the CBS survey, 68 percent approved compared to only 21 percent who disapproved.
In the latest Wall Street Journal-NBC News poll, 45 percent of those surveyed felt Trump's relationship with Putin was "too friendly," while 29 percent disagreed and 26 percent had no opinion.
So it remains an open question as to whether the summit will actually move voters in one direction or another, or simply be added to the long list of issues for them to sift through before midterm congressional elections in November.