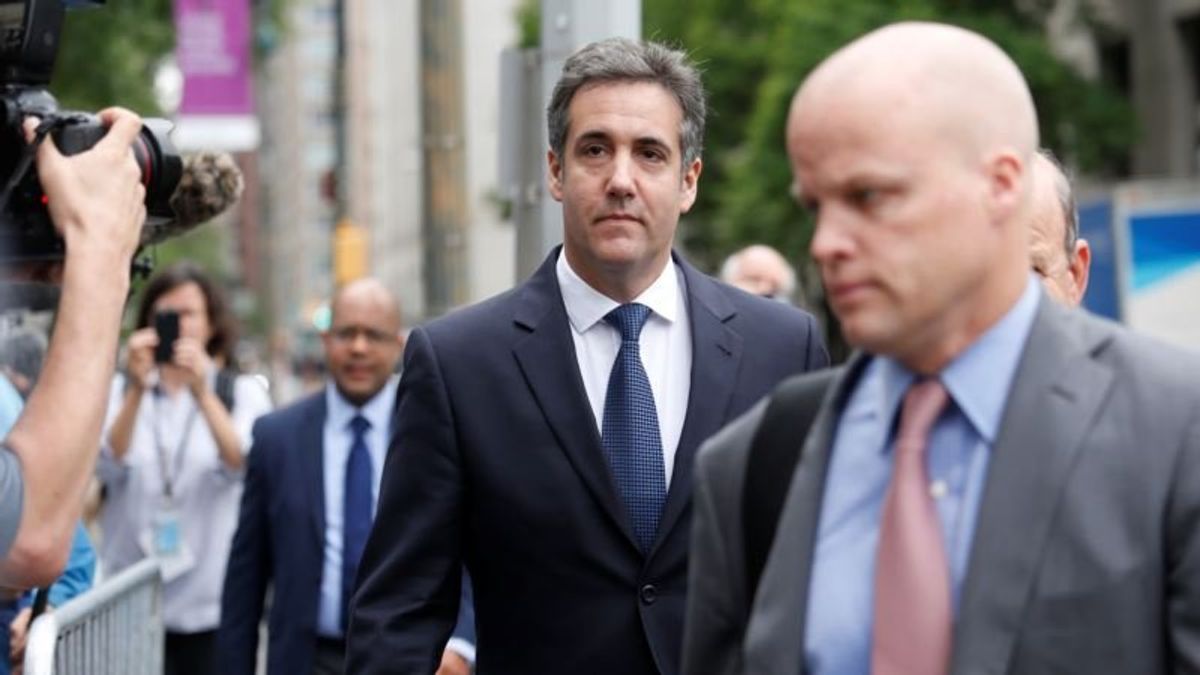 Prosecutors Have at Least 12 Recordings by Trump Lawyer Cohen
Prosecutors Have at Least 12 Recordings by Trump Lawyer Cohen
NEW YORK —
Twelve audio recordings seized from U.S. President Donald Trump's onetime personal attorney, Michael Cohen, were turned over to federal prosecutors on Friday, according to a filing in federal court in Manhattan on Monday.
They include a recording of a conversation between Cohen and Trump two months before the November 2016 election, whose existence was made public last week, in which they discussed buying the rights to a story by a woman who said she had an affair with Trump, according to Rudy Giuliani, one of Trump's lawyers. The other recordings are of conversations in which Cohen mentions the president to someone else, Giuliani said.
In the September 2016 conversation, Trump and Cohen discussed paying the parent company of the National Enquirer tabloid for the rights to the story of former Playboy model Karen McDougal, Giuliani previously said in an interview.
Giuliani said the conversation was held at Trump's office in Trump Tower and that Cohen used a hidden device to record the conversation. In New York state it is legal to record a conversation if one party consents.
Giuliani denied that Trump had an affair with the model, Karen McDougal. He said the tape would show that Trump made clear that if there were going to be a payment, it should be done by check, which would be easily traced. Giuliani said the payment was never made.
Payment denied
Before the election, the Trump campaign denied any knowledge of a payment to McDougal. The taped conversation could undermine those denials.
Giuliani has said no campaign funding was involved in the discussion between Trump and Cohen. If campaign funds were used, that could run afoul of federal election law, according to legal experts.
Monday's filing came from a court-appointed official who is reviewing claims by Cohen's and Trump's lawyers about which of the materials seized from Cohen are shielded by attorney-client privilege.
The official, former federal Judge Barbara Jones, said in the filing that the 12 recordings were turned over to prosecutors after claims that they were privileged were dropped.
Giuliani confirmed on Monday that Trump's lawyers were not asserting attorney-client privilege over the tapes.
No comment from Cohen
Lawyers for Cohen could not immediately be reached for comment.
Federal prosecutors in New York are investigating Cohen for possible bank and tax fraud, and for possible campaign law violations linked to a $130,000 payment to adult film star Stormy Daniels and other matters related to Trump's campaign, a person familiar with the investigation has told Reuters. Cohen has not been charged with any crime.
The investigation stemmed in part from a referral by U.S. Special Counsel Robert Mueller's office, which is looking into possible coordination during the election campaign between Trump's aides and Russian officials. Moscow has denied U.S. allegations that it interfered in the election, and Trump has denied any campaign ties to Russian officials.