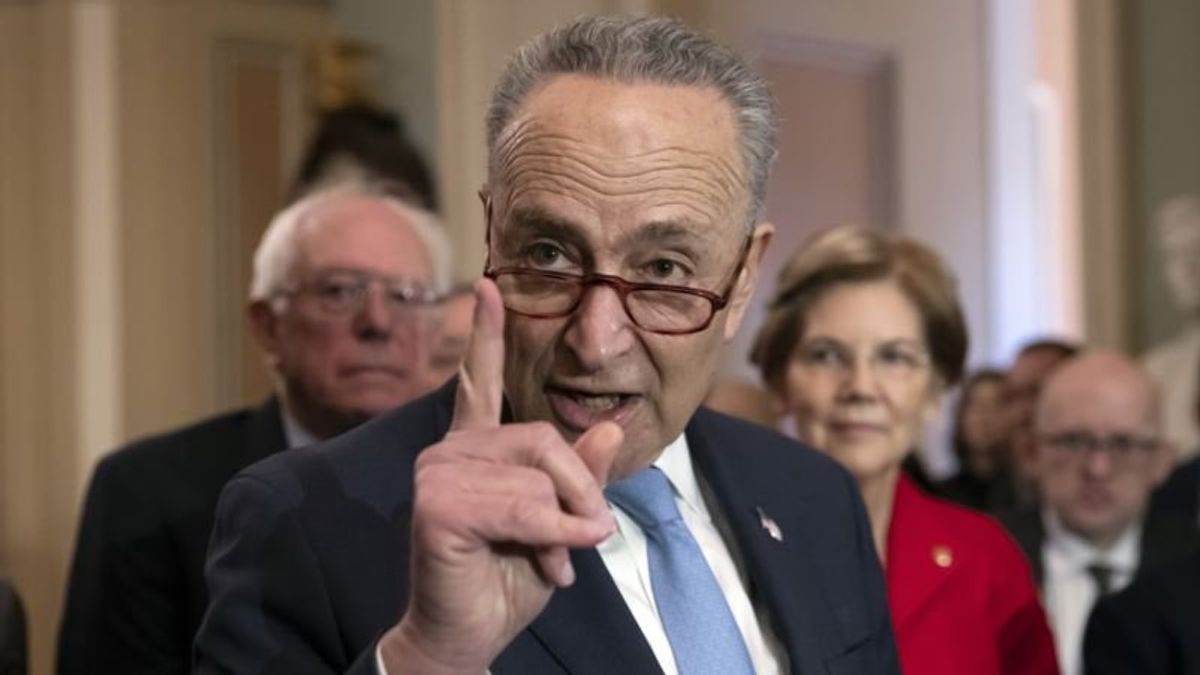 Top Senate Democrat Wants Probe of Whitaker's White House Contacts
November 20, 2018, 1:36 PM
Top Senate Democrat Wants Probe of Whitaker's White House Contacts
WASHINGTON —
The top Democrat in the U.S. Senate, Chuck Schumer, called Tuesday for the Justice Department's internal investigator to review communications between acting Attorney General Matthew Whitaker and the White House.
Senate Minority Leader Schumer said he wants the Justice Department's inspector general to look into Whitaker's interactions with the White House since last year when he was named chief of staff to then-Attorney General Jeff Sessions.
President Donald Trump picked Whitaker earlier this month to become the country's top law enforcement official after ousting Sessions, whom he had long assailed for removing himself from oversight of special counsel Robert Mueller's long-running investigation of alleged 2016 Trump campaign links with Russia.
Whitaker, before joining the Justice Department, had been critical of Mueller's probe, saying a replacement attorney general, such as he is now, could cut funding to the probe so that it "grinds almost to a halt."
Schumer said he wants the Justice Department's inspector general to look into whether Whitaker, in the top echelon of the agency before Trump appointed him as head of it for as long as 210 days, had access to confidential grand jury information obtained in Mueller's investigation and whether he shared any of it with Trump or other White House officials.
"I am also concerned that Mr. Whitaker, who has thus far declined to recuse himself from the Special Counsel investigation, may intend to interfere in or obstruct the investigation in other ways," Schumer wrote.
Several Democratic lawmakers, along with some Republicans, have said that Whitaker, because of his attacks on the Mueller investigation as a television analyst, should, like Sessions, remove himself from oversight.
Sessions had delegated authority over the probe to Deputy Attorney General Rod Rosenstein, but Whitaker now has assumed control.
Whitaker has taken no public action against the investigation, but also has not commented publicly about how he views it.
Schumer's call for a Justice Department inspector general's investigation, came a day after three other Democratic senators sued to block Trump's appointment of Whitaker, claiming he was named to undermine Mueller's investigation.
Going to court
Senators Richard Blumenthal of Connecticut, Sheldon Whitehouse of Rhode Island and Mazie Hirono of Hawaii filed the lawsuit in a federal court in Washington, the fourth suit contesting Whitaker's appointment. The lawmakers and other critics of the investigation have contended that the nomination of Whitaker, as head of a Cabinet-level agency, was subject to Senate confirmation.
SEE ALSO:
3 Democratic US Senators Sue to Block Whitaker Appointment
"President Trump is denying senators our constitutional obligation and opportunity to do our job: scrutinizing the nomination of our nation's top law enforcement official," Blumenthal said in a statement. "The reason is simple: Whitaker would never pass the advice and consent test. In selecting a so-called 'constitutional nobody' and thwarting every senator's constitutional duty, Trump leaves us no choice but to seek recourse through the courts."
Senator Whitehouse said, "The stakes are too high to allow the president to install an unconfirmed lackey to lead the Department of Justice – a lackey whose stated purpose, apparently, is undermining a major investigation into the president. Unless the courts intercede, this troubling move creates a plain road map for persistent and deliberate evasion by the executive branch of the Senate's constitutionally mandated advice and consent. Indeed, this appointment appears planned to accomplish that goal."
The Justice Department has defended Whitaker's appointment as legal.
"There are over 160 instances in American history in which non-Senate confirmed persons performed, on a temporary basis, the duties of a Senate-confirmed position," a Justice Department spokeswoman said. "To suggest otherwise is to ignore centuries of practice and precedent."
In an interview with Fox News that aired Sunday, Trump said he was unaware of Whitaker's CNN commentary opposing the Mueller investigation before naming him to head the Justice Department, bypassing Rosenstein.
Trump dismissed concerns about how Whitaker will deal with the Mueller investigation, but said that he, as president, would not intervene.
"It's going to be up to him," Trump said. "I think he's very well aware politically. I think he's astute politically. He's a very smart person. A very respected person. He's going to do what's right. I really believe he's going to do what's right."
Asked by Fox News anchor Chris Wallace whether he would overrule Whitaker if he decides to curtail the Mueller investigation, Trump replied, "I would not get involved."