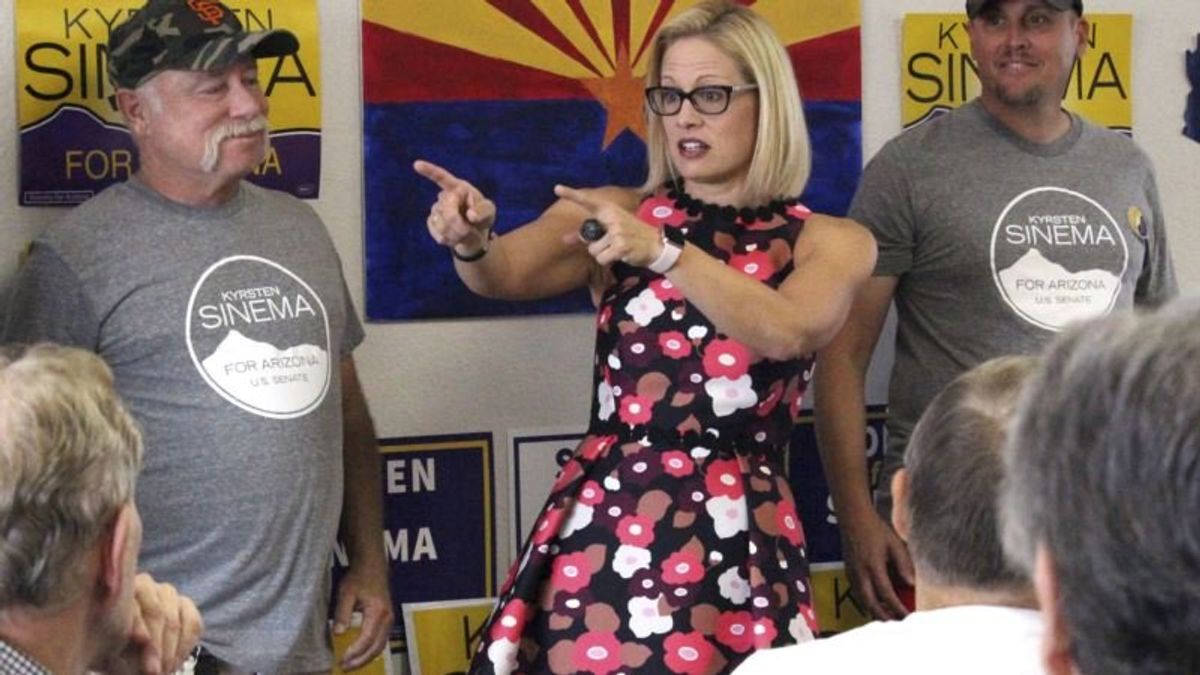 Stung by Election Losses, House GOP Weighs Leadership Choice
Stung by Election Losses, House GOP Weighs Leadership Choice
WASHINGTON —
Frustration, finger-pointing and questions spilled over a closed-door meeting of House Republicans Tuesday night as lawmakers sorted through an election defeat that cost them the majority and began considering new leadership for their shrunken minority.
Republicans complained about the unpopularity of the GOP tax law they blamed for losses in New York and other key states, some attendees told reporters after the meeting. Some in the meeting said Republicans should have tried harder to fulfill President Donald Trump's priorities, like funding for the border wall with Mexico. They also warned that they need a new fundraising mechanism to compete with the small-dollar online donors that powered Democrats to victory.
"There's a little rawness still,'' Rep. Mark Walker, R-S.C., who is running unopposed for a down-ballot position as vice chair of the GOP conference, told reporters outside the meeting room. "But there's an opportunity for us to come together and get single-focused on the message.''
With the speaker's gavel now out of reach, GOP Majority Leader Kevin McCarthy, a Trump ally, is poised to take over as minority leader. But the Californian has struggled in the past to build support from conservatives. He faces a longshot challenge from Rep. Jim Jordan of Ohio, a co-founder of the House Freedom Caucus who has support from outside conservative groups and got a second-look during a nearly two-hour candidate forum Tuesday.
Trump has stayed largely on the sidelines ahead of closed-door elections Wednesday that will determine party leadership not only for House Republicans, but also for Senate Democrats and Republicans, and set the tone for the new Congress. Voting for the biggest race, Rep. Nancy Pelosi's bid to return as the Democrats' nominee for speaker, is later this month.
Jordan told reporters that he made a pitch to his colleagues at a sometimes-tense session in the Capitol basement based on three questions: "Why'd we lose, how do we get it back and what we're up against.''
The former college wrestling champ said he told Republicans they need a fighter to confront Pelosi and her new majority.
"I think we're entering a world we haven't really seen,'' he said, rattling off the names of the Democratic chairmen who are poised to investigate Trump. "It's going to take an attitude and an intensity about standing up for the truth and fighting.''
Most GOP lawmakers, though, prefer McCarthy's more affable approach, and he remained favored to win Wednesday. Accompanied by his wife, McCarthy entered the meeting room, telling reporters, "We've got a plan.''
GOP Whip Steve Scalise, the Louisiana Republican who was gravely wounded in last year's congressional baseball practice shooting and is running unopposed for another term in leadership, said McCarthy "knows what he needs to do'' to win over his colleagues – and win back the majority – and is well-positioned to do both.
"You always look in the mirror and see what you can do better,'' Scalise said as he entered the room. Republicans, he said, "need to do a better job of letting people know what we stand for.''
Rounding out the GOP leadership team will be Rep. Liz Cheney of Wyoming, the daughter of former Vice President Dick Cheney, who wants to bring a more aggressive stance to the GOP's communications and messaging strategy in the No. 3 spot.
In the Senate, Majority Leader Mitch McConnell is expected to win another term, but the most interesting race is for the No. 5 spot, where Republicans are poised to elect their first woman to leadership in almost a decade, as they try to smooth the optics of a GOP side that's dominated by men.
Nebraska Sen. Deb Fischer has made a bid for that spot "to help bring our party's big tent together.'' She faces GOP Sen. Joni Ernst of Iowa.
The rest of the GOP line-up is expected to shuffle slightly. Sen. John Cornyn of Texas, the GOP whip, is being forced out by term limits. That allows Sen. John Thune of South Dakota to move up to the No. 2 spot. Sen. John Barrasso of Wyoming and Sen. Roy Blunt of Missouri take over the third- and fourth-ranking spots.
Senate Democrats are keeping their team headed by Minority Leader Chuck Schumer of New York, even though one of the two new Democratic senators-elect, Krysten Sinema of Arizona, has said she wouldn't vote for him.
Newly elected Republicans will cast their first votes during closed-door meetings Wednesday even before they're sworn into office as part of the new Congress in January.
Dan Meuser, a new Republican from Pennsylvania, said he's talked with both McCarthy and Jordan in recent days about their plans for the new minority and has been giving his vote "a lot of thought.''
"I would say I have not made a decision yet,'' said Meuser at freshman orientation. He said he's "gotten close with Kevin McCarthy. I think very highly of him. I think he's a very good conservative, he's showed a lot of leadership. He's certainly earned the position. On the same note, I think Jim Jordan's a smart, tough, focused individual. So I respect him as well. So, yeah, we'll see.''
And some just want to avoid more infighting as Republicans return to the minority for the first time in eight years.
"Whoever loses needs to get behind whoever wins,'' said Rep. Steve Palazzo, R-Miss.