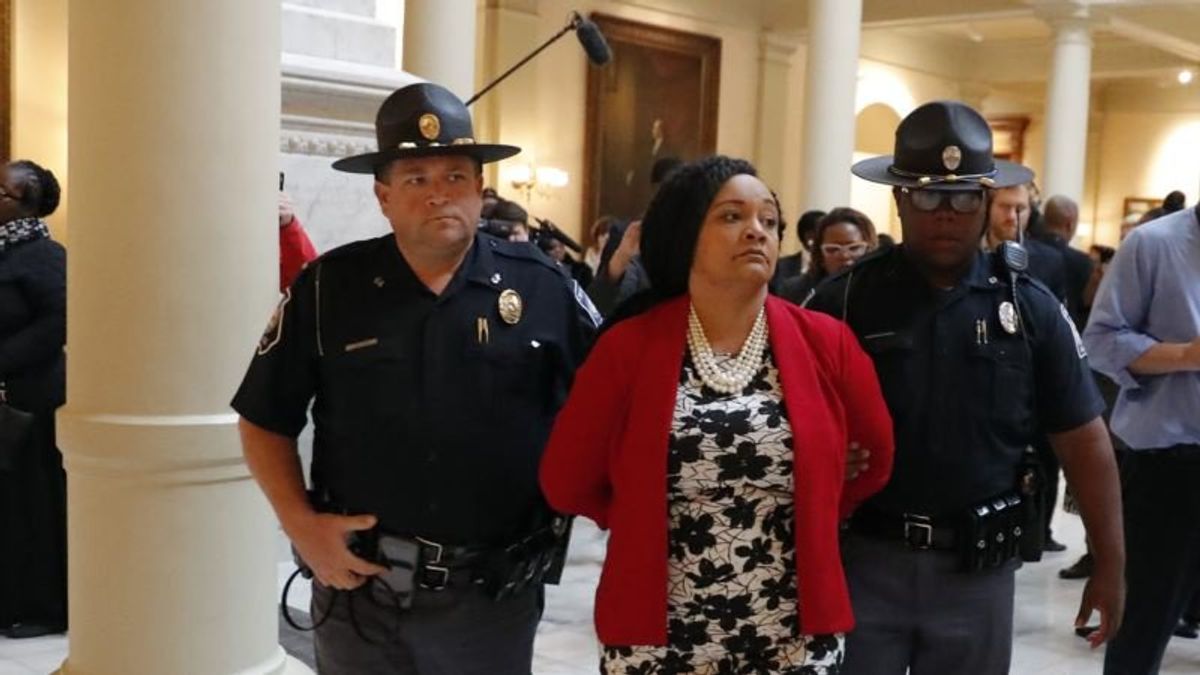 Georgia Election Uncertainty Lingers Amid Legal Wrangling
November 14, 2018, 9:31 AM
Georgia Election Uncertainty Lingers Amid Legal Wrangling
ATLANTA —
After two federal court rulings and a flurry of legal filings over a 24-hour period, uncertainty still hangs over Georgia's midterm elections, including the still undecided race for governor.
Unofficial results in one of the nation's hottest midterm contests give Republican Brian Kemp a slim majority. But Democrat Stacey Abrams maintains that enough uncounted absentee, mail-in and provisional ballots remain to force a Dec. 4 runoff and keep alive her bid to become the first black woman in American history to be elected governor of a state.
In the week since voters went to the polls, arguments over certain provisional and absentee ballots have been presented at a dizzying pace before several different judges in federal court.
Among them was a lawsuit filed Sunday by Abrams' campaign seeking an extension by one day of the deadline for county election officials to certify their results. As a hearing drew to a close just before the 5 p.m. Tuesday deadline, U.S. District Judge Steve Jones said he wouldn't extend the deadline because all the counties had likely already certified their results or were about to, and there were other protections in place.
All but 16 of the state's 159 counties had certified their results by Tuesday evening, Secretary of State spokeswoman Candice Broce said in an email.
Jones said he hopes to rule on the other requests from Abrams' campaign by noon Wednesday.
The campaign has asked him to order county election officials to accept any absentee ballots on which there was missing or insufficient information as long as that doesn't "substantially obstruct" officials from verifying the absentee voter's identity. It also asked him to order county election officials to accept information that's submitted to fix issues with provisional ballots, and to count those votes until 5 p.m. Wednesday. And it asked that provisional ballots cast by a voter registered in the wrong county be counted as if the voter had shown up at the wrong precinct.
Lawyers for state and county election officials argued that the Abrams campaign was trying to use an 11th hour lawsuit to rewrite the state's election laws. County election officials have been properly counting ballots and have been able to complete their duties in the time allowed by state law, they argued.
In a separate case, U.S. District Judge Leigh May on Tuesday ordered Gwinnett County election officials not to reject absentee ballots just because the voter's birth year is missing or wrong and to count any that were cast in the Nov. 6 election. She also ordered the county to delay certification of its election results until those ballots have been counted.
Republican Gov. Nathan Deal appointed Robyn Crittenden last week to replace Kemp, who resigned as secretary of state after declaring victory in the governor's race. Crittenden had issued guidance to county election officials on the absentee ballot issue Monday.
Jones said he will consider whether he should effectively extend May's order to Georgia's other 158 counties. He said that under Crittenden's guidance, counties don't have to reject absentee ballots that are missing a year of birth if there's enough other information to verify the voter but her guidance fails to say they shouldn't reject them. He said that could cause absentee voters to be treated differently, depending on where they live.
U.S. District Judge Amy Totenberg late Monday ordered state officials not to do their final certification of election results before 5 p.m. Friday. State law sets a Nov. 20 deadline.
State elections director Chris Harvey testified last week that the state had planned to certify the election results Wednesday, a day after the deadline for counties to certify their results. He said that would allow preparations to begin for any runoff contests, including those already projected in the races for secretary of state and a Public Service Commission seat.
Totenberg also ordered the secretary of state's office to establish and publicize a hotline or website where voters can check whether their provisional ballots were counted and, if not, the reason why. She also ordered the secretary of state's office to review or have county election authorities review the eligibility of voters who had to cast provisional ballots because of registration issues.
Meanwhile, protesters, including a state senator, were arrested Tuesday during a demonstration at the Georgia Capitol calling for uncounted ballots to be tallied.
"I'm being arrested because I refused to leave the floor of this building where I'm a state senator," Sen. Nikema Williams said as she was escorted from the building. "I wasn't yelling. I wasn't chanting. I was standing peacefully beside constituents I represent."
The Georgia Department of Public Safety said a total of 15 people were arrested on charges of disrupting orderly conduct of official business and were taken to the Fulton County jail.
After being released from the jail later Tuesday, Williams said she was targeted as a black woman. The Abrams campaign called for charges against Williams to be dropped.
The Georgia Constitution states that legislators "shall be free from arrest during sessions of the General Assembly … except for treason, felony, or breach of the peace."
Unofficial returns show Kemp with a lead just shy of 60,000 votes out of more than 3.9 million cast. Abrams would need a net gain of about 21,000 votes to force a runoff.
The Associated Press has not called the race.
Kemp's campaign has repeatedly called on Abrams to concede, calling her campaign's lawsuit "a disgrace to democracy" that ignores mathematical realities.
The Georgia Republican Party which on Tuesday joined the secretary of state's office in defending against the lawsuit, said in an emailed statement that Democrats were trying to "sue their way to a win" after losing at the ballot box.
Abrams' campaign manager, Lauren Groh-Wargo, told reporters after the hearing that, "Our quest for basic fairness continues and that is we want every single vote to be counted here in Georgia."
She accused Kemp, as the state's top elections official, of running a "chaotic" election that was characterized in long lines and an unusually high number of voters having to cast provisional ballots.