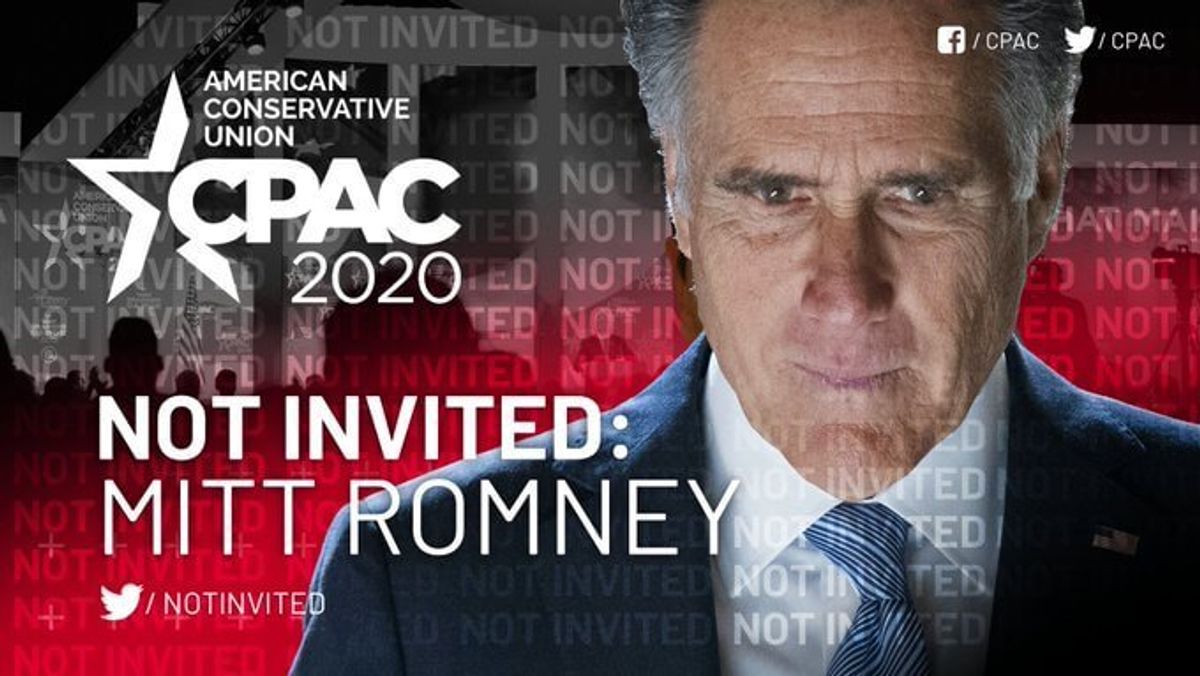 Romney not invited to CPAC after Senate witness vote
On Friday, Matt Schlapp, chair of the American Conservative Union, the group that hosts CPAC, said Utah Senator Mitt Romney, R?, will not be invited to the annual conference this year after he voted with the Democrat minority in the Senate to bring forward more witnesses and documents in the sham impeachment trial of President Trump.
"BREAKING: The 'extreme conservative' and Junior Senator from the great state of Utah, @SenatorRomney is formally NOT invited to #CPAC2020," Schlapp said on Twitter.
BREAKING: The "extreme conservative" and Junior Senator from the great state of Utah, @SenatorRomney is formally NOT invited to #CPAC2020. pic.twitter.com/f35tYy73V1

— Matt Schlapp (@mschlapp) January 31, 2020
According to Politico:
The former party nominee and Sen. Susan Collins were the only Republicans to side with Democrats in voting to hear witnesses in the impeachment trial.

The vote failed, all but guaranteeing Trump's acquittal next week.

While CPAC has grown into a hotbed of Trumpian support, Romney has distanced himself from the president, garnering Trump's mockery and scorn.

Trump's antipathy toward Romney long predates his impeachment, and the president has run supercuts of Romney's defeat in the 2012 presidential election to mock the senator.
Reaction to Schlapp's announcement was pretty much what you'd expect:
Thank you.

— #ThePersistence (@ScottPresler) February 1, 2020
Thx @mschlapp for stepping it up, being bold, and making a powerful statement that @realDonaldTrump is the brand of conservative that best represents the Republican party. Neocons from the past & RINOs like Bill Kristol & Mitt were always the problem, that has now been exposed.

— Scott Adams Show 🇺🇸Text TRUMP to 88022 (@scottadamsshow) February 1, 2020
Mittens is eat up with #TrumpDerangementSyndrome pic.twitter.com/NJjHOoUTQv

— ❌✝️Raised Right🇺🇸❌ (@RightMsmagnolia) February 1, 2020
Some observed that Maine Sen. Susan Collins escaped the same fate:
Notice they're not attacking Collins. She was given a hall pass to help her rehabilitate her political image.

Don't buy the lie.

— Alamo_on_the_rise 🆘🍑 (@AlamoOnTheRise) January 31, 2020
But to my knowledge, Collins has never marketed herself as an "extreme conservative." And her record shows her to be a moderate at best. So I somehow doubt that she would ever be invited to the conference anyway.
Political noted that Romney spoke at the 2012 conference and referred to himself as a "severely conservative governor" in a gambit to shore up support for the nomination. He lost to Barack Obama.
###
By Joe Newby
Joe Newby is a 10-year veteran of the U.S. Marine Corps, Joe ran for a city council position in Riverside, Calif., in 1991 and managed successful campaigns for the Idaho state legislature. Co-author of "Banned: How Facebook enables militant Islamic jihad," Joe wrote for Examiner.com from 2010 until it closed in 2016 and his work has been published at Newsbusters, Spokane Faith and Values and other sites. He now runs the Conservative Firing Line.