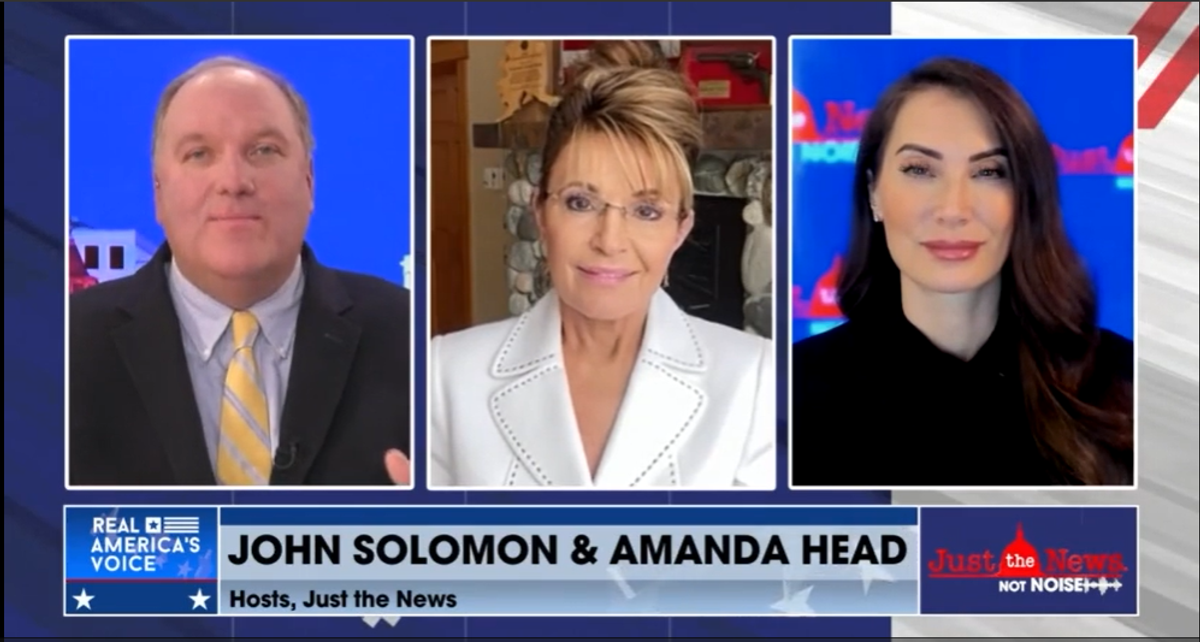 SARAH PALIN ON CONGRESSIONAL RUN: "I HAVE NOTHING TO LOSE"
Former Alaska Governor appears on Real America's Voice in first network interview
Washington, D.C./April 5, 2022 – In an exclusive interview on the Real America's Voice network on Tuesday night, Alaskan congressional candidate Sarah Palin told hosts John Solomon and Amanda Head that the current state of the country fueled her desire to serve the people of Alaska in the House of Representatives.

"When Don Young passed, I knew that that was time then to throw my hat in the ring and offer myself up in the name of service," said Palin. "I think our state, our country, gosh we can't keep going down the road that we've been going, we've got to do something different," she said.
The wide-ranging discussion also touched on a variety of other topics, including Palin's policy priorities, 45th President Trump, President Joe Biden's Supreme Court pick Ketanji Brown Jackson, U.S. Senator Lisa Murkowski, and the mainstream media.
On education/parental rights:

"What's actually right for our kids for our families, a lot of that entails freedom," said Palin. "It entails families being able to make the decisions for our children because we do a lot better job of that than some far-off faceless bureaucrat in Washington DC trying to tell us how to raise our families."

On energy independence:
"There's an inherent link between energy and security, energy and prosperity," Palin said. "Those in Washington DC… they're part of a kind of a corrupt breed, they really are, because they're bought and sold by special interests, so they don't put the people's interests first, well, we have to get rid of that, we have to get back to developing our own resources and then we're back on the road towards energy independence."

On Ketanji Brown Jackson:
"I don't think she is right for the Supreme Court," said Palin. "She did not have the most basic fundamental answers to the most basic fundamental questions being posed to her," she said. "it kind of shocked me that she seemed so ill-prepared really to be able to answer a simple question like, 'what's a woman?' You know our first, second, and third graders can answer that one."
On U.S. Senator Lisa Murkowski:

"There's a level of frustration when it comes to that U.S. Senate seat where Alaskans are ready for a change."
On suffering attacks from the mainstream media:

"I live by the old adage that if you don't live by man's praise, you're not going to die by man's criticism," said Palin. "I know what's right and I know my record. I know the things that the media has said about me [are] complete lies, my family knows, and those closest to me, they know, so you know I really do have an ability… to just shake that off and move forward."
#####
You can watch all Real America's Voice Programming at https://realamericasvoice.com or by downloading the app on Apple or Android. Real America's Voice is also available on DISH Network, Apple TV, Amazon Fire TV, Pluto TV, Samsung TV Plus, and Roku.
# # # # #