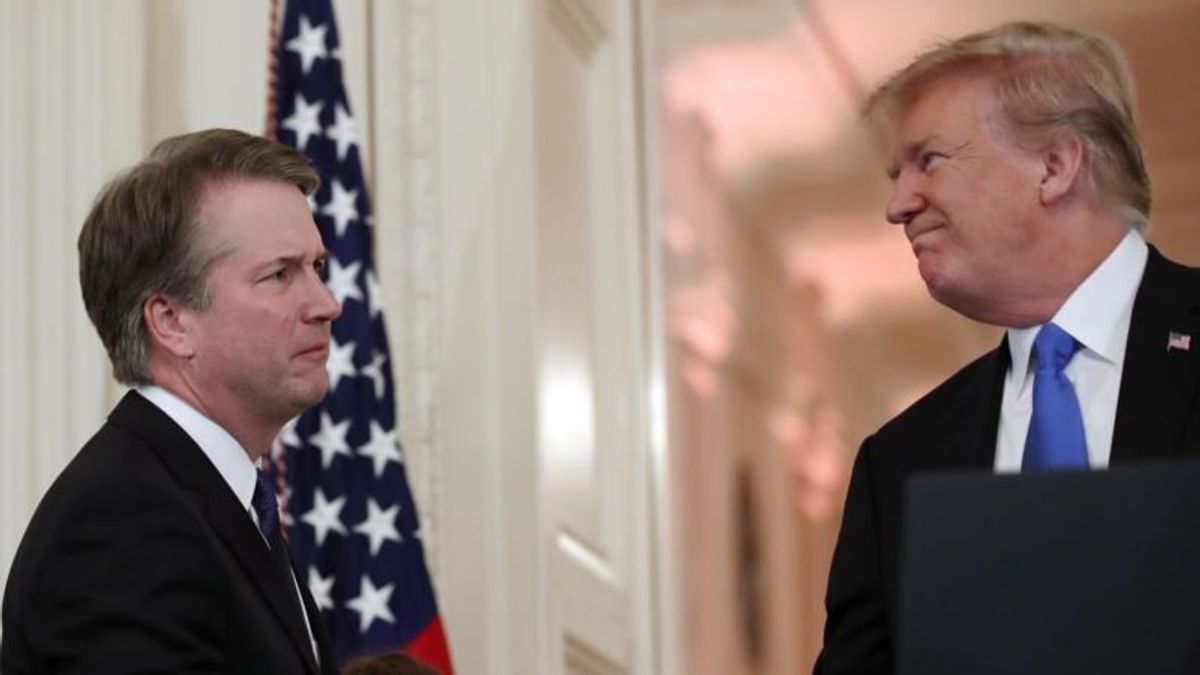 Presidential Power Key Issue in Court Confirmation Fight 
Presidential Power Key Issue in Court Confirmation Fight
WASHINGTON —
President Donald Trump's Supreme Court nominee, federal judge Brett Kavanaugh, can expect tough questions on a range of issues when he faces a Senate confirmation hearing sometime in the next few months.
Democrats are likely to pepper Kavanaugh with questions about his stance on abortion, gay rights and affirmative action. But another key area of interest is Kavanaugh's expansive view of presidential power, something Democrats want to press him on with Trump in the White House.
When he was nominated at the White House earlier this month, Kavanaugh pledged to bring an independent mindset to the high court.
WATCH: Scope of Presidential Power Key Issue in Court Confirmation Fight
Embed share
Scope of Presidential Power Key Issue in Court Confirmation Fight
Embed share The code has been copied to your clipboard. width px height px
The URL has been copied to your clipboard
No media source currently available
0:00 0:03:19 0:00 Direct link
270p | 9.2MB
360p | 13.4MB
720p | 86.9MB
1080p | 68.3MB
"I believe that an independent judiciary is the crown jewel of our constitutional republic," he said. "If confirmed by the Senate, I will keep an open mind in every case, and I will always strive to preserve the Constitution of the United States and the American rule of law."
Democrats have vowed to fight Kavanaugh's nomination from the start, fearing his appointment could ensure a strongly conservative court for a generation. Several have also expressed concern about his views on executive power.
Kavanaugh's experience
Before his confirmation as a federal judge in 2006, Kavanaugh got an up-close view of presidential power working in the White House of President George W. Bush. Before that, Kavanaugh worked with independent counsel Ken Starr in his investigation of President Bill Clinton in the late 1990s.
Reflecting on those experiences, Kavanaugh wrote an article in 2009 for the Minnesota Law Review that laid out his view on presidential power and the Constitution. Kavanaugh wrote that presidents "should be excused from the burdens of ordinary citizenship while serving in office."
In Kavanaugh's view, that includes excusing a president from having to deal with civil suits or criminal investigations while in office.
"A president who is concerned about an ongoing criminal investigation is almost inevitably going to do a worse job as president," he wrote.
​Skeptical Democrats
Democrats are expected to closely question him on the issue, especially in light of the ongoing Russia probe involving Trump and whether special counsel Robert Mueller might eventually try to compel the president to submit to an interview.
"Not only did Mr. Kavanaugh say that a president should not be subpoenaed, he said a president should not be investigated," Senate Democratic leader Chuck Schumer said. "Mr. Kavanaugh, is the president above the law?"
Kavanaugh's view of presidential power is not unusual among conservative legal scholars, Jonathan Turley of George Washington University said.
"Kavanaugh's natural default position is Article II (of the Constitution) on presidential power. He tends to defer greatly to presidents," Turley told The Associated Press. "That can only help President Trump if an issue goes before the court. But that is his philosophy. It does not mean he's biased."
Compelling a president
Some experts predict that if Kavanaugh is confirmed to the high court, he could find himself in the middle of a debate over whether a sitting president could be subpoenaed by an investigating special counsel like Mueller.
"So if, for example, the president chooses not to sit for a voluntary interview, and special counsel Mueller tries to subpoena the president," ABC News legal analyst Kate Shaw said. "There is an open legal question about whether you can subpoena a sitting president, and that could end up very quickly going before the Supreme Court if there is a legal fight over it."
Kavanaugh's view worries liberal activists who will be pushing Democrats to press him during the confirmation process.
"Brett Kavanaugh has a very frighteningly wide view of presidential power, and I think that is something very much in play, given the investigations that are going on right now," said Drew Courtney with People for the American Way, a liberal group that has lined up against Kavanaugh's confirmation.
​Republican defenders
Kavanaugh's Republican allies said they are prepared for a range of attacks on his record, including his stand on presidential power.
"That kind of cheap political fearmongering insults the intelligence of the American people, because Americans understand the difference between a political office and a judicial office," Majority Leader Mitch McConnell said during a recent speech on the Senate floor.
A new POLITICO/Morning Consult poll shows Americans are divided along party lines when it comes to Kavanaugh's confirmation. The poll found 71 percent of Republicans want Kavanaugh confirmed, while only 17 percent of Democrats support him.
A Quinnipiac poll from earlier this month found that American voters also want the Supreme Court to act as a check on Trump, by a margin of 65 percent to 24 percent. For Republicans, the poll found 48 percent supported that, while 37 percent did not.
Kavanaugh's confirmation requires a majority vote in the Senate, where Republicans hold a narrow 51- to 49-seat margin over Democrats.