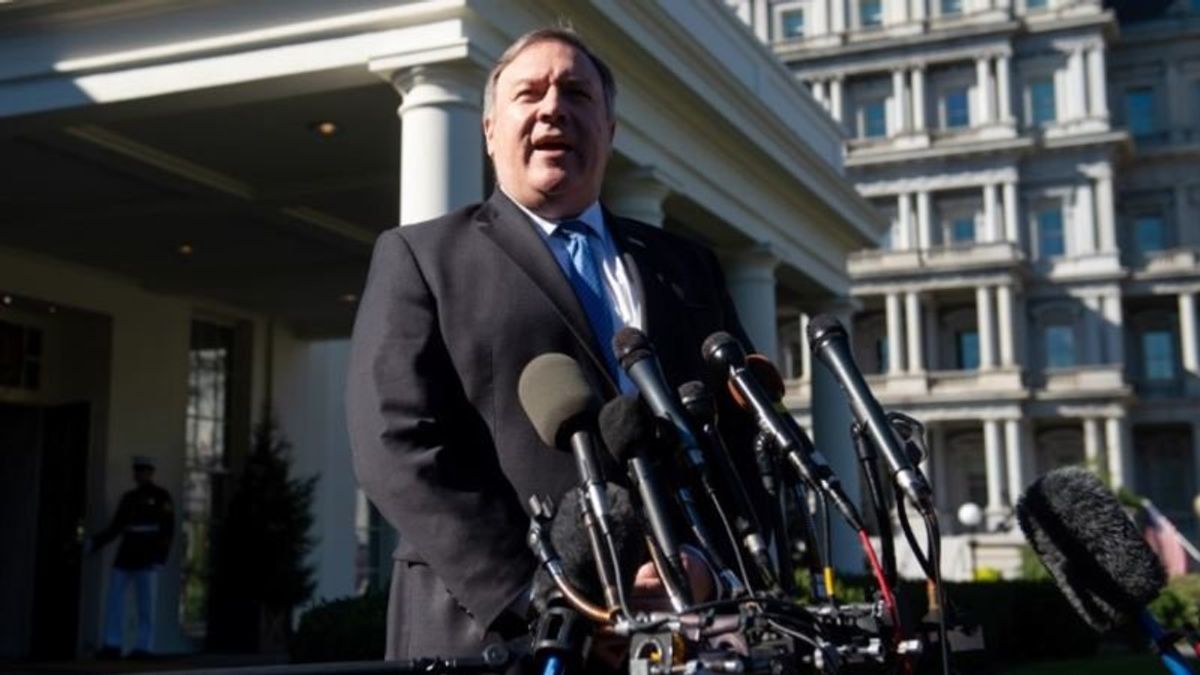 Pompeo Briefs Trump on Missing Journalist; Turkish Investigators Revisit Saudi Consulate
Pompeo Briefs Trump on Missing Journalist; Turkish Investigators Revisit Saudi Consulate
U.S. Secretary of State Mike Pompeo has briefed President Donald Trump about his talks with Saudi and Turkish officials and their investigations into the disappearance of a U.S.-based Saudi journalist Jamal Khashoggi, who Turkish officials allege was killed by Saudi agents inside Riyadh's consulate in Istanbul.
Pompeo's meeting Thursday with Trump at the White House comes as Turkish investigators carried out a new search of the consulate — their second this week — and completed a nine-hour search of the nearby residence of the Saudi consul to Istanbul, who abruptly returned to Riyadh on Tuesday.
The top U.S. diplomat said as he left Riyadh after meeting with Saudi King Salman and his son, Crown Prince Mohammed bin Salman, earlier this week that the Saudi leaders did not want to discuss any facts of the case while they carry out an investigation that they committed to release to the public. Saudi Arabia has denied knowledge of Khashoggi's disappearance.
Pompeo also visited the Turkish capital, Ankara, to meet with President Recep Tayyip Erdogan and Foreign Minister Mevlut Cavusoglu. Pro-government Turkish media have published investigators' claims that the Saudi agents cut off Khashoggi's fingers, decapitated him and then dismembered his body shortly after he arrived at the consulate October 2 to pick up documents so he could marry his fiancee, Turkish national Hatice Cengiz, who waited in vain outside for his return. Khashoggi has not been seen since.
Media reports
The pro-government newspaper Sabah identified Saudi security official Maher Abdulaziz Mutreb as the leader of what it said was a 15-member "assassination team" that flew into Istanbul to carry out the execution of Khashoggi. He had been living in self-imposed exile in the United States while writing columns for The Washington Post that criticized the crown prince and the Saudi involvement in the war in Yemen.
The Turkish newspaper said Mutreb, who has been photographed near the crown prince on his foreign travels this year, was spotted on surveillance tapes entering the consulate more than three hours before Khashoggi arrived, then later the same day outside the consul's residence and then again in the evening at the airport as he left Turkey.
Meanwhile, the Post published what it said it believes will be Khashoggi's last column, one in which he decried the lack of freedom of the press in the Arab world.
"The Arab world is facing its own version of an Iron Curtain, imposed not by external actors but through domestic forces vying for power," he wrote.
"The Arab world needs a modern version of the old transnational media so citizens can be informed about global events. More important, we need to provide a platform for Arab voices," Khashoggi said.
Trump reaction
Trump said Wednesday he wants audio and video intelligence from Turkey, "if it exists," while saying it "probably does."
His demand came as he expressed support for Saudi Arabia, a long-time U.S. ally, and said he expects its investigation into Khashoggi's disappearance would be completed by the end of the week.
When questioned on what he would do if the Saudi investigation showed that the Saudi monarch and his heir apparent were responsible, Trump told Fox Business in an earlier interview, "Well, I hope we're going to be on the better side of the equation."
"You know we need Saudi Arabia in terms of our fight against all of the terrorism, everything that's happening in Iran and other places," Trump said.
When asked if the United States would distance itself from Saudi Arabia over the Khashoggi case, Trump said, "I do not want to do that and frankly they have a tremendous order, $110 billion," referring to a promised Saudi purchase of U.S.-made weaponry in the coming years.
"It is 500,000 jobs, it will be ultimately $110 billion. It's the biggest order in the history of our country from an outside military, and I said we are going to turn that down?" he added.
"So hopefully it is working out. We'll find out, we'll get down to the bottom of it," Trump said of the Saudi investigation. "I hope that the king and the crown prince didn't know about it. That is a big factor in my eyes, and I hope they haven't."
Pompeo told reporters on his way back to Washington that the United States needs "to know the facts before we can begin to formulate what the appropriate response" would be if Saudi Arabia is responsible for Khashoggi's disappearance.
"I do think it's important that everyone … keep in their mind that we have lots of important relationships — financial relationships between U.S. and Saudi companies, governmental relationship, things we work on together all across the world," Pompeo said. "The efforts to reduce the risk to the United States of America from the world's largest state sponsor of terror, Iran — the Saudis have been great partners in working alongside us on those issues."
Pompeo said the Saudis committed to holding accountable "anyone connected to any wrongdoing that may be found," making no exceptions for anyone, including members of the royal family.
Ken Bredemeier, Chris Hannas and State Department Correspondent Nike Ching contributed to this report.
JOIN US ON RUMBLE LIVE NOW!