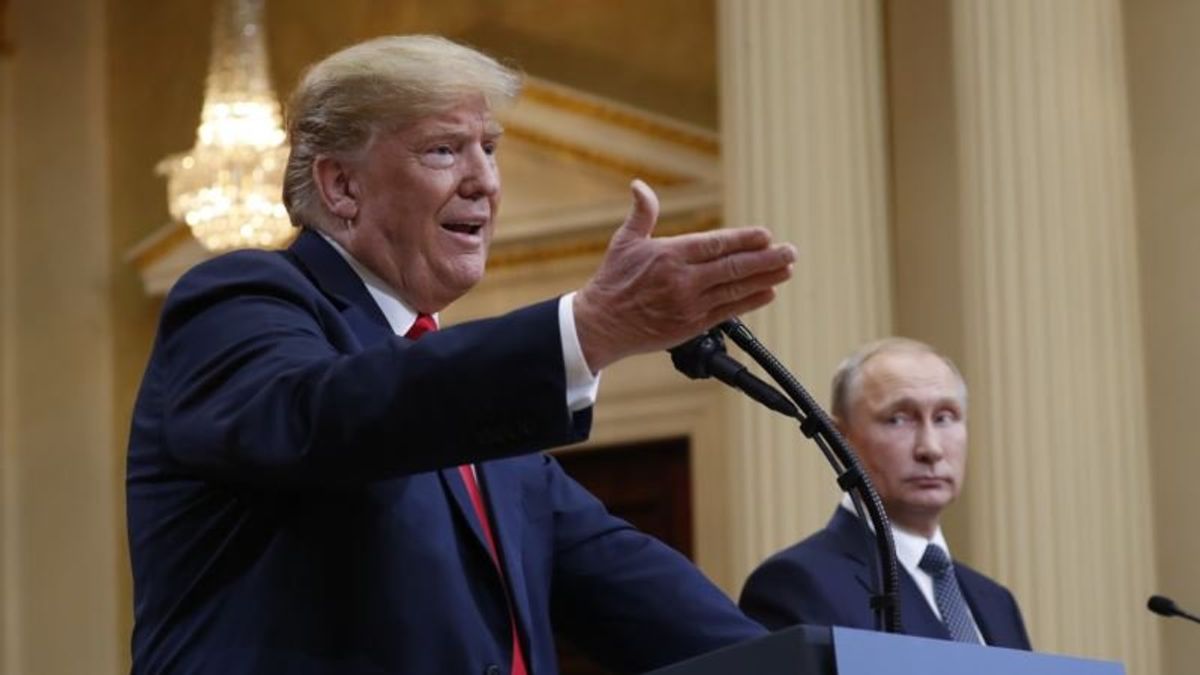 Ex-Intel Officials Worry Trump Still Doing Russia's Dirty Work
Ex-Intel Officials Worry Trump Still Doing Russia's Dirty Work
Flying to Paris on Friday to commemorate the 100th anniversary of the end of World War I, U.S. President Donald Trump sent out a tweet that may have been business as usual at the White House but sent shivers down the spines of some of this country's intelligence and security officials:
​Less than an hour later, he tweeted again:
More such tweets would soon follow, with one questioning ballots in Arizona:
To some, including those at the White House, the tweets reflected nothing more than Trump's dissatisfaction with how election officials in Florida, Georgia and elsewhere have handled the vote count, as well as his penchant for calling out political opponents who he believes are unfairly manipulating the system.
And while election officials in places like Florida have rejected the president's allegations of fraud, to a growing number of people within the U.S. intelligence community, there is a different, perhaps more concerning issue. They worry Trump's tweets played into Russia's very own election-meddling playbook. Indeed, Russian social media had already jumped on the election controversy in two states where vote recounts were underway.
"The president, either wittingly or unwittingly, is playing into the Russians' hands. Absolutely," said Larry Pfeiffer, a 32-year veteran of the U.S. intelligence community with stints as senior director of the White House Situation Room and chief of staff to former CIA Director Michael Hayden.
For months leading up to Tuesday's vote, top U.S. intelligence officials, such as Director of National Intelligence Dan Coats, warned of Russia's "persistent and pervasive" effort to undermine American democracy. As the election neared, those warnings focused increasingly on concerns Moscow wanted to shake U.S. confidence in the validity of the election itself.
"They [the Russians] win if they sow any element of doubt in the mind of an American that their vote wasn't counted and counted correctly," Homeland Security Secretary Kirstjen Nielsen told reporters during an Election Day briefing.
"That of course remains a concern of mine," she added, "that after everyone has voted they would try to make a claim that something went wrong."
But to some wary U.S. intelligence veterans, it was Trump's tweets on Friday, and not the Russians, that amplified the seeds of doubt.
Some say this scenario has become all too familiar. Many point to Trump's willingness to accept Russian President Vladimir Putin's denial of meddling in the 2016 U.S. elections during their July summit in Helsinki, contrary to the findings of U.S. intelligence agencies.
Post-election spin
Russian social media efforts had already jumped on the ballot problems in Florida and Georgia before President Trump tweeted Friday.
Hamilton 68, an online dashboard run by the German Marshall Fund research group that monitors 600 Twitter accounts with ties to Moscow, found that as of early Friday afternoon, Russian media accounts had mentioned "Florida" 679 times in the previous 48 hours, making it the most mentioned topic.
The Russian-linked trolls and bots were also busy tweeting or retweeting hashtags "stopthesteal," "broward" and "florida."
In comparison, less than three hours after posting it, Trump's first tweet had been retweeted almost 23,000 times and liked by almost 76,000 accounts.
But even before that, Pfeiffer described Trump's behavior as "shameful."
"I've been in government long enough to know that the elements of government can do everything they can to respond to a threat or to take any kind of action, but without solid direction coming from 1600 Pennsylvania Avenue, it's just never going to be as strong," he said.
Other former officials have been more damning.
"Trump is the gift that keeps on giving for Putin,"said retired Air Force Lt. Col. Hal Bidlack, echoing a phrase used by other former intelligence and defense officials in conversations with VOA.
Bidlack, who served on the National Security Council in the late 1990s, added, "They [the Russians] understand they can play to his [Trump's] flattery and play to his insecurities."
Blame the media
White House officials charge the critics and the media with doing the greatest damage.
"It is correct to note that Russia pursues a goal of a divided and fractious America," a senior administration official told VOA. "The Trump administration continues to counter these malign activities."
"Repeated efforts by the media to seek out disagreement and blame the administration for such divisions play effectively into Moscow's hands," the official added.
Trump's defenders say the White House has levied sanctions against dozens of Russians, including some of Putin's oligarchs, while others have been indicted and now face charges in U.S. courts.
"I made it clear that we wouldn't tolerate meddling in 2018 and that we were prepared to take necessary steps to prevent it from happening," U.S. national security adviser John Bolton told reporters following a meeting with his Russian counterpart in August.
"I tend to look more at the actions than the words. And in this case the actions are pretty strong," said Steve Bucci, who served as an assistant to former U.S. Defense Secretary Donald Rumsfeld and a visiting fellow at the Heritage Foundation, a conservative public policy research group in Washington. "President Trump and his advisers have a pretty tough set of programs for all of those players, and they're executing them."
But even Bucci said the president's rhetoric on Russia has been worrisome.
"We're shooting ourselves in the foot pretty effectively," he said.
Not as bad as 2016
A number of current and former officials believe the Kremlin's efforts to influence Tuesday's midterm elections lacked the scale and intensity of its 2016 influence campaign, but they also think Russia did not need to do much.
"Moscow may, having seen the continuing impact of their 2016 influence operations and the continued political chaos in the U.S. they have engendered, judge that another effort on the scale of 2016 may not be necessary," Mark Kelton, a former deputy director of the CIA's National Clandestine Service for Counterintelligence, told VOA in the run-up to the election.
And as long as Trump is willing to stoke the fires of political rancor, Russia may not need to add much fuel.
"If you're sowing discord within a political conversation in the United States, and you can shape that and increase the polarization, then that could have an impact that lasts anywhere from one election cycle to an entire generation," said Graham Brookie, director of the Atlantic Council's Digital Forensic Research Lab, which studied Moscow's influence efforts ahead of the U.S. midterm elections.
Russia's influence operations, though, have been far from dormant. According to U.S. intelligence officials and court documents, the Kremlin spent more than $35 million from January 2016 through June 2018 on a social media campaign designed to inspire and enrage both sides of the U.S. political spectrum.
"They're trying to push us to extremes, about whatever we're debating," said Daniel Hoffman, a former CIA station chief. "They're winning that."
Russian denials
For its part, Russia continues to deny that it sought to interfere in any way with the U.S. midterm election.
"We cannot react to some abstract cybersecurity analysts because we do not know who they are and whether they understand anything about cybersecurity," Putin press secretary Dmitry Peskov told reporters Tuesday in Moscow.
Yet current and former U.S. intelligence officials doubt Putin, a former intelligence officer himself, has any intention of ending Russia's influence operations, or of ending his use of Trump, though Putin will be careful to protect what he sees as an asset.
"Putin is paying attention and — at this point — trying to do minimal harm to President Trump," John Sipher, a 28-year veteran of the CIA who once ran the agency's Russia operations, told VOA in an email.
"He will gladly toss Trump aside if it suits his interest,"Sipher added."At this point, however, he is in a good place and is likely being careful not to go too far."