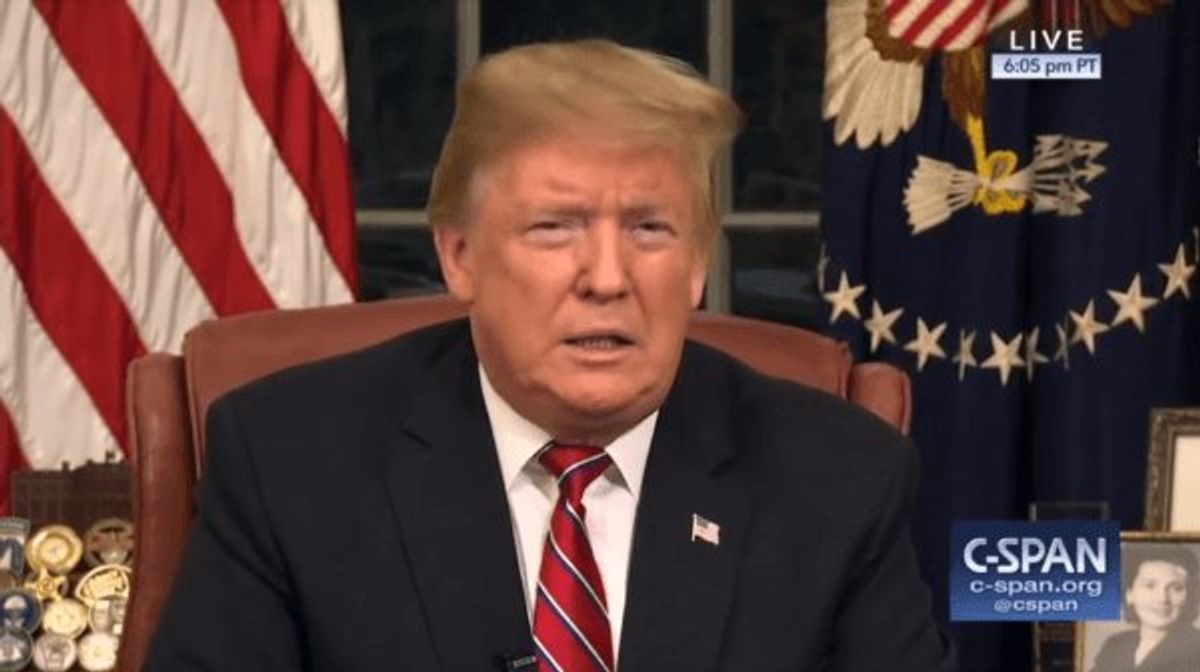 Economy good, credit to Trump, but half of country wants him removed
As bizarre as it may seem, two national polls show President Donald Trump isn't likely to be hurt by impeachment at election time, and a majority of voters credit him with the strong economy, but half of them want him removed from office.
A new Fox News poll shows half of Americans "say the Senate should vote to convict and remove President Trump from office. It breaks down by party affiliation, of course, with 81 percent of Democrats favoring removal and 84 percent of Republicans opposing that idea. Fifty-three percent of independents favor removal, while 34 percent do not, according to The Hill.
Fox News released its poll Sunday evening. The report said 55 percent of survey respondents "give the economy positive ratings (excellent or good). Fox said it has been 19 years since so many Americans felt that good about the economy.
But the Fox story said this, too: "Among just those with positive evaluations of the economy (excellent/good), nearly half credit Trump/Republicans (49 percent). And among those who say the economy is only fair or poor, about one-third blame Trump/Republicans (35 percent) — outpacing greed (10 percent), big business (9 percent), and Obama (9 percent). At the same time, 55 percent think the way the economy works is unfair, and a 56 percent majority remains dissatisfied in general with how things are going in the country."
And that may be where the results of a new Rasmussen survey come in. Rasmussen reported Monday that only 27 percent of likely voters think the impeachment will hurt the president's reelection bid, and 31 percent actually believe it will help him. An equal number doesn't think it matters one way or the other. Even Democrats don't believe impeachment will hurt the president, with only 40 percent thinking he's in trouble, along with 16 percent of Republicans and 25 percent of independents.
All of this comes as the Senate continues hearing Trump's defense team, which many believe dismantled the House case against the president on Saturday. That was before the bombshell "leak" of part of an unpublished manuscript by former national security advisor John Bolton scheduled for release in March, according to Greenwich Time.
According to the story, Bolton makes some serious allegations, including saying he heard the president "say explicitly that the withholding of military aid would continue until Ukraine announced an investigation involving the Bidens," which would conflict with the president's defense claim that no such mandate was made.
The bottom line may be not what people think now, but ten months from now when they head to the polls in November. Between now and then, voters can anticipate all kinds of drama as Democrats, who allegedly can't really run on the economy, continue their campaign to discredit Trump on other levels.
###
By Joe Newby
Joe Newby is a 10-year veteran of the U.S. Marine Corps, Joe ran for a city council position in Riverside, Calif., in 1991 and managed successful campaigns for the Idaho state legislature. Co-author of "Banned: How Facebook enables militant Islamic jihad," Joe wrote for Examiner.com from 2010 until it closed in 2016 and his work has been published at Newsbusters, Spokane Faith and Values and other sites. He now runs the Conservative Firing Line.
JOIN US ON RUMBLE LIVE NOW!