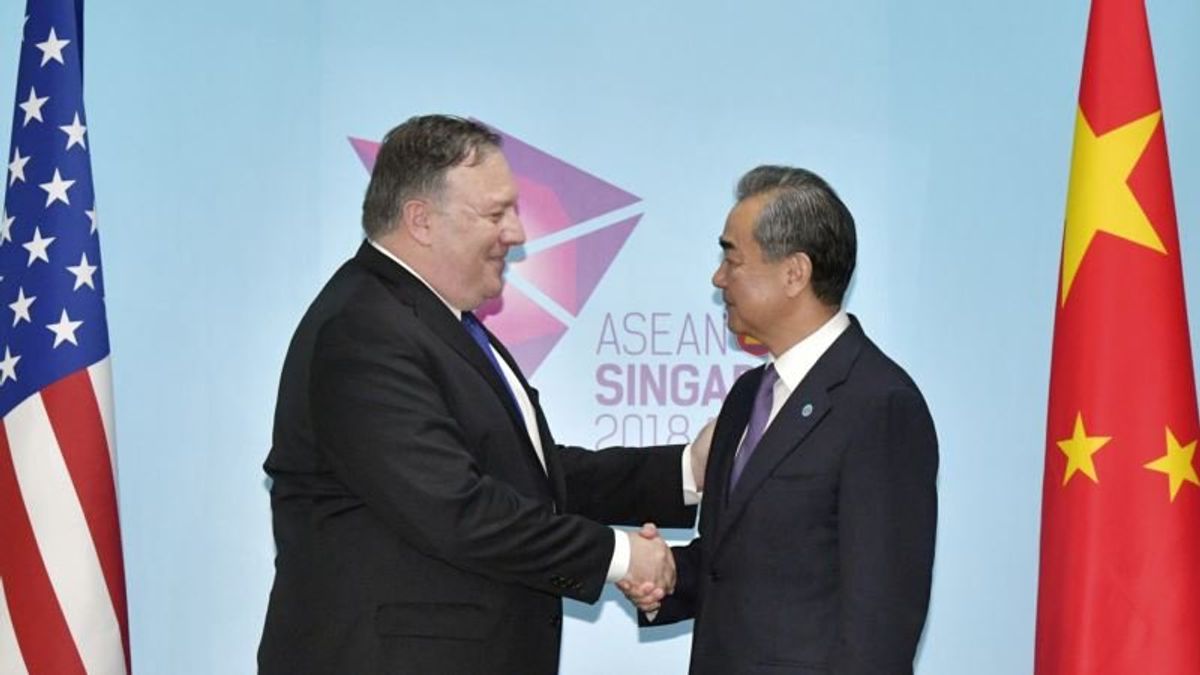 China Threatens New Tariffs as Pompeo Meets with China's FM
China Threatens New Tariffs as Pompeo Meets with China's FM
SINGAPORE —
China warned Friday it would impose new tariffs on $60 billion worth of U.S. goods if the Trump administration follows through with its latest trade threats.
The Commerce Ministry said the proposed tariffs of 5 percent to 25 percent on more than 5,200 U.S. goods are restrained and maintained it has the right to take retaliatory action in the escalating trade war between the world's two largest economies.
China's warning came shortly after U.S. Secretary of State Mike Pompeo met Friday with Chinese State Councilor and Foreign Minister Wang Yi in Singapore. The two men did not speak to the press after the meeting, and reporters were ushered out of the room before the talks began.
On Thursday, the Chinese Foreign Minister told reporters the U.S. needed to calm down and consider its own consumers, responding to threats by the Trump administration to raise its proposed tariffs on $200 billion worth of Chinese goods from the initially planned 10 percent to 25 percent. Wang Yi said raising tariffs would hurt U.S. consumers and businesses located in China.
"Instead of achieving one's own goal by doing this, we believe it will only hurt one's own interests," said Wang.
The U.S. says it wants China to stop stealing U.S. corporate secrets and stop subsidizing Chinese companies with cheap loans that give them an unfair advantage.
Natural disasters
Before meeting with Wang, Pompeo co-chaired an ASEAN ministerial meeting with Singapore's Foreign Minister Vivian Balakrishnan. Pompeo started off by expressing his sorrow for a number of devastating natural disasters in the region.
"On behalf of the United States, let me also offer my condolences to the people of Laos for the loss of life and devastation caused by the dam breach," said Pompeo.
He said the U.S. government is providing assistance to respond to this disaster and welcomes the support already provided by the ASEAN Humanitarian Assistance Center. Pompeo also expressed his condolences to Indonesia, where a powerful earthquake struck; and to Myanmar, for the casualties suffered in recent flooding and landslides.
Security issues
Economic opportunities in the Indo-Pacific region are a major focus of Pompeo's visit, but security issues also are high on the agenda of the ASEAN meetings, as Pompeo made clear.
"On security, we appreciate ASEAN's ongoing efforts to promote peace and stability in the region, support the rule of law in the South China Sea, and to strictly enforce sanctions on North Korea. We are also working with ASEAN member-states to counter the threat of terrorism and violent extremism in the region."
Pompeo wrapped up a full day with a meeting with Singapore's prime minister, Lee Hsien Loong, at the Istana in Singapore.
Malaysia visit
He started his Southeast Asia tour Thursday in Malaysia.
Pompeo was the first senior U.S. official to visit Malaysia since Prime Minister Mahathir Mohamad took office following a May election dubbed "quite historic" by a senior State Department official. Pompeo met with Mahathir early Friday, and congratulated the people of Malaysia on their democratic transition.
It was the first stop of his Asian tour, focused on promoting free trade and pressuring North Korea to give up its nuclear weapons. After holding ASEAN meetings in Singapore, Pompeo will head to Indonesia.
Detained pastor
Earlier Friday in Singapore, Pompeo met with his Turkish counterpart in an effort to obtain the release of Andrew Brunson, a detained U.S. pastor who Turkey accuses of backing terrorism. The Trump administration has placed sanctions on Turkish officials because of Brunson's detention. Turkey says the sanctions are unacceptable.
Pompeo and Mevlut Cavusoglu met on the sidelines of a meeting of regional ministers in Singapore.
The top U.S. diplomat said "Brunson needs to come home, as do all the Americans being held by the Turkish government. Pretty straightforward. They've been holding these folks for a long time. These are innocent people."
Turkey has also detained three Turkish employees of the U.S. consulate in Istanbul.
The Turkish foreign ministry has called the sanctions a "disrespectful intervention in our legal system" that would harm "the constructive efforts toward resolving problems between the two countries."
Wayne Lee, William Gallo and Fern Robinson contributed to this report.