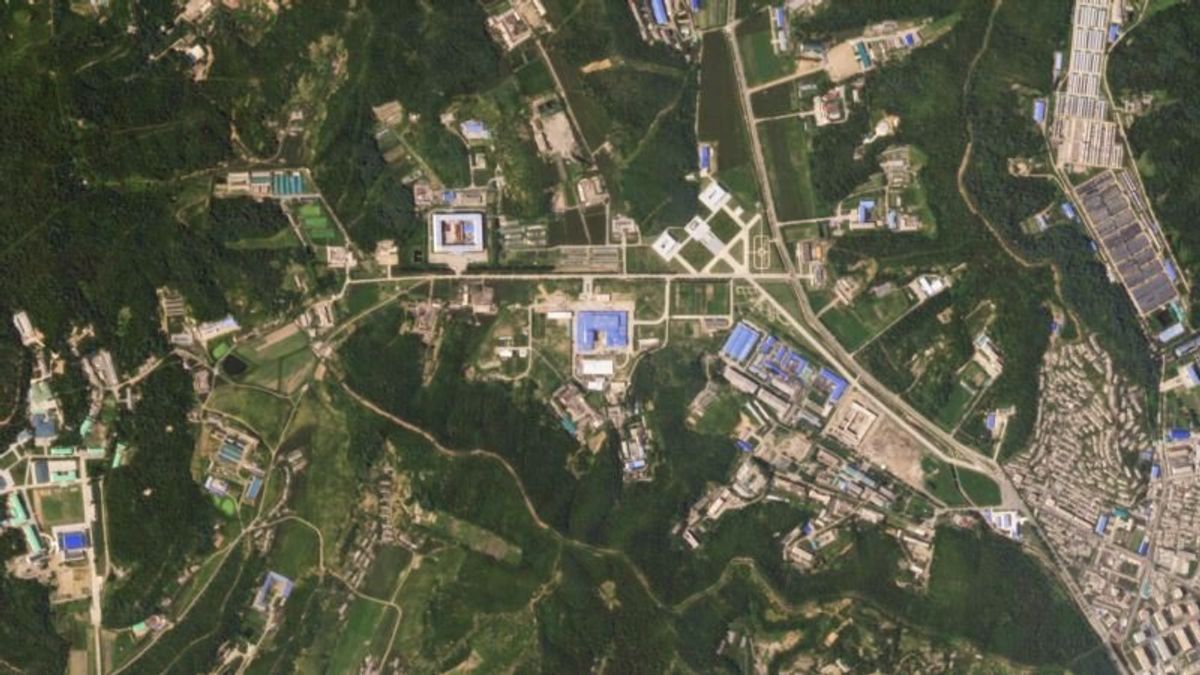 Pompeo: N. Korea Weapons Work Counter to Denuclearization Pledge
Pompeo: N. Korea Weapons Work Counter to Denuclearization Pledge
SINGAPORE —
Less than two months after a landmark U.S.-North Korea summit in Singapore, U.S. Secretary of State Mike Pompeo flew back to the city state on Friday and suggested that continued work on weapons programs by North Korea was inconsistent with its leader's commitment to denuclearize.
Pompeo was asked en route to Singapore about his statement in the U.S. Senate last month that North Korea was continuing to make bomb fuel and reports that North Korea, led by Kim Jong Un, was building new missiles.
"Chairman Kim made a commitment to denuclearize," Pompeo told reporters. "The world demanded that they [North Korea] do so in the U.N. Security Council resolutions. To the extent they are behaving in a manner inconsistent with that, they are a) in violation of one or both the U.N. Security Council resolutions and b) we can see we still have a ways to go to achieve the ultimate outcome we're looking for."
Pompeo thanked ministers of the Association of Southeast Asian Nations (ASEAN) at a meeting in Singapore for their efforts in enforcing sanctions on North Korea.
In a landmark summit with U.S. President Donald Trump in Singapore on June 12, Kim, who is seeking relief from tough sanctions, committed to work towards denuclearization, but Pyongyang has offered no details on how it might go about this.
Pompeo told a Senate committee hearing on July 25 that North Korea was continuing to produce fuel for nuclear bombs in spite of its pledge.
On Monday, a senior U.S. official said U.S. spy satellites had detected renewed activity at the North Korean factory that produced the country's first intercontinental ballistic missiles capable of reaching the United States.
The Washington Post reported on Monday that North Korea appeared to be building one or two new liquid-fueled intercontinental ballistic missiles at the research facility, citing unidentified officials familiar with intelligence reporting.
North Korean Foreign Minister Ri Yong Ho is also in Singapore and will attend the same regional meeting as Pompeo on Saturday, but the State Department has not said whether the two will meet.
Following his talks with Ri, China's top diplomat, State Councillor Wang Yi, said he hoped North Korea and the United States would continue to move forward to implement their leaders' agreement.
"China all along has believed that the consensus reached by U.S. and North Korea's leaders meeting in Singapore is very precious," Wang told reporters.
"That is, at the same time as realizing denuclearization of the Korean peninsula, to establish a peace mechanism. This direction is without a doubt correct," he said.
China is North Korea's most important economic and diplomatic supporter and fought for the North in the 1950-53 Korean War against the U.S.-led United Nations forces that backed South Korea.
Pompeo, who has led the U.S. negotiating effort with North Korea, visited Pyongyang from July 5-7 for inclusive talks aimed at agreeing a denuclearization roadmap. Pompeo said at the time he had made progress on key issues, only for North Korea to accuse his delegation hours later of making "gangster-like" demands.
Trump hailed the Singapore summit as a success and went as far as saying that North Korea no longer posed a nuclear threat, but questions have been mounting about Pyongyang's willingness to give up its weapons programs.
Trump has pointed to North Korea's freeze on nuclear and missile tests and its agreement to return the remains of American troops killed in the 1950-53 Korea War.
The White House said on Thursday Trump had received a letter from Kim and had responded with a note that should be delivered shortly. But it said no second meeting was currently planned.