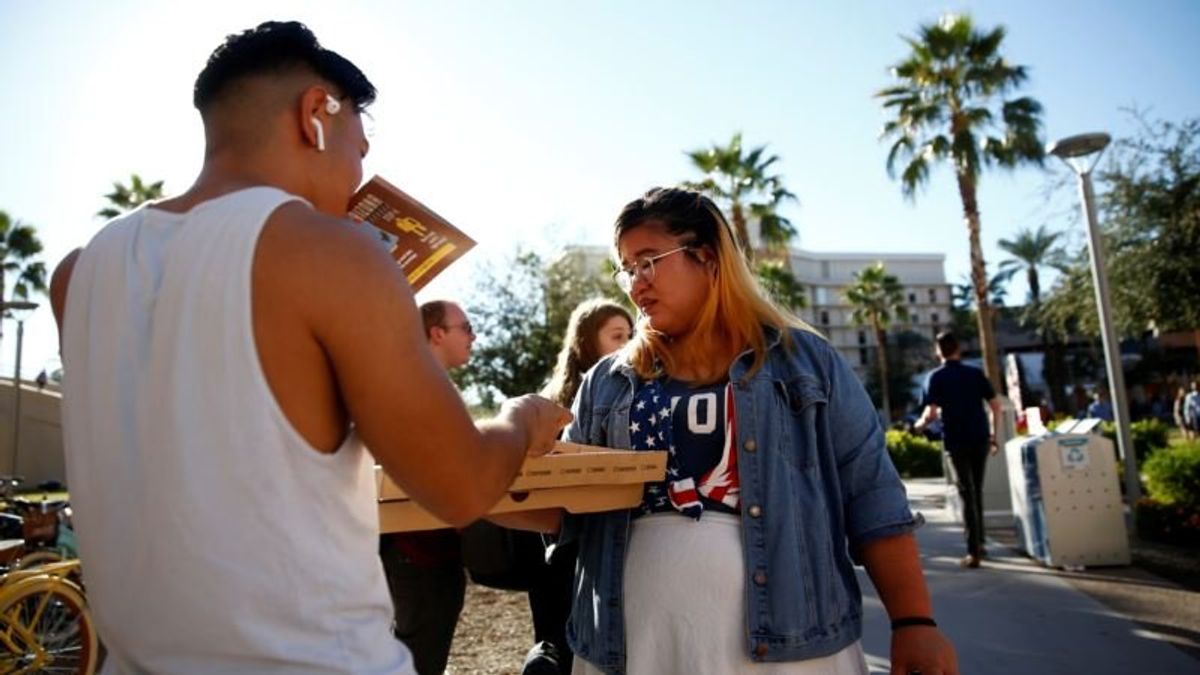 Young Voters Turn Out at 'Extraordinary' Rate in Midterms
November 7, 2018, 8:20 PM
Young Voters Turn Out at 'Extraordinary' Rate in Midterms
#TheyVoted.
Voters 30 and younger stepped up to the polls in Tuesday's midterm elections at an "extraordinary" rate compared with the midterm turnout in 2014, helping Democrats win back a majority in the House of Representatives, analysts say.
"Young people's dramatic rise in voter turnout, combined with an overwhelming preference for Democratic candidates, made youth a powerful voting bloc in the 2018 midterms," reported the Center for Information and Research on Civic Learning and Engagement (CIRCLE) at Tufts University in suburban Boston.
"I feel very content. I'm hoping the House of Representatives now being run by the Democrats will be a step in the right direction of a more balanced legislature," said Michelle Sullivan, 25, of Wilmington, N.C. "I understand politics isn't all sunshine and rainbows, but it would be nice to see more bipartisanship and cooperation amongst the two parties."
Roughly 31 percent of young people 18 to 29 cast ballots Tuesday, compared with four years earlier when 21 percent of eligible young voters went to the polls, CIRCLE wrote on its website.
"We estimate that this is by far the highest level of participation among youth in the past quarter century — the last seven midterm elections during which we've been using this same calculation method," it said.
According to early analysis of exit poll data, 67 percent of young voters cast ballots for Democratic House candidates, compared with 32 percent who chose Republican candidates.
"That extraordinary 35 percentage-point gap in support for Democrats over Republicans is about three times higher than it was in the 2014 midterms, when 54 percent of under-30 voters chose a Democrat, and 43 percent a Republican," CIRCLE reported. "It is, by far, the largest difference in vote choice among young people in the past quarter century."
"We, the Democrats, FINALLY took a step in the right direction," Paige Baldwin, 28, of Kelso, Wash., said in response to questions from VOA. "However, I'm saddened that we didn't do more. Not that I'm not grateful! We have so much diversity in the House now that has never been there before! LGBTQ, Muslim, WOMEN and men who are qualified! Based on the results, our work is not done! Hate is still in power! I also … feel exhausted!!!"
African-American and Latino youths — 90 percent and 80 percent, respectively — showed Democrats the most political love. White youths voted 57 percent for Democrats and 42 percent for Republicans.
"With the first Native women, first Latina representatives in certain states, first Muslim women, and first African-American women representatives in certain states, I think we are getting closer to a more accurate representation of America in the halls of power," said Erin Capina, 23, of Silver Spring, Md. "Change comes. It might happen excruciatingly slowly, but it happens."
"On Election Day, when the Democratic Party took back control of the House of Representatives, young people (ages 18-29) offered their candidates an overwhelming level of support today," CIRCLE stated.
Tharin Nolte, 24, of Summerville, S.C., who did not identify as a Democrat, agreed.
"They expected more Democrats to show up to this election, and they turned out to vote for their candidates. … My political party didn't win, but that doesn't mean that I don't have hope for us," she said.
Younger Americans say they were driven by divisive government and a disregard for issues that will impact them more greatly than their elders, such as climate change and the heavy burden of student debt.
Student activists from Parkland, Fla., are credited with increasing voter registration and youth participation. After 17 people were gunned down at Marjory Stoneman Douglas High School in February, students there banded together to combat gun violence with a grassroots campaign that organized the March for Our Lives protests in Washington and several U.S. cities nationwide that drew hundreds of thousands.
"I am optimistic knowing that there is some check and balance restored back to Congress," said Emily Paxson, 24, of Washington. "However, I was hoping for a few more victories in the South, specifically Florida, Georgia and Texas."
In Texas, Senate Democratic candidate Beto O'Rourke, 46, who waged a youth-focused campaign, lost to incumbent Republican Ted Cruz, 49. More than 70 percent of Texas youth voted for O'Rourke, compared with 29 percent for Cruz.
"I'm unpleasantly surprised O'Rourke lost," said Brittany Vulich, 25, of Milwaukee, Wis. "What a missed opportunity for Texans. … I'm convinced more than ever that [Cruz's] allegiance is to the straight, white, upper-middle-class, male agenda and not the all-encompassing other populations he claims to champion."
"The level of youth support for O'Rourke is remarkable in a state where young people supported Hillary Clinton with 55 percent of their vote just two years ago," CIRCLE wrote. "In 2014, Texas youth were evenly divided 49 percent to 49 percent between the gubernatorial candidates of both parties."
"To see the amount of young people that were first-time voters come out is really a testament to the direction this country is moving," said Brett Capina, 25, of Aldie, Va. "I'm hopeful that the momentum sticks, and people are just as motivated for the 2020 election and all future midterms."