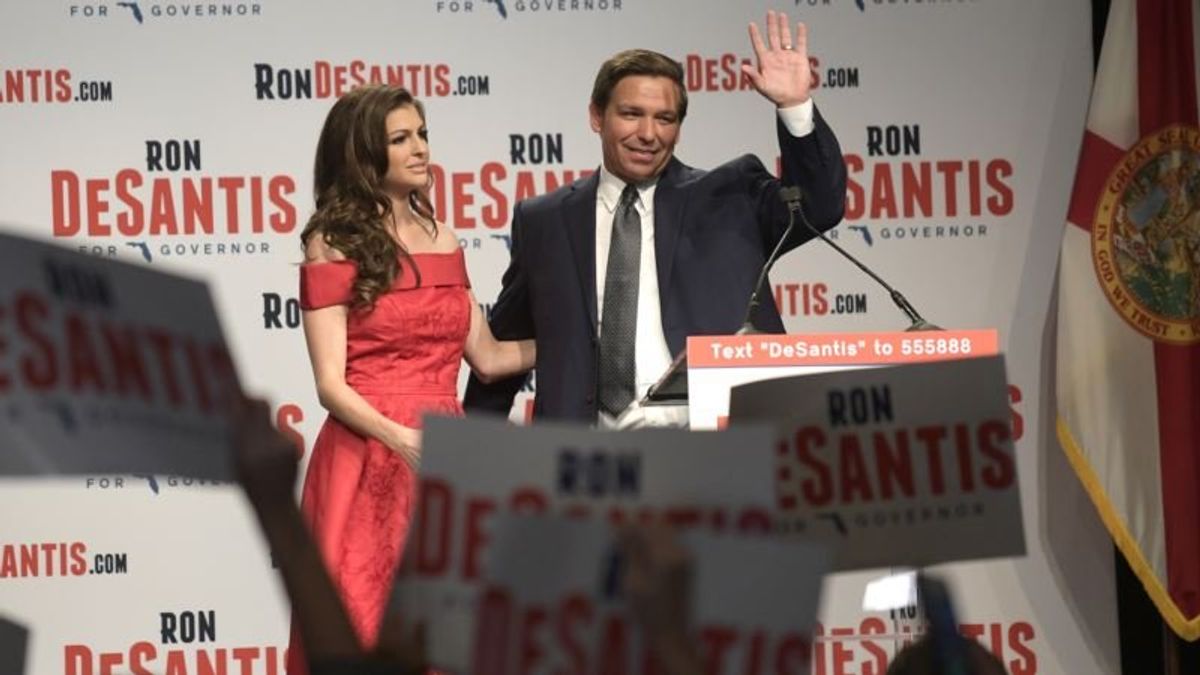 With Trump's Support, Republican DeSantis Wins Primary for Florida Governor
With Trump's Support, Republican DeSantis Wins Primary for Florida Governor
Conservative U.S. Representative Ron DeSantis easily won the Republican primary for governor in Florida on Tuesday after a campaign in which he highlighted his enthusiastic loyalty to President Donald Trump.
DeSantis, who was endorsed by Trump, beat state Agriculture Commissioner Adam Putnam for the Republican nomination for governor, the Associated Press projected. He led by nearly 20 percentage points with about 85 percent of votes counted.
Trump, who captured the battleground state of Florida by just more than 1 percentage point in the 2016 White House race, tweeted his congratulations to DeSantis after the victory and said he would be "a fantastic governor."
DeSantis made his allegiance to Trump the central theme of his race, airing a campaign ad in which he urged his toddler daughter to "build that wall" with toy blocks.
In the Democratic primary for Florida governor, progressive favorite Andrew Gillum narrowly led moderate former U.S. Representative Gwen Graham by nearly 2 percentage points with 85 percent of the vote counted.
Graham, the daughter of Bob Graham, a former Florida governor and U.S. senator, had led in polls heading into primary day, but Gillum surged in the late stages of the race.
Gillum, the mayor of Tallahassee, had been endorsed by U.S. Senator Bernie Sanders. He would be the first African-American governor of Florida.
Florida also will host one of the country's top U.S. Senate races between term-limited Republican Governor Rick Scott, who won the Senate nomination against token opposition, and incumbent Democrat Bill Nelson. Nelson ran unopposed for the nomination.
Voters in Arizona also picked candidates for the November elections, when Democrats will try to pick up 23 seats in the U.S. House of Representatives and two seats in the Senate to gain majorities and slam the brakes on Trump's legislative agenda.
Republican establishment favorite U.S. Representative Martha McSally has led consistently in opinion polls over former state Senator Kelli Ward and former Maricopa County Sheriff Joe Arpaio in a three-way battle to prove which candidate is most loyal to Trump, who won Arizona by 4 percentage points in 2016.
The contest could be critical to the balance of power in the Senate in November. The Arizona seat of retiring Republican Jeff Flake, a Trump critic, is considered one of the two top takeover targets for Democrats, along with Nevada.
McSally is seen as a stronger general election candidate than either Ward or Arpaio, both hard-line conservatives.
McSally has already launched advertising aimed at her likely Democratic opponent in November, U.S. Representative Kyrsten Sinema.
The primaries in Arizona and Florida on Tuesday are the last big day of state primaries before November's elections. After Tuesday's primaries, only five states remain to pick candidates before full attention turns to the November election, when all 435 House seats and 35 of the 100 Senate seats will be at stake.