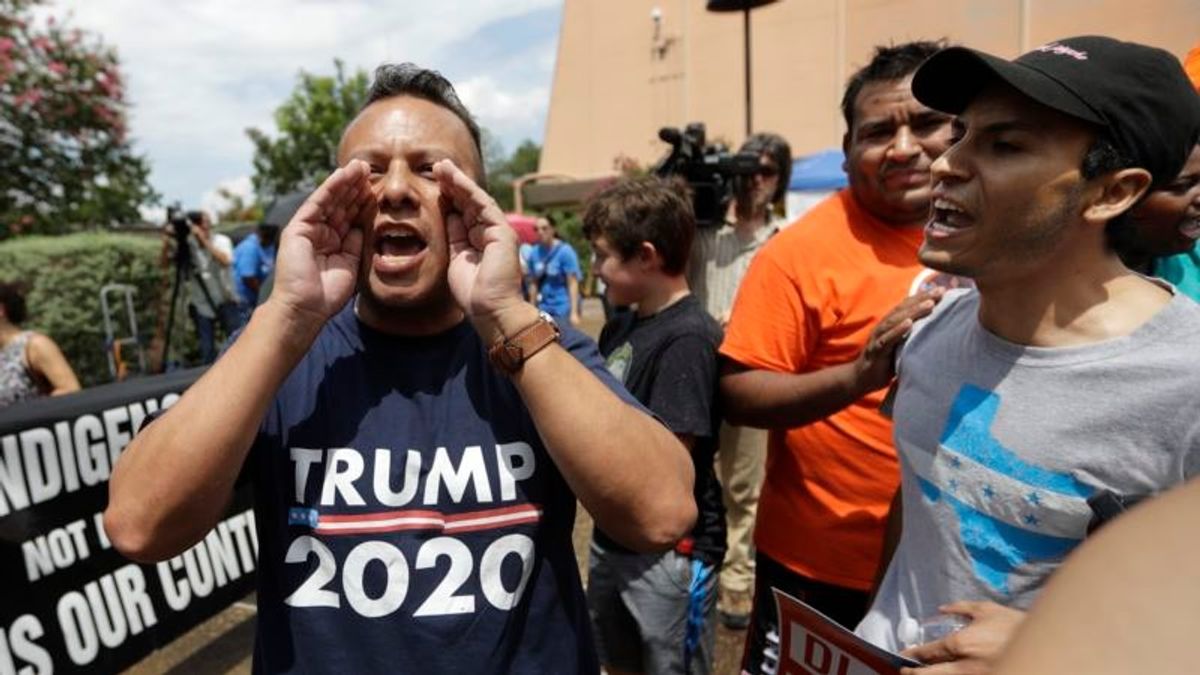 Will Immigration Get Trump Voters to Midterm Polls?
Will Immigration Get Trump Voters to Midterm Polls?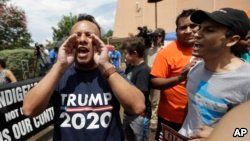 Republican House and Senate candidates are adopting one of President Donald Trump's key issues – and his style – to get themselves elected in November.
Immigration has long been red meat to Trump's base. At Nashville, Tennessee's Municipal Auditorium last Tuesday, 5,500 supporters eagerly chanted "build the wall" and Trump's use of a controversial term to describe MS-13 gang members — "animals!"
WATCH: Immigration and 2018 Midterms: A Battle for the American Identity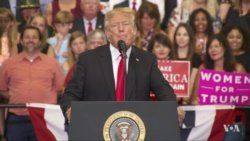 Embed share
Immigration and 2018 Midterms: A Battle for American Identity
Embed share The code has been copied to your clipboard. width px height px
The URL has been copied to your clipboard
No media source currently available
0:00 0:01:08 0:00 Direct link
270p | 3.1MB
360p | 4.8MB
720p | 23.6MB
1080p | 20.6MB
"I believe in President Trump's immigration ban, and I'll fight with him every step of the way to build that wall," said current U.S. Representative and Senate hopeful Marsha Blackburn in an online video ad, ahead of an expected tight contest with Tennessee's former Democratic governor, Phil Bredesen.
So far this election season, House GOP candidates nationwide have mentioned immigration in 34.3% of TV spots, ranking a close second to Pro-Trump ads (35.5%), according to an exclusive USA Today analysis of political ad data from Kantar Media.
"There's been a lot of debate about whether these same [pro-Trump] voters will turn out to support other Republican candidates, and I think that's why you've seen so many Republican candidates sort of trying to emulate Trump's tone and approach on some of these issues," said Dan Cox, Director of Research for the Public Religion Research Institute (PRRI), a nonprofit, nonpartisan research organization.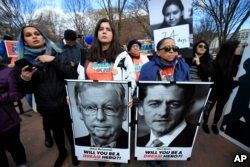 Rallying the base, alienating others
"Midterm elections typically are about the base, and this issue really animates the Republican base," Cox said.
A 2018 ad released by Trump's reelection campaign recalls the history of Luis Bracamontes, an undocumented immigrant convicted of killing two California deputies, before a narrator issues a dire warning: "Democrats who stand in our way, will be complicit in every murder committed by illegal immigrants."
The message falls in line with much of Trump's recent rhetoric that Cox characterizes as "personal safety"-themed — one that garners a nationwide audience among his base of white working-class Americans.
According to a 2017 survey analysis conducted by PRRI and The Atlantic, 62% among that demographic believe the growing number of immigrants threatens American culture. Among the same group, voters who favored deporting immigrants living in the U.S. illegally were 3.3 times more likely to support Trump than those who did not.
Historically, voter turnout rates drop precipitously in midterm elections as compared to presidential election years. As a result, it is normal for candidates of either party to focus on their base of reliable, energized voters during those years.
But choosing to focus much of their attention on Trump's hardline immigration policies this year comes with risks, explains Diana Mutz, a professor of political science and communication at the University of Pennsylvania, whose research explores electoral behavior in 2016.
"[Trump] is operating on the premise that being extremely anti-immigration actually won him votes. Our analyses actually suggest just the opposite — that yes, things like trade did win him votes but things like immigration actually did not," Mutz told VOA. "They lost him votes because he was far too extreme."
According to Pew Research Center, 65 percent of Americans say immigrants strengthen the United States "because of their hard work and talents," while 26 percent consider them a burden "because they take jobs, housing, and health care." Among Republicans, views are more evenly split — 42 percent hold favorable views, 44 percent unfavorable.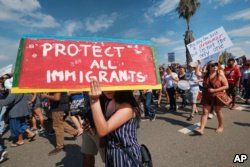 Trump's message on immigration may be problematic in districts with large college-educated populations, says Cox. That includes those who may have initially supported Trump with reservations and are critical of his more controversial policies, such as separating families at the border or repealing Deferred Action for Childhood Arrivals (DACA) — a program that allows some 700,000 undocumented immigrants brought to the United States as children to live and work without fear of deportation.
But in addition to mobilizing moderate and Independent voters, a strong turnout among Hispanics could be another important factor, given typically low voting rates among the bloc.
"Usually in midterms, people do play to the base because those are the only people who bother turning out … this year may be different," Mutz said. "Everything I've seen suggests that people may come out in far greater numbers than they usually do."
Battle for the American identity
The prevalence of a national immigration debate among Republican candidates hasn't had the same broad appeal across the aisle, as evidenced by USA Today and Kantar's analysis of House Democratic candidate ads, which place health care, anti-Trump, and social issues as the respective top three topics.
But in electorally competitive states with a heavy concentration of Latinos, like Nevada, Trump's rhetoric on immigration is creating enthusiasm among both Democrats and Latinos, says John Tuman, Chair of the Department of Political Science at the University of Nevada, Las Vegas (UNLV).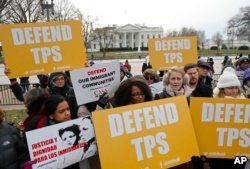 Incumbent Republican Senator Dean Heller, facing a formidable reelection challenge in Nevada against Democratic House member Jacky Rosen, finds himself in a catch-22 in a statewide election that could determine the balance of power on Capitol Hill — and one that could be further complicated if a vote on a DACA bill were forced onto the floor before November.
"The more that I think Heller tries to moderate his position on immigration as he sometimes tries to do, the more he risks alienating the very socially conservative, far right base of the Republican Party," Tuman said, in a phone interview with VOA. "And the more that he embraces President Trump's message, the more he is going to lose — I think — independent voters, and also boost Democratic turnout."
In Nevada — a state with a 28-percent Hispanic population, 39 percent of which are foreign-born — and neighboring Arizona, with broadly similar demographics, candidates who embrace Trump's rhetoric find themselves at odds with a powerful bloc of voters personally impacted by his immigration policies.
"There are a lot of people here who have been affected in one way or another by removal proceedings," Tuman said. "They tend to know people who have been caught up in immigration enforcement, and that has made the issue a personal one for them."
Come November, UPenn's Mutz predicts that this election, more than midterms past, may be viewed as a referendum on Trump's presidency, with immigration as a symbolic issue. "This is sort of a battle for what is the American identity," Mutz said.
"Who are we? What do we stand for?"
JOIN US ON RUMBLE LIVE NOW!