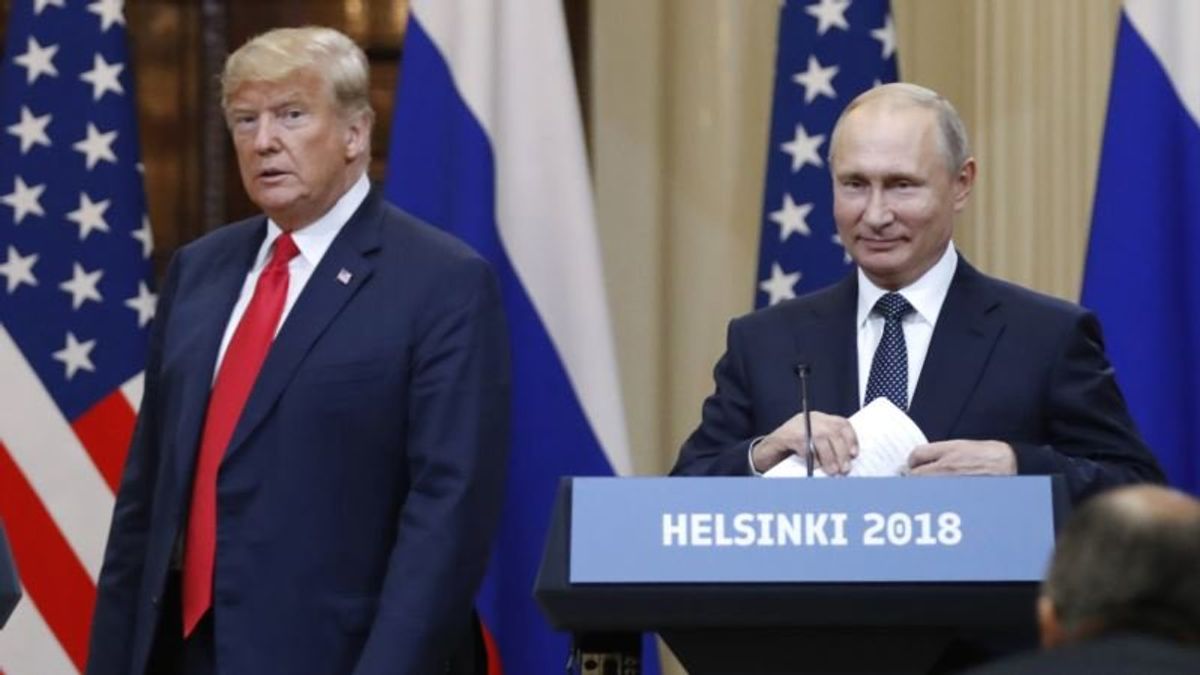 White House Delays Next Trump-Putin Summit Until 2019
White House Delays Next Trump-Putin Summit Until 2019
The White House said Wednesday that President Donald Trump and Russian leader Vladimir Putin will not hold a second summit until next year.
National Security Adviser John Bolton said Trump wants to wait until after Special Counsel Robert Mueller's investigation into the Russian interference in the 2016 U.S. presidential election is completed.
"The President believes that the next bilateral meeting with President Putin should take place after the Russia witch hunt is over, so we've agreed that it will be after the first of the year," Bolton said.
The statement came as the U.S. announced that it has no intention of recognizing Russia's 2014 annexation of Ukraine's Crimean peninsula and will not drop its economic sanctions against Moscow until Crimea is returned to Kyiv's control.
Secretary of State Mike Pompeo said that with its invasion of Russian-speaking Crimea, Moscow "sought to undermine a bedrock international principle shared by democratic states: that no country can change the borders of another by force."
The top U.S. diplomat added, "As democratic states seek to build a free, just, and prosperous world, we must uphold our commitment to the international principle of sovereign equality and respect the territorial integrity of other states. Through its actions, Russia has acted in a manner unworthy of a great nation and has chosen to isolate itself from the international community."
Pompeo's statement came shortly before he appeared before the Senate Foreign Relations Committee to answer lawmakers' questions about an array of global issues. At the top of the list were inquiries about last week's Helsinki summit between President Donald Trump and Russian President Vladimir Putin, particularly the two-hour private meeting the two leaders had, accompanied only by their translators. Trump has noted a range of topics he discussed with Putin, including Ukraine, but given no details of the talks.
In prepared remarks, Pompeo said the U.S. goal in dealing with Moscow is "to steadily raise the costs of aggression until Vladimir Putin chooses a less confrontational foreign policy, while keeping the door open for dialogue in our national interest. President Trump believes that two great nuclear powers should not have such a contentious relationship."
There is no indication, however, that Putin has any intention of relinquishing control of Crimea, where 2.3 million people live.
North Korea
Pompeo said that Trump's June summit with North Korean leader Kim Jong Un de-escalated the threat of Pyongyang's nuclear weapons development program.
"We are engaged in patient diplomacy, but we will not let this drag out to no end," Pompeo said of on-going talks with Pyongyang.
Ahead of the hearing, Trump's congressional critics said they were particularly interested in questioning Pompeo about Trump's apparent embrace of Putin's denial that Russia had interfered in the 2016 U.S. election and equated Putin's statement with the U.S. intelligence finding that it had meddled. Putin said at a news conference he wanted Trump to win.
Pompeo said Trump accepts the U.S. intelligence conclusion that Putin interfered, although Trump just days ago called the claims of Russian interference a "big hoax."
Trump's Helsinki comments drew sharp criticism in Washington, where he later said he supported his intelligence officials and their conclusion, often coupling it with his oft-repeated statement that his campaign did not collude with the Russians and that the Russian interference had no effect on the outcome of the election.
A new Quinnipiac University poll said Americans believe, by a 51 to 35 percent margin, "that the Russian government has compromising information about President Trump." The survey said that U.S. voters, by a 52-27 percent margin, believe the summit was a failure for the United States, while those polled, by a 73-8 percent edge, believe it was a success for Russia.
Top U.S. intelligence officials say Russia is again attempting to interfere in the U.S. electoral process in the November voting, although Trump administration officials have vowed to try to stop it. The Quinnipiac poll said 63 percent of voters are "very concerned" or "somewhat concerned" about Russian interference in the upcoming vote.
Trump said Tuesday, without offering any evidence, that Russia "will be pushing very hard for the Democrats" in November's congressional elections, against his favored Republican candidates.
The U.S. leader said on Twitter that he was "very concerned that Russia will be fighting very hard to have an impact on the upcoming Election."
Trump claimed that "based on the fact that no President has been tougher on Russia than me, they will be pushing very hard for the Democrats. They definitely don't want Trump!"
Trump's contention that Moscow would favor Democrats in the November 6 congressional contests –when the entire 435-member House of Representatives and a third of the Senate is up for election — is at odds with the U.S. intelligence community's conclusion that Russia meddled in the 2016 presidential election to help Trump win the White House.