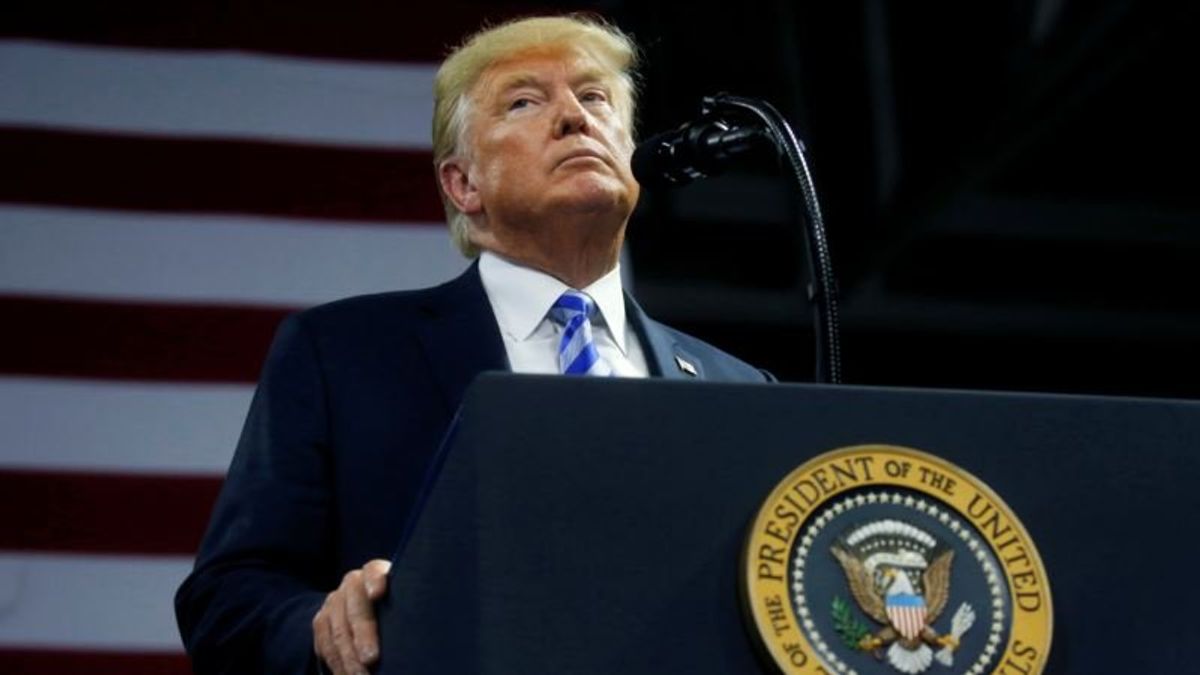 When It Comes to Presidential Wrongdoing, the Remedy is Often Political
When It Comes to Presidential Wrongdoing, the Remedy is Often Political
WASHINGTON —
In the United States, it is often said that no one is above the law, even the president. But what happens when the president is implicated in criminal wrongdoing?
The question took on new relevance this week after President Donald Trump's former lawyer, Michael Cohen, pleaded guilty to violating campaign finance laws, which he says was done at the direction of then-candidate Trump.
​Defiant Trump
At a campaign style rally in West Virginia Wednesday, Trump ignored his legal difficulties and rallied his base.
"Under our administration, America is winning again and America is being respected again all over the world. It is America first," Trump said to cheers.
But the Cohen guilty plea combined with the fraud conviction of former Trump campaign manager Paul Manafort have handed Democrats a new political weapon just in time for the midterm congressional election campaign.
"Consideration of country and Constitution aside, if my Republican colleagues remain silent, the party is becoming a co-conspirator in the culture of corruption that surrounds this president," Senate Democratic leader Chuck Schumer said in a speech on the Senate floor.
WATCH: When It Comes to Presidential Wrongdoing, Remedy Often Political
Embed share
When It Comes to Presidential Wrongdoing, Remedy Often Political
Embed share The code has been copied to your clipboard. width px height px
Share on Facebook
Share on Twitter
The URL has been copied to your clipboard
No media source currently available
0:00 0:03:33 0:00 Direct link
270p | 10.2MB
360p | 15.3MB
720p | 96.1MB
1080p | 79.1MB
Legal jeopardy
Legal analysts said this week that Trump's possible involvement in the campaign violations admitted to by Cohen could put the president in legal jeopardy.
"He is potentially now an unindicted co-conspirator and could be indicted," George Washington University Law Professor Paul Schiff Berman via Skype. "Now there is an open question as to whether a sitting president can be indicted for criminal wrongdoing. Obviously he could be impeached, but that is not going to happen as long as Republicans hold the House and the Senate."
If the president eventually faces charges of specific criminal wrongdoing, impeachment may be a more likely remedy than going through the courts.
Justice Department guidance
The Justice Department has longstanding internal guidance that likely bar a sitting president from being indicted while in office. Although never tested in court, the guidance held sway during the impeachment inquiries involving former Presidents Bill Clinton in 1998-99 and Richard Nixon in 1974.
But there is no constitutional bar to seeking an indictment of a president once out of office.
Clinton was impeached by the House of Representatives for lying about his affair with intern Monica Lewinsky, but was acquitted in a trial in the Senate.
Nixon did not fare as well. He became the first president to resign after the House began impeachment proceedings in 1974.
​Impeachment politics
The Senate remains in Republican hands and could protect Trump even if Democrats win back a House majority in the November midterms. The House can impeach the president with a simple majority vote. But removing a president from office requires a trial in the Senate.
"In the Senate, you need two-thirds of the Senate to convict a president and that has never happened before," said University of Virginia legal analyst Saikrishna Prakash via Skype. "Two presidents have been impeached, Andrew Johnson and Bill Clinton. No president has actually been removed (from office)."
Trump attorney Rudy Giuliani was quick to dismiss any thoughts that the president was worried about impeachment.
"I think impeachment would be totally horrible. I mean there is no reason," Giuliani told reporters during a visit to Britain. "He did not collude with the Russians. He did not obstruct justice. Everything Cohen says has been disproved. You would only impeach him for political reasons and the American people would revolt against that."
Politics and the law
Prakash also said that history has shown that when it comes to presidential wrongdoing, there is often a balance between legal and political remedies.
"The fact that he might not be able to be prosecuted while president might cause some people to think that the president is above the law. But of course when you are designing a system, you have to decide, do you want to subject the president to possible prosecution while he is president?"
The founders of the American republic sought to find a middle ground where Congress could hold a president accountable without undermining the basic concept of the separation of powers among the three branches of government: the executive, the legislative and the judicial. There was also a concern that a president could face numerous frivolous lawsuits and legal challenges while in office that would distract his or her attention from the pressing issues of the day.
Ultimately, if President Trump is accused of any criminal wrongdoing, his fate will likely be decided by Congress and the public, not a judge and jury.