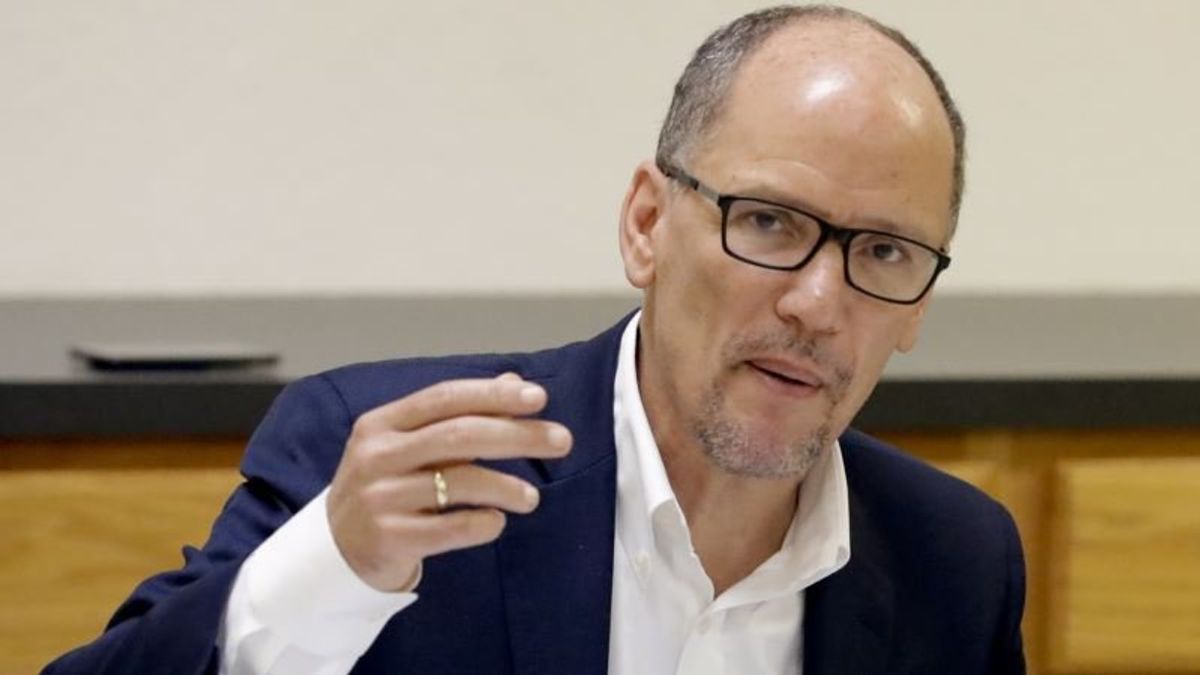 Democrats OK Limiting Party Leaders' Role in Picking Nominee
Democrats OK Limiting Party Leaders' Role in Picking Nominee
CHICAGO —
After two years of sometimes ugly public fighting, Democratic Party leaders on Saturday voted to limit their own high-profile roles in choosing presidential nominees, giving even more weight to the outcome of state primaries and caucuses.
The debate over the influence of party insiders known as superdelegates was evidence of the fallout from the 2016 fight between eventual nominee Hillary Clinton and Vermont Sen. Bernie Sanders. His supporters accused the national party of tipping the scales in Clinton's favor.
The change, which affects the hundreds of Democratic National Committee members, elected officials and party elders who attend presidential conventions as automatic delegates, was seen as a victory for the party chairman, Tom Perez. It comes with the November election nearing, when GOP control of Congress is at stake, and a potentially bruising nominating battle shaping up for 2020, when President Donald Trump is up for re-election.
"We should never ever confuse unity and unanimity," Perez said after the vote. "Today, demonstrated the values of the Democratic Party."
Under the new rules for 2020, superdelegates still will be automatic delegates to the party's convention. But they will not have a vote on the first presidential ballot if the convention remains contested, which is a distinct possibility given the number of Democrats considering running.
Superdelegates would get to vote on any subsequent rounds of voting, though the Democratic nomination has been settled on the first ballot of every convention since the 1970s, when the modern system of primaries and caucuses was established.
The change was approved by acclamation. The key procedural vote before that showed the overhaul had 329.5 "yes" votes to 106.5 votes in opposition.
The approval drew a standing ovation from progressive activists, many of them among the Sanders supporters who had cited superdelegates as the personification of establishment favoritism toward Clinton.
"This is a great day for America and for the party," said Jeff Weaver, Sanders' 2016 campaign manager. "When you have a system subject to gaming, there is incentive to game it. To the extent the system can't be gamed, you have more credibility with voters."
In a written statement, Sanders called the move "an important step forward in making the Democratic Party more open, democratic and responsive to the input of ordinary Americans."
Perez said settling the issue means the party can focus exclusively on the November election, when Democrats are aiming to reclaim majorities on Capitol Hill and regain power in statehouses around the country.
"We're here to win elections. We're here to restore our democracy as we know it," Perez said, and "we're going to kick butt in 73 days."
Beyond changing the rules for superdelegates, the overhaul is intended to make vote-counting at presidential preference caucuses more transparent and make it easier for voters other than longtime registered Democrats to participate in caucuses and primaries.
That could affect states such as Iowa, which might have to develop paper ballots for caucus sites instead of its usual method of sorting into groups and counting heads. New York, meanwhile, would be pressured to relax its party registration deadline, which in 2016 fell six months before the primary, leaving many independents who wanted to back Sanders no option to vote.
But it was the superdelegate matter that met fierce opposition from some party leaders, including two former national heads, Donna Brazile and Don Fowler, both longtime allies of Hillary Clinton and former President Bill Clinton.
Fowler, Brazile and other opponents cast the efforts as punishing rank-and-file party leaders incorrectly perceived as party bosses trying to override the will of voters. Even Perez noted that superdelegates have never overturned the cumulative results of primaries and caucuses.
In 2016, for example, Clinton got almost 4 million more primary and caucus votes than Sanders, giving her a clear lead in pledged delegates heading into the Philadelphia convention. Still, many superdelegates had declared their loyalty early in the process — even before primary season began — allowing Clinton to claim the mantle of a prohibitive favorite.
Christine Pelosi, a DNC member from California who backed Clinton but supports scrapping superdelegates, recalled media coverage of Sanders' big victory in the New Hampshire primary being colored by Clinton having unpledged delegate support in the state.
"Sanders went to bed ahead, and he woke up effectively tied" in the delegate count, Pelosi said. "That's not a 'perception.' That's a reality."