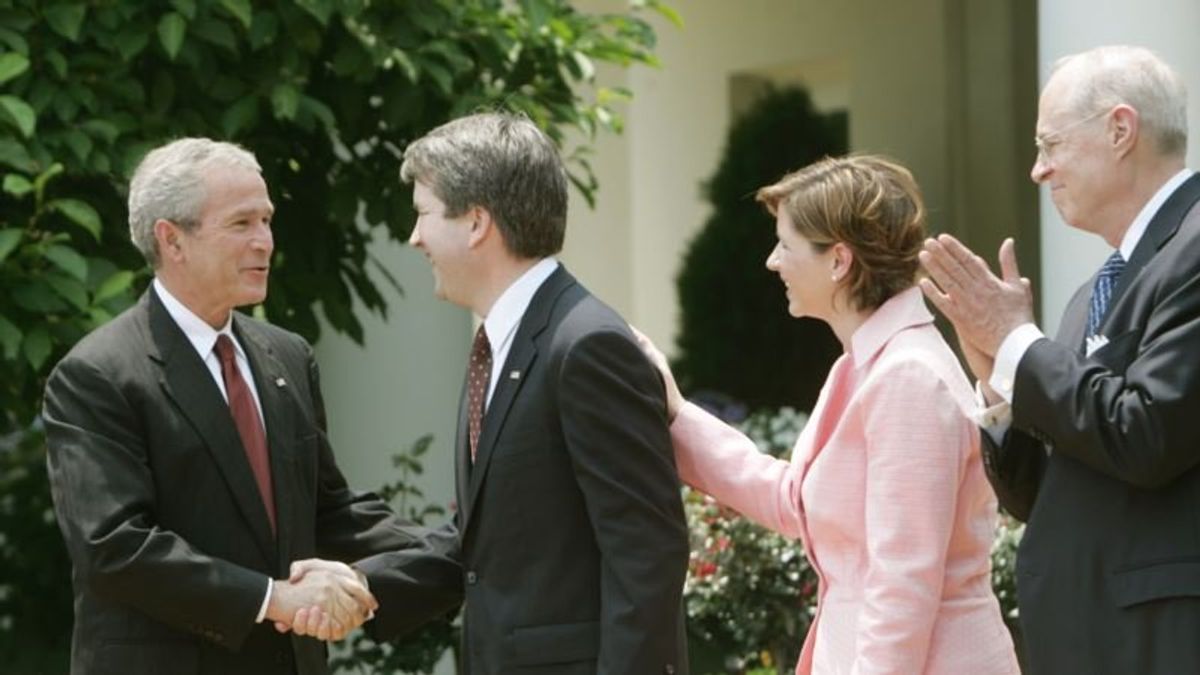 Washington Insider Kavanaugh Boasts Conservative Credentials
Washington Insider Kavanaugh Boasts Conservative Credentials
Brett Kavanaugh, the consummate Washington insider picked by President Donald Trump on Monday for a lifetime seat on the U.S. Supreme Court, has viewed business regulations with skepticism in his 12 years as a judge and taken conservative positions on some divisive social issues.
He joined the U.S. Court of Appeals for the District of Columbia Circuit in 2006. Appointed by Republican President George W. Bush, Kavanaugh, 53, on several occasions ruled against regulations issued under Democrat Barack Obama, who succeeded Bush in 2009.
Kavanaugh faulted Obama-era environmental regulations, including some aimed at fighting climate change. In 2016, he wrote the appeals court decision that the structure of the Consumer Financial Protection Bureau, formed under Obama, was unconstitutional.
In 2017 he dissented when his appeals court declined to reconsider its decision upholding "net neutrality" regulations implemented under Obama – and later rescinded under Trump – requiring internet providers guarantee equal access to all web content.
His extensive record on what is widely viewed as the country's second most powerful court and in prior Washington jobs means his appointment promises to attract a barrage of questions during a contentious U.S. Senate confirmation process.
The timing of the nomination means the Senate could confirm the nomination before the start of the Supreme Court's next term on the first Monday in October.
Kavanaugh has shown conservative credentials on social issues ranging from gun rights to abortion cases.
In 2011, he dissented as the court upheld a District of Columbia gun law that banned semi-automatic rifles. Kavanaugh said such guns are covered by the U.S. Constitution's Second Amendment, which protects the right to bear arms.
Last October, he was on a panel of judges that issued an order preventing a 17-year-old illegal immigrant detained in Texas by U.S. authorities from immediately obtaining an abortion. That decision was overturned by the full appeals court and she had the abortion.
Kavanaugh, who emphasized his Roman Catholic faith in his appearance with Trump at the White House on Monday, said in a dissent that the full court was embracing "a new right for unlawful immigrant minors in U.S. government detention to obtain immediate abortion on demand."
He dissented in 2015 when the appeals court spurned religious groups that sought an exemption from a requirement under the 2010 Obamacare healthcare law that employers provide health insurance that covers birth control for women.
Washington background
A senior White House aide under Bush, he previously worked for Kenneth Starr, the independent counsel who investigated Democratic former President Bill Clinton in the 1990s. Kavanaugh faced a long confirmation battle when Bush nominated him to his current post in 2003. Democrats painted him as too partisan, but the Senate ultimately confirmed him three years later.
Kavanaugh grew up in Bethesda, a Maryland suburb of Washington, and attended the same high school as Trump's first Supreme Court appointee, Neil Gorsuch. Both men served as clerks in the Supreme Court's 1993-1994 term to long-serving conservative Justice Anthony Kennedy, who announced his retirement on June 27 at age 81.
A graduate of Yale Law School, Kavanaugh has come under fire in some conservative circles for his ties to Bush, a member of the Republican establishment that is eschewed by Trump, as well as for not sometimes ruling aggressively enough on issues of importance to conservative activists.
Some conservatives have faulted his reasoning in a dissenting opinion in a case involving Obamacare.
Kavanaugh dissented from his court's 2011 conclusion that Obamacare, a law detested by conservatives, did not violate the U.S. Constitution, asserting that it was premature to decide the case's merits.
Kavanaugh in his dissent mentioned that a financial penalty levied under Obamacare on Americans who opted not to obtain health insurance might be considered a tax, a pivotal distinction in the conservative legal challenge to the law.
Conservative critics said Kavanaugh's dissent created an opening that eventually led to U.S. Chief Justice John Roberts casting a crucial vote in upholding the law when it reached the Supreme Court in 2012.
In his remarks on Monday, Kavanaugh sought to spotlight his bipartisan credentials. He noted that he has taught at Harvard Law School, where he was hired by former dean Elena Kagan, appointed by Obama to the Supreme Court in 2010. He said a majority of his clerks have been women.
He worked for four years for Starr, whose investigation of Clinton helped spur an effort by congressional Republicans in 1998 and 1999 to impeach the Democratic president and remove him from office.
In 2009, Kavanaugh wrote a law review article questioning the value of that investigation and concluding that presidents should be free from the distractions of civil lawsuits, criminal prosecutions and investigations while in office.
That view has assumed fresh relevance, with Trump facing several civil lawsuits as well as a Russia-related criminal investigation by Special Counsel Robert Mueller. The Supreme Court could be called upon to weigh in on these matters.