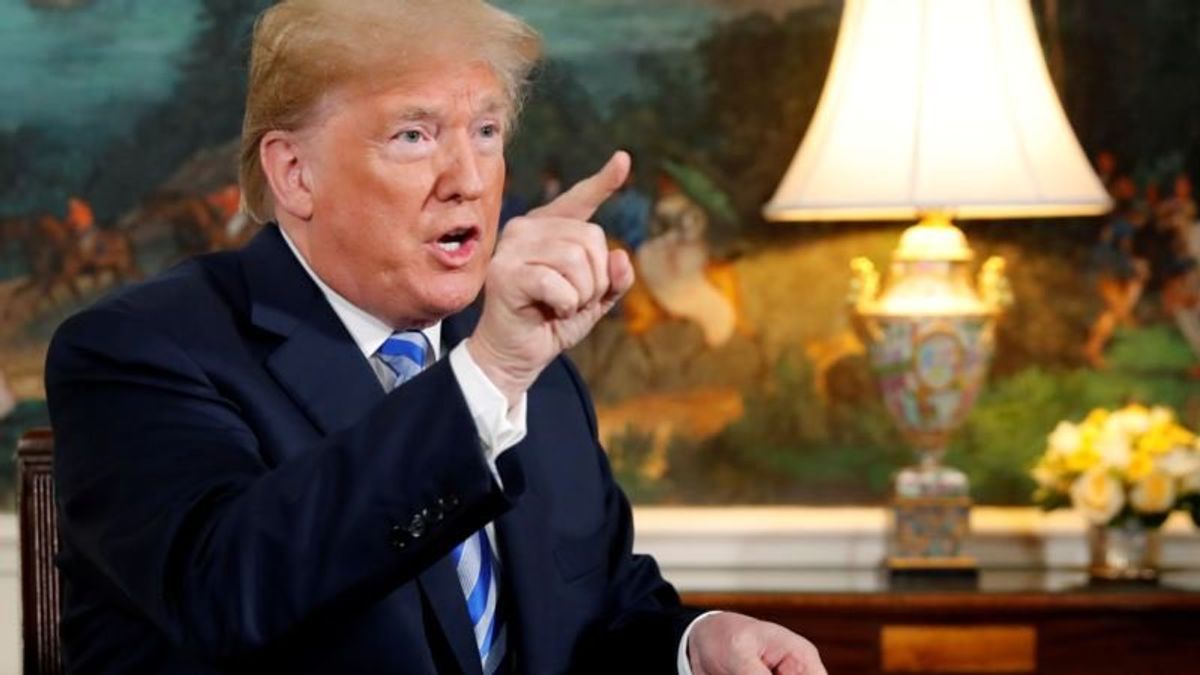 US Unleashes Rhetorical Barrage on Iran
US Unleashes Rhetorical Barrage on Iran
WHITE HOUSE —
President Donald Trump says he's "not at all" worried his Sunday night tweet will provoke Iran.
The president replied to a reporter on the White House South Lawn on Monday afternoon when asked about his all-capital-letters tweet in which he sharply warned Iranian President Hassan Rouhani to "never threaten the United States" or the Islamic Republic would suffer historical consequences.
National Security Adviser John Bolton said he had spoken to Trump "over the last several days," and the president "told me that if Iran does anything at all to the negative, they will pay a price like few countries have ever paid before."
"He has a lot of bad news he's trying to distract from," Barbara Slavin, director of the Future of Iran Initiative at the Atlantic Council, said of Trump's tweet. "It was kind of disproportionate. But, no, it didn't surprise me."
Trump appeared to be responding to Rouhani warning Trump: "Don't play with the lion's tail. This would only lead to regret."
"America must understand well that peace with Iran is the mother of all peace, and war with Iran is the mother of all wars," Rouhani said.
Both Trump and Rouhani find themselves facing internal pressure over their foreign policies. In addition, Rouhani is confronting economic discontent.
Some analysts question whether the two presidents are pursuing hard-line rhetoric merely to marshal domestic support, or whether Trump is reapplying his high-stakes North Korea model — raising tension with tough talk that justifies going to the negotiating table.
"That none of the parties seems inclined to make the first move toward rapprochement is at best a recipe for an ongoing dangerous standoff, at worst for direct confrontation," Ali Vaez, the Iran Project director at the Crisis Group, told VOA.
Some worry, however, that Trump may be seeking to eliminate by force the threat from Iran.
Slavin tells VOA she does not see any realistic possibility of Trump initiating such an armed conflict, although "the U.S. is already conducting an economic war against Iran, which is frankly very, very damaging for ordinary Iranians."
Noting Trump has made clear he does not want U.S. forces on the ground in the Middle East "and he doesn't even want to keep troops in Syria," Slavin asserted that a U.S. military move against Iran "seems out of the question."
Iran weapons, strategy
Except for Israel and Saudi Arabia, much of the international community would likely not support a U.S. attack, as they would assert Iran has curbed its nuclear programs and remains in compliance with the international nuclear deal, known as the Joint Comprehensive Plan of Action (JCPOA).
Iran currently "does not have a single nuclear weapon," noted Joshua Pollack, a senior research associate at the Middlebury Institute of International Studies at the James Martin Center for Nonproliferation Studies in Monterey, California. It does, however, possess short- and medium-range ballistic missiles with conventional warheads and a formidable number of anti-ship missiles.
Pollack, who is also editor of The Nonproliferation Review, added that Iran, if attacked or provoked, has other response options, including trying to close the Strait of Hormuz — a strategic chokepoint for transit of oil from the Middle East.
In addition, "they have state-sponsored terrorists and local allies who could be disruptive," Pollack told VOA. "They also have hackers" who have conducted successful cyberattacks on Saudi Aramco and other targets in the Saudi kingdom, which is the arch rival to Iran for influence in the region.
Financial pressure
In a speech Sunday night, Secretary of State Mike Pompeo urged all U.S. allies to collectively suppress Iran through financial pressure.
"This especially goes for our allies in the Middle East and Europe, people who have themselves been terrorized by the violent regime's activity for decades," Pompeo said.
The Trump administration still appears to have no firm commitments from the top buyers of Iranian oil to significantly drop their imports to comply with sanctions Washington is reinstating as part of the U.S. withdrawal from the JCPOA.
Pompeo is also accusing Iran's government of numerous crimes and abuses, including kleptocracy, alleging its top leaders have squandered the people's wealth on terrorism and theft and a zeal to spread the Islamic revolution to other nations.
"Judging by their vast wealth, they seem more concerned with riches than religion," he said. "These hypocritical holy men have devised all kinds of crooked schemes to become some of the wealthiest men on Earth while their people suffer."
Based on the statements about Iran in the past day by the president, his national security adviser, and top diplomat, VOA asked White House Press Secretary Sarah Sanders on Monday what is stopping the Trump administration from openly advocating regime change in Tehran.
"Our focus is on stopping Iran from having nuclear weapons regardless of who is there," Sanders replied. "That's what our priority is."
VOA's Cindy Saine and Jesusemen Oni contributed to this report.