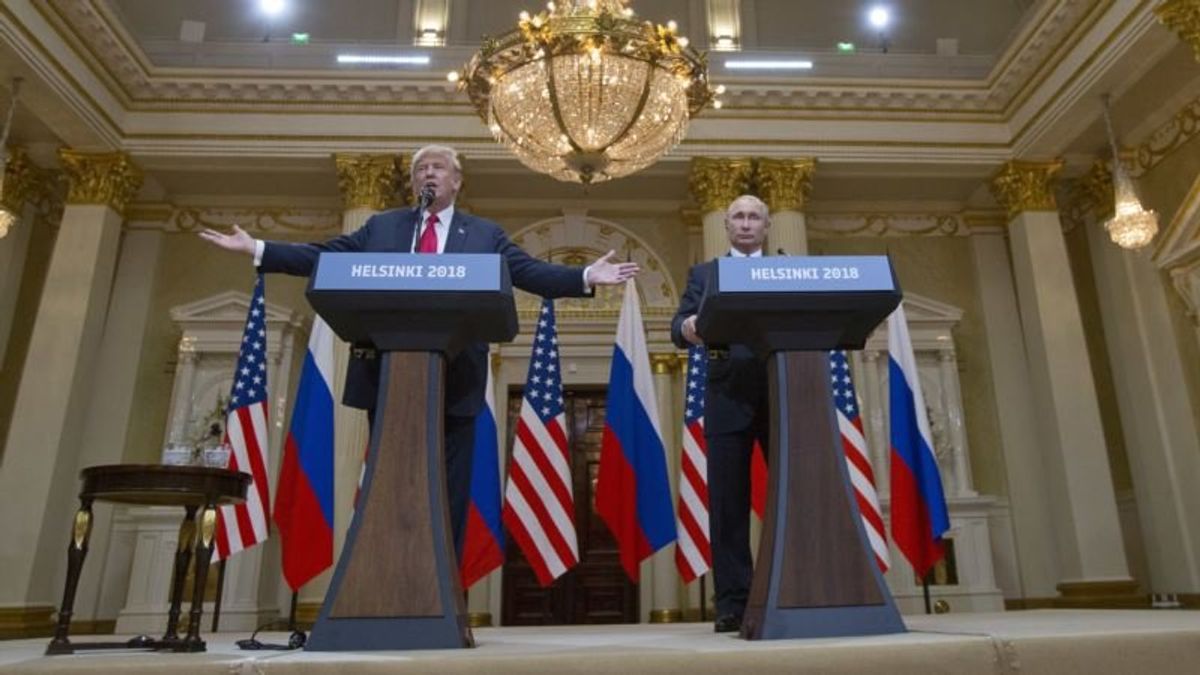 US Political Figures Shocked at Trump's Russia Election Meddling Comments
US Political Figures Shocked at Trump's Russia Election Meddling Comments
U.S. political figures reacted with shock Monday after President Donald Trump failed to side with the conclusion by U.S. intelligence agencies that Russia meddled in the 2016 presidential election and said Russian President Vladimir Putin had given him a "very powerful" denial of Moscow's involvement.
At a news conference in Helsinki alongside the Russian leader after their summit, the U.S. leader branded special counsel Robert Mueller's 14-month investigation of Russian links to Trump's campaign "a disaster for our country."
Back home, the pointed reaction against Trump's comments came swiftly.
Republican Senator Lindsey Graham, generally a Trump supporter, said on Twitter, "Missed opportunity by President Trump to firmly hold Russia accountable for 2016 meddling and deliver a strong warning regarding future elections. This answer by President Trump will be seen by Russia as a sign of weakness and create far more problems than it solves."
John McCain, also a senior Republican senator, said, "Today's press conference in Helsinki was one of the most disgraceful performances by an American president in memory. The damage inflicted by President Trump's naivete, egotism, false equivalence, and sympathy for autocrats is difficult to calculate."
Paul Ryan, the top Republican in the U.S. House of Representatives, said, "There is no question Russia interfered in our election and continues attempts to undermine democracy here and around the world." He added, "There is no moral equivalence between the United States and Russia, which remains hostile to our most basic values and ideals."
A longtime Republican critic of Trump, retiring Arizona Senator Jeff Flake, said, "I never thought I would see the day when our American President would stand on the stage with the Russian President and place blame on the United States for Russian aggression. This is shameful."
Republican Congressman Adam Kinzinger of Illinois tweeted, "The American people deserve the truth, & to disregard the legitimacy of our intelligence officials is a disservice to the men & women who serve this country. It's time to wake up & face reality. #Putin is not our friend; he's an enemy to our freedom."
Democratic lawmakers were equally incensed by Trump's remarks.
Senator Mark Warner of Virginia, part of the Senate Intelligence Committee that concurred with the country's intelligence community that Russia interfered to help Trump defeat Democrat Hillary Clinton, said, "For the President to side with Putin over his own intelligence officials and blame the United States for Russia's attack on our democracy is a complete disgrace."
Senator Elizabeth Warren, a potential 2020 presidential opponent of Trump, tweeted that Trump had taken "to the international stage to embarrass America, undermine our institutions, weaken our alliances, & embrace a dictator. Russia interfered in our elections & attacked our democracy. Putin must be held accountable — not rewarded. Disgraceful."
Senator Tim Kaine of Virginia, Clinton's vice presidential running mate two years ago, said, "This is a sad, shameful moment for our great nation."
Democratic Senator Bill Nelson of Florida said Putin was a threat to interfere in November's congressional elections in the U.S.
"The president's refusal to acknowledge that Putin interfered in our elections should alarm us all," Nelson said. "The president's unwillingness to stand up to him and defend our nation is unacceptable and embarrassing."