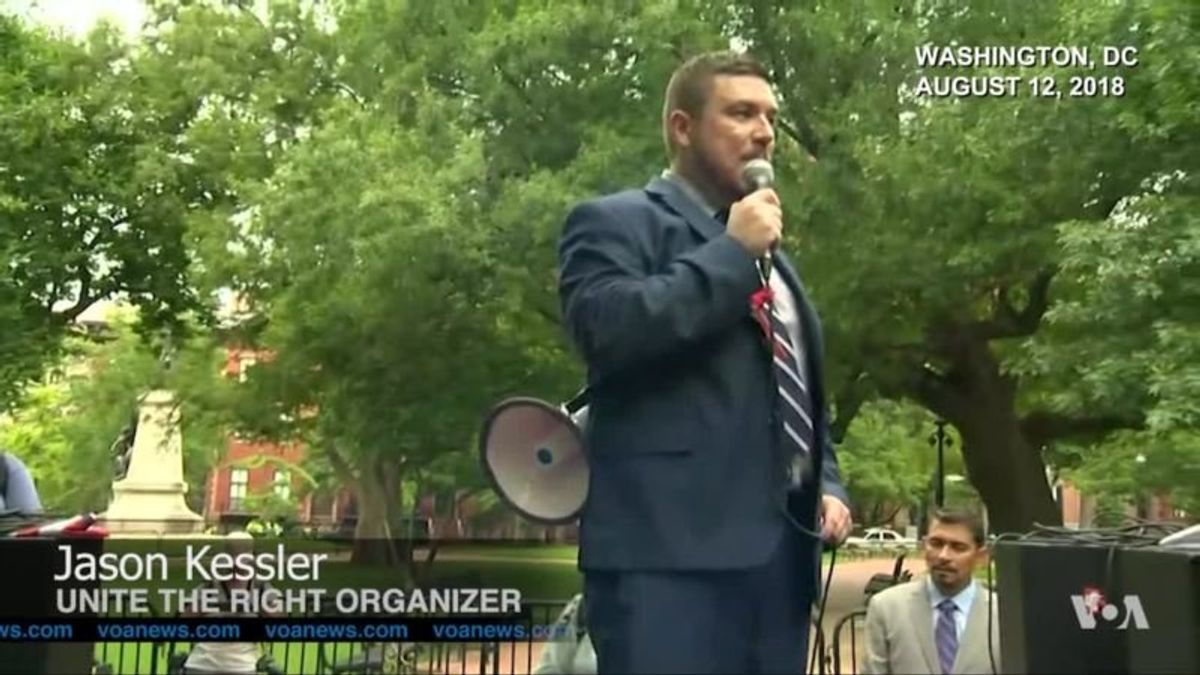 'Unite the Right' Doesn't Live Up to the Hype
'Unite the Right' Doesn't Live Up to the Hype
The people who attended dueling rallies in the nation's capital Saturday and Sunday came to be heard, although their messages were vastly different.
About two dozen white supremacists, some shielding their faces behind masks and unfurled American flags, rallied in a park across the street from the White House Sunday afternoon but the event ended under rainy skies before the official 5:30 p.m. start time.
Jason Kessler, the man who organized the event in support of "white civil rights," expected between 100 and 400 people to attend, according to the permit he received from the National Park Service.
"I'm O.K. with sharing this country with people from around the world," Kessler said, speaking from a platform before the rally's official start time, "but if you bring in too many people at once, it's not the same country anymore and that's what they're doing and that's why a lot of white people feel aggrieved."
Kessler also said he is not a white nationalist. Journalists were kept away from the rally site and could not directly interview the participants.
Kessler and his group of protesters arrived at and departed Lafayette Park under police protection. They were far outnumbered by anti-hate protesters at a counter rally. A heavy law enforcement presence, and a temporary metal fence, kept the opposing groups away from each other.
Marcia Gaysue, a web content manager from nearby Silver Spring, Maryland, who joined the counter-protests, said she felt uneasy about being in the same vicinity as white supremacists.
"You hear about it but to actually be here, see, experience it, is something I can't describe. It's mind-boggling to think that in 2018, we're still doing this," said Gaysue.
"Being black in America is a very difficult thing at the moment so I wanted to be out here…I feel like sitting at home is not really going to do anything."
Leah Sink-Barth, the wife of a U.S. military officer and stay-at-home mother of two teenagers, also attended the counter-protest and referred to Kessler and his group as a "bunch of Nazis."
"I'm scared for my friends that are immigrants, I'm scared for my black friends, my brown friends," said Sink-Barth. "I just felt, as a white woman, that I wanted to show my solidarity with the Black Lives Matter movement. And I just wanted to show my brothers and sisters my support because I don't know their struggle on a daily basis. And if I can come down and show that people are supporting them, that we are against fascism and xenophobia, racism, then at least I did something as a human being."
Earlier in the day, before the protests began, the white nationalists gathered at a metro station in Northern Virginia, a suburb of Washington, D.C., to travel into the nation's capital. They were jeered by counter-protesters as they exited the metro stop at the end of their short trip before marching to the site of their rally near the White House.
One of the Unite the Right marchers shook a U.S. flag at the heckling counter-protesters and said, "America, baby, America."
The white nationalist event, called Unite the Right II, came one year after the first Unite the Right rally in Charlottesville, Virginia, where white supremacists, neo-Nazis and members of other hate groups, marched across the University of Virginia campus and clashed with counter-demonstrators in the city. A self-described Nazi is accused of ramming his vehicle into a crowd of counter-protestors, killing a 32-year-old woman named Heather Heyer.
"I would prefer that we didn't have any identity politics. I would prefer that we could not see race at all," rally organizer Kessler said at Sunday's rally. "[But] no one [is] advocating for white people and that's got to change."
Counter-protesters screamed and threw water bottles at a man and woman leaving Sunday's rally wearing Trump 2020 t-shirts. When someone in the crowd told them to get out of his city, the woman answered with a smile, "It's my city, too."
A French tourist who happened to come across Sunday's protests says his impression of the United States has recently changed.
"America is great already, there are plenty of things that are good," said Arnaud Fourcans. "At the moment it seems like things are going backwards. And that's not the way I used to see America earlier."
Counter-protester Jesse Belsky came dressed for a luau, which is a traditional Hawaiian party that typically features entertainment. He saw his outfit as a way to mock the white supremacists who carried tiki torches in Charlottesville last year. Belsky said he's "disappointed, saddened and concerned" about the current political and social climate in the United States.
"I hope we can make a strong left turn towards civility and moderation and democracy," Belsky said, "and, you know, find our better selves and be better than we are right now."