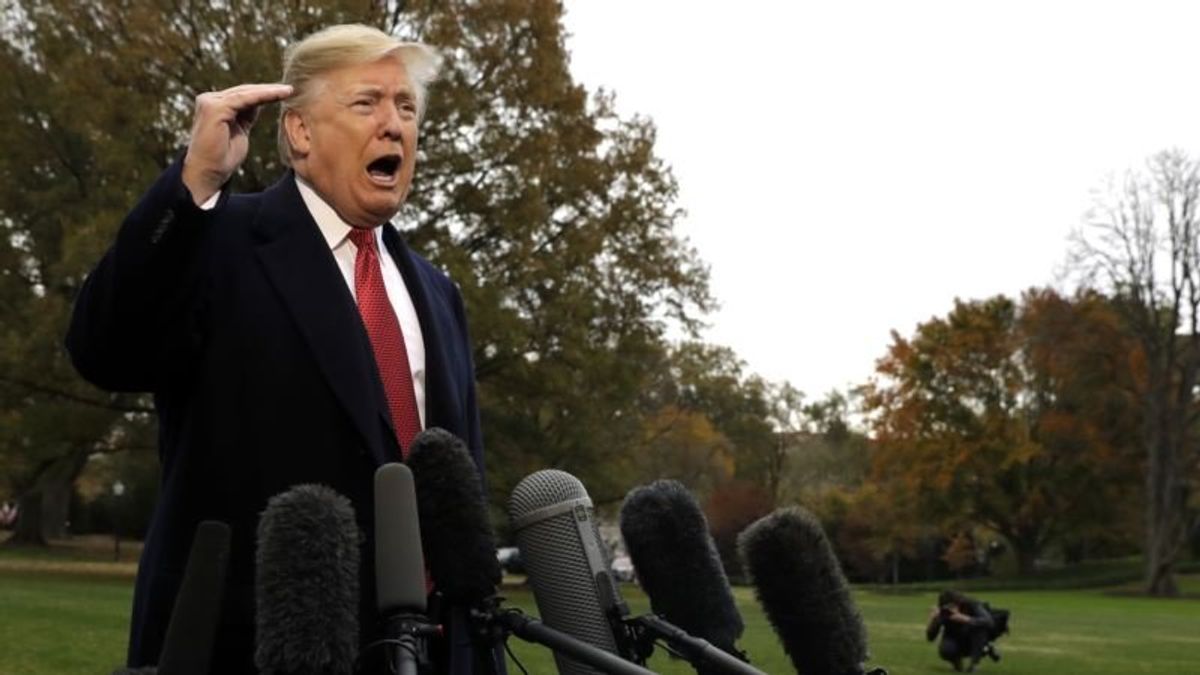 Trump Unleashes New Attacks on Russia Probe
Trump Unleashes New Attacks on Russia Probe
U.S. President Donald Trump unleashed new attacks Thursday on the investigation into Russian meddling in the 2016 election, even as there are hints special counsel Robert Mueller's probe could be nearing a conclusion.
Publicly at least, Mueller's 18-month investigation was relatively quiet in the weeks leading up to the November 6 nation-wide congressional elections, partly because the Department of Justice tries to refrain from bringing politically sensitive cases forward around major elections. But legal analysts expect more developments soon.
Trump answering written questions
Trump this week, according to news accounts, has been weighing written answers to questions posed by Mueller's investigators about whether Trump's 2016 campaign colluded with Russian interests to help him win, an allegation he has repeatedly rejected as unfounded.
Left open yet, however, is whether Trump will sit for an interview with Mueller for further questioning about the collusion allegations and whether Trump, as president, obstructed justice by trying to thwart the probe. Meantime, Mueller could write a report about his findings, while possibly also filing more indictments against Trump associates, accusing them of criminal wrongdoing.
On Thursday, Trump returned to his long-running criticism of the Mueller probe, which he frequently calls a "witch hunt."
The U.S. leader contended on Twitter, without evidence, that "the inner workings of the Mueller investigation are a total mess."
"They have found no collusion and have gone absolutely nuts," he said. "They are screaming and shouting at people, horribly threatening them to come up with the answers they want. They are a disgrace to our Nation and don't care how many lives (they) ruin. These are Angry People, including the highly conflicted Bob Mueller, who worked for Obama for 8 years. They won't even look at all of the bad acts and crimes on the other side. A TOTAL WITCH HUNT LIKE NO OTHER IN AMERICAN HISTORY!"
Mueller, a registered Republican, actually was first appointed as director of the Federal Bureau of Investigation for a 10-year term by Republican President George W. Bush in 2001, with his term then extended for two years by former Democratic President Barack Obama. The Senate approved the extension on a 100-0 vote.
Controversy over new US attorney general
Trump last week ousted Attorney General Jeff Sessions, whom Trump had long attacked for removing himself from oversight of the Mueller probe, adhering to Justice Department guidelines requiring officials to recuse themselves from involvement in cases to avoid conflicts of interests. Sessions was the first major political figure to support Trump in the 2016 election, but also had met with Russia's then-ambassador to Washington in the run-up to the voting two years ago.
Trump named Matthew Whitaker, Sessions's chief of staff, to be acting attorney general and he has now assumed oversight of the Mueller probe, taking control from Deputy Attorney General Rod Rosenstein, whom Sessions chose to oversee Mueller's investigation.
Whitaker, before joining the Justice Department more than a year ago, had disparaged the Mueller investigation and suggested that a replacement attorney general, such as he is now, could cut funding for the investigation so that it "grinds almost to a halt."
Because of his comments, opposition Democrats, and some Republicans, have called for Whitaker to recuse himself from oversight of the Mueller probe. But Whitaker has not said what he plans to do. The state of Maryland has filed suit to block Whitaker's appointment, but the Justice Department said Trump was within his authority to name him without Senate confirmation, as would be normal for cabinet-level appointments.
Senate leader blocks Mueller protection
Senate Majority Leader Mitch McConnell has blocked consideration of bipartisan legislation that would guard against Trump ending Mueller's investigation. McConnell says Trump, despite his vocal complaints against Mueller, has assured him he won't fire Mueller and that his investigation will be allowed to reach its conclusion.
Mueller has won convictions or secured guilty pleas from several Trump campaign figures, who are cooperating with Mueller's investigators while awaiting sentencing.