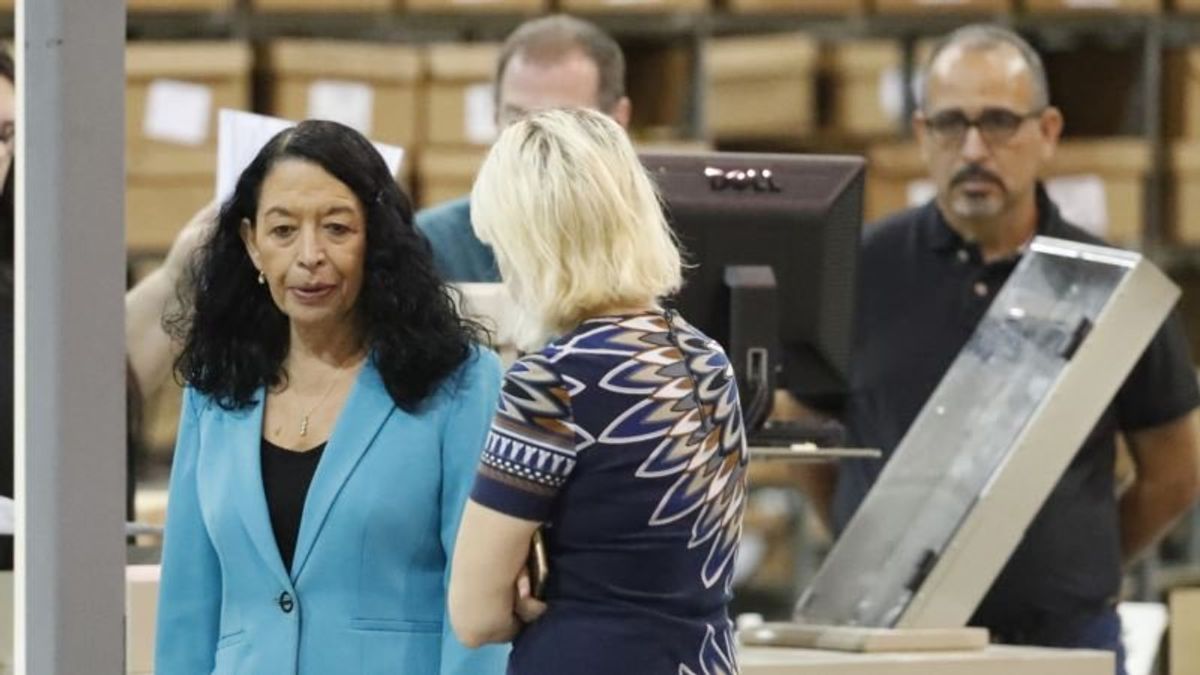 Florida Vote Recount Continues as Democrats Gain Ground Elsewhere
November 15, 2018, 12:36 PM
Florida Vote Recount Continues as Democrats Gain Ground Elsewhere
As votes are still being counted more than a week after midterm elections for the U.S. House and Senate, the bitter recount in Florida has captured the nation's attention.
U.S. District Judge Mark Walker early Thursday gave voters until Saturday afternoon to correct their ballots if they weren't counted because of mismatched signatures.
The race for governor remains undecided, as is the key Senate race, in which Republican Gov. Rick Scott clings to a 12,500-vote lead over incumbent Democratic Sen. Bill Nelson.
Mismatched signatures have surfaced as a particularly contentious issue during the local recounts in Florida, with Scott and Nelson having filed competing lawsuits on various aspects of the vote counting. But the state agency overseeing elections has rejected claims of fraud by Scott and President Donald Trump.
Florida officials testified in court that nearly 4,000 ballots had already been rejected by local elections officials because the signatures that were mailed in didn't match the signature on file. The new deadline would apply to those ballots, many of which were likely cast by Democratic voters, particularly young ones.
One of the disqualified ballots was cast by former Democratic Congressman Patrick Murphy. He discovered last Saturday that his mail-in vote was scrapped because of an invalid signature, when he checked the Palm Beach County elections website.
"In a state like Florida that has a history of really close elections … where it's really a coin toss of a state, these kind of errors and mishaps, are troubling" he said.
A lawsuit filed Friday by Nelson's campaign cites a study from University of Florida political science professor Daniel A. Smith. The study concluded that "in Florida, younger voters, as well as racial and ethnic minorities, are disproportionately more likely to not have their VBM (vote by mail) ballot counted as valid."
A study conducted before the elections by the American Civil Liberties Union in Florida discovered mail-in ballots from young voters were more likely to be dismissed, partially because they haven't written by hand enough to develop a consistent signature.
Only about 10 states still have cursive writing requirements in their curriculum guides. Florida added cursive writing to third, fourth and fifth grade curriculums in 2014.
Gains outside of Florida
Democrats, meanwhile, continue to gain seats in the House of Representatives, after taking back the lower chamber last week for the first time in eight years. Democrats now have a 229-198 edge.
Former venture capitalist Josh Harder was declared the winner Wednesday over four-term Republican Jeff Denham in a tight race in California's 10th Congressional District.
Political novice Andy Kim was declared the winner Wednesday from the 3rd Congressional District in New Jersey, defeating incumbent Republican Tom MacArthur. The former national security aide in the Obama White House is of Korean heritage and will be New Jersey's first Asian-American congressman.
The day after the election, Trump boasted that "It was a big day yesterday. The Republican Party defied history to expand our Senate majority while significantly beating expectations in the House."
"It was very close to a complete victory," he trumpeted.
As results rolled in on election night, it appeared Republicans might add three or four seats to their current 51-49 Senate majority.
But a Republican lead for a contest in the southwestern state of Arizona collapsed, giving Democrat Kyrsten Sinema a seat that been held by Republicans for 30 years.
With Senate races in Florida and Mississippi yet to be decided, Republicans at most will add two seats to their majority.
Incoming House Democratic leaders have vowed to immediately investigate the relationship between Trump's businesses and the federal government. They want to examine his tax returns that he has refused to release, and plan to call on Trump officials to justify government policies they have adopted in the last two years of the administration.
While they have been in control of both chambers of Congress, Republican lawmakers rarely held hearings on Trump policies that presented the possibility of embarrassing the Republican president and his administration.
Trump is calling the nascent Democratic investigations "presidential harassment," and said the prospective probes have given a headache to national stock exchanges this week, leading to stock price losses.