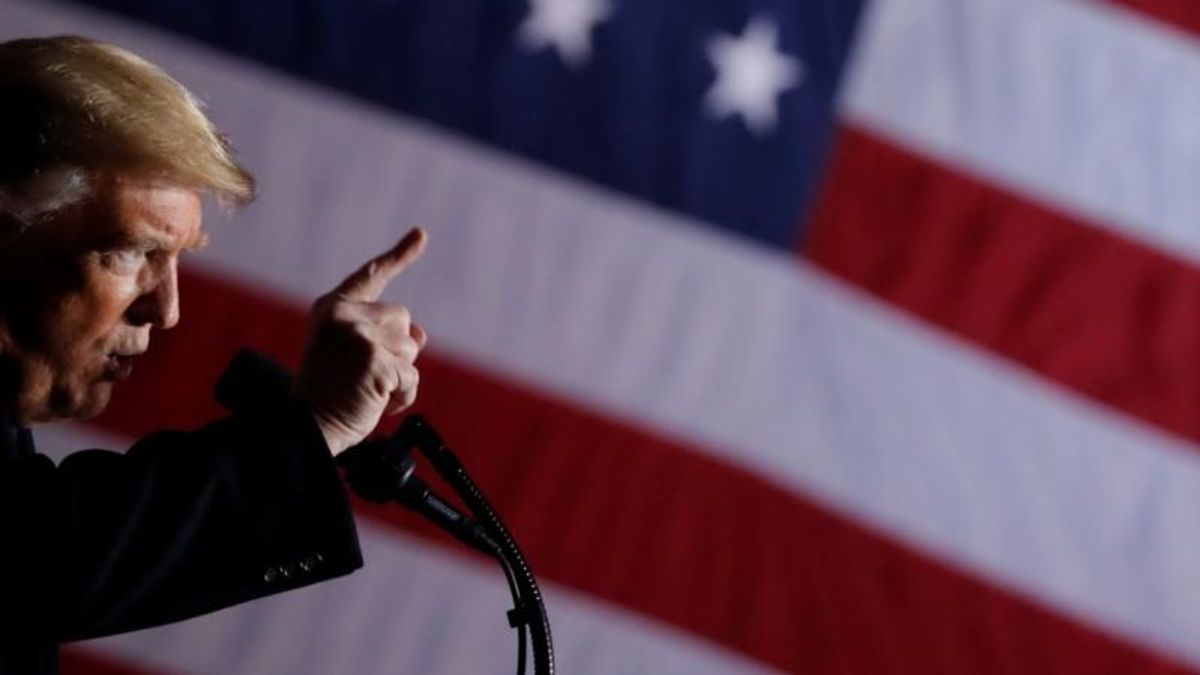 Trump Threatens Crackdown on Asylum-Seekers
November 1, 2018, 10:57 PM
Trump Threatens Crackdown on Asylum-Seekers
WHITE HOUSE —
President Donald Trump again stoked fears Thursday about undocumented immigrants and promised an executive order "sometime next week" that would severely restrict asylum-seekers who approach the southern U.S. border.
Speaking at the White House, Trump did not give specifics of his proposal other than to say migrants attempting to seek asylum must make their requests at legal points of entry, and that he wants to increase the detention of asylum-seekers.
The president made the claims five days before the U.S. midterm elections, when voters will determine which party will hold power in Congress and statehouses across the country.
"Under this plan, the illegal aliens will no longer get a free pass into our country by lodging miraculous claims in seeking asylum," Trump said. "Instead, migrants seeking asylum will have to present themselves lawfully at a port of entry."
Existing law
It's not clear how Trump's proposal would work under existing law. The 1965 Immigration and Nationality Act states that an alien who is physically present in the U.S., "whether or not at a designated port of arrival," may apply for asylum in accordance to laws.
He also did not clarify how he wants to detain asylum-seekers, but hinted that he wants to build tent cities and "we're going to hold them right there" without providing details.
Trump insisted his plan is "totally legal," repeating the term "invasion" that he has previously used to describe the caravan of several thousand migrants, many of them women and children, trying to enter the U.S.
Rocks like rifles
The president also said there would be a crackdown if migrants were to throw rocks at U.S. soldiers, saying the troops would "fight back," considering the rocks the same as a "rifle."
"We will consider that a firearm," Trump said, arguing there's "not much difference when you get hit in the face with a rock." He made the threat referring to a recent violent confrontation between migrants and the Mexican police at the Guatemala-Mexico border.
Speaking to VOA, former Department of Homeland Secretary Tom Ridge decried Trump's use of the U.S. military.
"They're not trained to deal potentially with a group of unarmed immigrants," Ridge said. "You put them and all law enforcement in a very difficult emotional, let alone security posture."
Sarah Pierce, policy analyst for the U.S. Immigration Policy Program at the Migration Policy Institute, refuted the president's claims.
"Families can only be detained for 20 days and unaccompanied child migrants are not detained at all they're actually transferred to a different government agency, the Office of Refugee Resettlement," Pierce said.
Trump said that he is working on a system to keep migrant children together with their parents. He claimed, without providing proof, that former President Barack Obama's administration separated children from the parents but "nobody talks about that."
Several immigration experts have pointed out the Obama administration did not implement a policy of separating families.
​Immigration an election issue
Trump's speech in the Roosevelt Room is his latest attempt to make immigration the central issue for Republicans in Tuesday's midterm elections.
Pierce said that the timing of the migrant caravan was "a political gift" to Trump because the issue of immigration had served him so well during the 2016 presidential election.
"Bringing up fear about immigrants and fear of this caravan will help push people to the polls to vote for Republicans, framing them as the party that will protect us from the situation," she said.
A day before his speech, Trump posted a controversial anti-immigration campaign ad on Twitter and contended, without evidence, that Democrats allowed a twice-deported Mexican immigrant to stay in the country before he killed two deputy sheriffs in California in 2014.
The ad shows Luis Bracamontes laughing at a court hearing before he was handed a death sentence and profanely vowing, "I'm gonna kill more cops soon."
Trump said atop the ad, "It is outrageous what the Democrats are doing to our Country. Vote Republican now!" The ad claimed, "President Donald J. Trump and Republicans are making America safe again!"
Also this week, Trump said he would send more than 5,000 additional active duty troops to the U.S. border with Mexico to block a caravan of several thousand migrants and said he might send thousands more troops. The migrants are still more than 1,000 kilometers (more than 620 miles) from the U.S., a distance that will likely take several weeks for them to walk.
Former DHS Secretary Ridge told VOA, "There are bigger threats" to the U.S. than the migrants. "Opioids are a bigger threat. The terrorists that send pipe bombs to political figures and journalists is a serious threat. The gunman who assassinates people on the Sabbath, …" he said, speaking to several U.S. news stories from last week.
On Thursday, Trump claimed this immigration crisis is largely caused by the U.S. having "the hottest economy anywhere in the world." He underscored that asylum is to be granted based on safety considerations, not poverty.
"There are billions of people in the world living at the poverty level," Trump said. "The United States cannot possibly absorb them all."
After his speech Trump departed to a campaign rally in Missouri, where he is expected to highlight these themes again, as he has done in several rallies to support Republican candidates this month.
VOA National Security Correspondent Jeff Seldin contributed to this story.