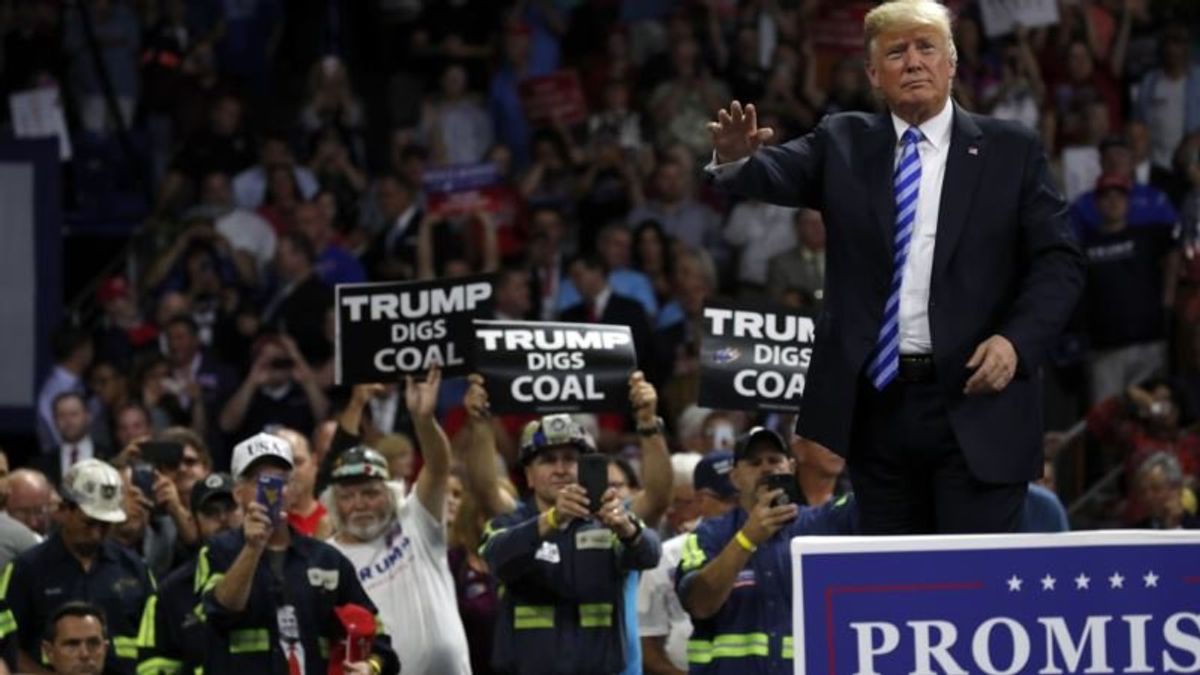 Trump Supporters at Rally Indifferent to Manafort, Cohen Cases
Trump Supporters at Rally Indifferent to Manafort, Cohen Cases
CHARLESTON, WEST VIRGINIA —
Washington may be buzzing about presumed double legal blows to President Donald Trump, with the Paul Manafort verdict and Michael Cohen's guilty plea, but little of it appeared to matter to his supporters in West Virginia.
Trump's backers dismissed the developments as more proof that his critics are determined to stop him from keeping his campaign promises.
The president spoke Tuesday night at a campaign-style rally in Charleston, hours after Manafort, his former campaign chairman, was found guilty of eight financial crimes, and his former personal lawyer, Michael Cohen, pleaded guilty to eight felonies, including two counts of violating federal campaign finance law.
During his rally remarks, Trump returned to several of his favorite themes — calling the media "fake news," and calling special counsel Robert Mueller's investigation into Russian meddling in the 2016 U.S. presidential election a "witch hunt." But he did not specifically mention Manafort or Cohen.
Trump supporters dismissed the legal developments and focused on his economic track record.
Kevin Abbott, a coal miner from Gilbert, West Virginia, who lost his job during the Obama administration and gained it back after Trump was elected, lamented what he sees as obstructionist behavior from the president's critics.
"If people quit road-blocking him, I think he can do amazing things. He has already done so much," he said. Abbott's wife Michelle agreed, adding that their lives have "changed tremendously under Trump."
Reaction from women
The latest polls show that nationally, Trump's popularity among women has fallen to some of its lowest levels since he took office.
The most recent Gallup polling shows just 35 percent of women approve of the president's performance, compared with 49 percent of men.
Women at the rally who spoke to VOA said they were unconcerned about Cohen's admission that Trump directed him to pay two women during the 2016 campaign to keep them from speaking publicly about their affairs with Trump.
"I really don't think the American people are worried about that," said Patti Beavers from Mingo County, West Virginia, who was wearing a pink "Trump 2020" hat. She said what matters to her is what Trump can do "for the economy and for America," and that "he's keeping his promises, just like he said."
Beavers said it wasn't for her to make a moral opinion on Trump. "We all have to be judged in God's eyes," she said.
Bonnie Dorman drove five hours from Harper's Ferry, West Virginia, to see the president speak. She applauded Melania Trump, whom she considers a "beautiful, powerful woman" who is "standing by the president's side every day."
Dorman said she empathized with women who have been cheated on, and respected the first lady's decision to "forgive him and put God in her life."
Shawnery Patrick from Wharncliffe, West Virginia, said everyone has skeletons in their past, but she doesn't care what Trump did before he became president, only what he has done since.
"That's what counts to me," she said. "I feel that he's done nothing but good."
White working-class women voted for Trump in huge numbers in the 2016 election, and he may need to count on their support again in the November midterms. They could be the key to whether Republicans — particularly in areas that supported Trump in 2016 — can hold on to their seats.