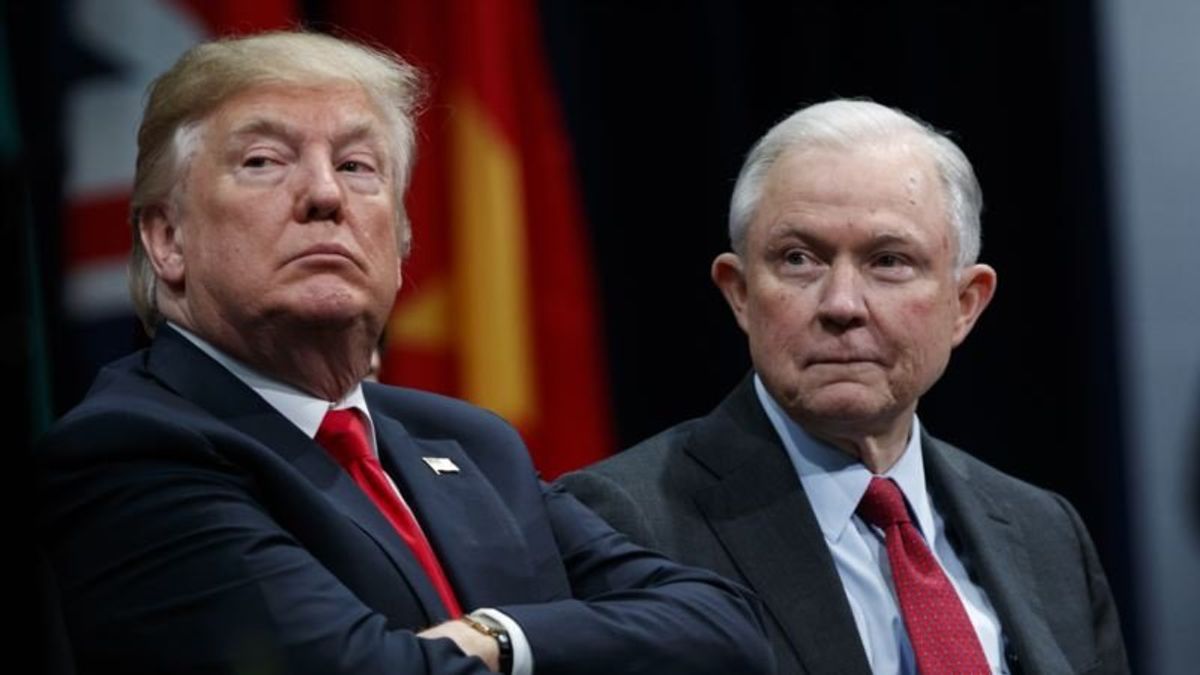 Trump-Sessions Feud Called Aberration in American Politics
Trump-Sessions Feud Called Aberration in American Politics
WHITE HOUSE —
President Donald Trump's latest attack on social media against Attorney General Jeff Sessions is seen by experts and lawmakers as an aberration in American politics and yet another assault on the country's judicial independence.
Critics view Trump's disparaging remarks about Sessions for his department's indictments of two Republican lawmakers as an example of how much Trump misunderstands the president's authority and obligations under the U.S. constitutional system.
In a tweet Monday, Trump accused Sessions of jeopardizing the chances of re-election for two Republican congressmen by bringing criminal charges against them just before the midterm elections in November.
Representatives Duncan Hunter of California and Chris Collins of New York were indicted last month on unrelated charges. Hunter was charged with using campaign funds for personal use. Collins was charged with 13 counts related to securities fraud and insider trading. Both lawmakers have pleaded not guilty.
Damage to administration of justice
Trump's denunciation of Sessions "crosses a well-established line," said Nancy V. Baker, emeritus professor of government at New Mexico State University and author of Conflicting Loyalties: Law and Politics in the Attorney General's Office.
Baker noted that even if all of this remains in the level of discourse and Trump doesn't fire Sessions or anyone else in the Justice Department he's unhappy with, the president "severely damages the administration of justice" every time he makes a threatening remark.
"Public perceptions are important," Baker said. Trump's comments make it clear that he sees his office as "above the law, which directly undermines the ancient principle of rule of law, that the law applies without fear or favor, and no one is above it."
In an interview with The New York Times in 2017, Trump was asked if he would reopen the investigation into former Democratic presidential nominee Hillary Clinton's use of a private email server during her time as secretary of state. Trump replied, "I have absolute right to do what I want to do with the Justice Department."
In the same interview, Trump asserted that Eric Holder, attorney general under President Barack Obama, "protected" Obama during his presidency. Holder pushed back, saying that as attorney general, he had a president he "did not have to protect."
Fraught relationship
Sessions was an early Trump supporter in 2016. But their relationship has been fraught with conflict, particularly after the attorney general recused himself in March 2017 from any Justice Department investigations into Russian meddling in the U.S. 2016 election. American intelligence agencies have concluded that Moscow interfered to help Trump win.
Trump told the Times in July 2017 that he wouldn't have considered Sessions for the Cabinet role if he had known Sessions would bow out of the Russia investigation. Trump said he thought it was "very unfair to the president" that Sessions "takes the job, gets into the job, recuses himself."
Since Sessions' recusal, Trump has lashed out at him multiple times, blaming the attorney general for multiple offenses, including "being weak on Hillary Clinton" and the Russia investigation.
According to Fear: Trump in the White House, a new book by Pulitzer Prize-winning journalist Bob Woodward, aside from his public chastising of Sessions, in private, Trump has called him "mentally retarded" and a "dumb Southerner."
In response to these attacks on Sessions, the nonprofit advocacy group Protect Democracy released a white paper in March titled No "Absolute Right" to Control DOJ: Constitutional Limits on White House Interference with Law Enforcement Matters.
The authors of the paper wrote that White House interventions based on the president's personal or corrupt interests are "always unconstitutional." In addition, they wrote that in a constitutional democracy, "those in office should not wield the powers of the state to benefit their political allies and punish their opponents."
Alarm from Congress
Members of Congress from both political parties have expressed alarm.
"Our justice system is under attack," Senator Richard Blumenthal, a Connecticut Democrat, said Tuesday.
Senator Dick Durbin of Illinois, the second-ranking Democrat in the Senate, called Trump's actions "unprecedented in American history." He said Trump's tweets had demonstrated that he "has virtually no respect for the rule of law."
Lawmakers from Trump's own party argued that the president was trying to politicize the Justice Department.
Senator Ben Sasse of Nebraska released a statement saying, "The United States is not some banana republic with a two-tiered system of justice — one for the majority party and one for the minority party."
Senator Jeff Flake of Arizona tweeted that Trump was "looking to use the Department of Justice to settle political scores."
Although presidents and attorney generals have clashed in previous administrations, experts see Trump as breaking new ground in terms of the public and aggressive ways he pressures Sessions.
Baker noted that after Watergate, presidents were "careful to restrict White House communications with anyone at Justice except the attorney general, and even then, keeping records of any communication."
In the 1972 Watergate scandal, Republican President Richard Nixon and Attorney General John Mitchell were linked to a crime in which former FBI and CIA agents broke into the offices of the Democratic National Committee, located in the Watergate office complex in Washington, to steal secret documents. The scandal severely damaged public confidence in the impartial administration of justice.