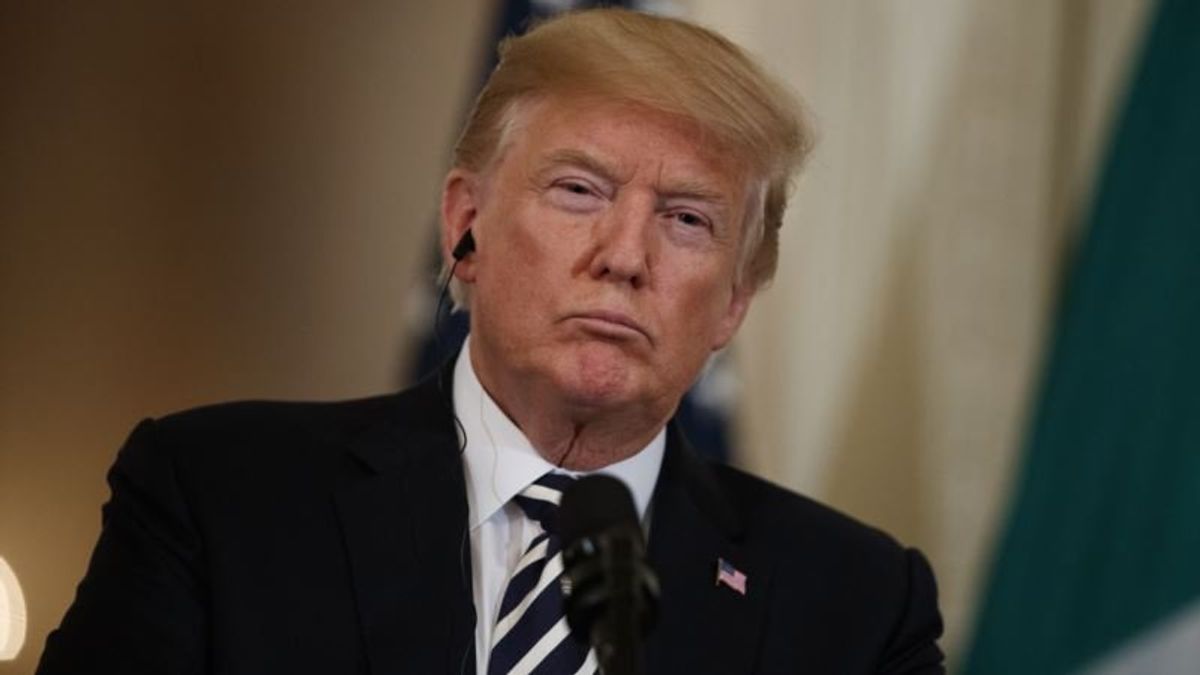 Trump Says Ready to Talk Directly with Iran's President
Trump Says Ready to Talk Directly with Iran's President
WHITE HOUSE —
U.S. President Donald Trump on Monday made his most explicit statement yet that he is open to direct talks with Iran.
Trump, in the White House East Room during a joint news conference with Italian Prime Minister Giuseppe Conte, was asked by a reporter if he would be willing to meet with Iranian President Hassan Rouhani.
"I believe in meeting," Trump responded. "Speaking to other people, especially when you're talking about potentials of war and death and famine and lots of other things, you meet. There's nothing wrong in meeting."
Trump noted his recent one-on-one discussions with North Korean leader Kim Jong Un and Russian President Vladimir Putin as examples of his direct diplomacy with leaders deemed hostile to U.S. interests.
"So, I would certainly meet with Iran if they wanted to meet. I don't know that they're ready yet. They're having a hard time right now," Trump added. "I'm ready to meet anytime they want to."
'No preconditions'
Asked if he had any preconditions for such a meeting, Trump replied: "No preconditions. If they want to meet, I'll meet."
Analysts do not expect a Trump-Rouhani meeting anytime soon, pointing out that Trump has, for some time, been seeking to meet Rouhani directly without success.
"I don't think it will happen in the immediate future," said Jarrett Blanc, senior fellow of the Geoeconomics and Strategy Program at the Carnegie Endowment for International Peace.
Iran, with a more complicated domestic political structure than the totalitarian model of North Korea, has been cool to the idea of diplomacy with Washington, more so since Trump pulled the United States out of the multinational deal known as the Joint Comprehensive Plan of Action, which imposed restrictions on Iran's ability to build nuclear weapons in exchange for sanctions relief.
Other signatories are working with Iran to try to save the agreement while Washington begins reimposing sanctions on Tehran that are to start taking effect in August.
Trump, just eight days ago, issued a direct counterthreat to Tehran in an all-capital-letters tweet in which he sharply warned Rouhani to "never threaten the United States" or the Islamic Republic would suffer historical consequences.
Just hours before that tweet, Rouhani had warned Trump's policies could lead to "the mother of all wars."
"No Iranian leader is likely in the near future to meet with a president who has repeatedly threatened Iran, insulted its leadership and violated the nuclear deal," said Ali Vaez, Iran project director at the International Crisis Group.
"It's tricky for them" Blanc told VOA. "Anybody at this point in Tehran who attempted to reach out to Trump would be slammed by another part of the establishment in Iran."
Ruled out any talks
Officials in Tehran, earlier in the day prior to the Trump-Conte joint news conference, explicitly ruled out any talks with Washington.
"With current America and these policies, there will definitely not be the possibility of dialog and engagement, and the United States has shown that it is totally unreliable," Iranian Foreign Ministry spokesman Bahram Qasemi told reporters.
Blanc said he views Trump's offer as very much in line with Trump's desired approach to solving global issues.
"He wants to put himself in the room," he said. "So, I don't think it's hugely surprising."
Unlike Trump's quickie summit in Singapore with Kim, after which he declared he had solved the nuclear issue with North Korea, any such pronouncements by the U.S. president following a meeting with an Iranian leader would be heavily scrutinized, and any accommodations likely intensely criticized by Tehran's foes.
"Even if Donald Trump, with the laws of pol gravity suspended, goes to Lausanne or wherever and meets Rouhani and claims to have solved the nuclear issue, he would get hammered by the Saudis, Israelis and Washington's war hawks," Blanc predicted.
For some analysts, Trump's approach is more moderate than that of some of his top advisers, such as National Security Advisor John Bolton.
"President Trump might be interested in a bigger, better and broader deal with Tehran, but almost no one in his entourage seems to share that interest," Vaez told VOA. "The president's war cabinet seems more inclined to bring the Iranian regime to its knees."
"I do not have the impression that he is actually seeking a war with Iran," Blanc said of Trump. "But I do worry very much belligerent rhetoric doesn't exist in a vacuum," and there is a risk of "an accidental conflagration" with Iran.