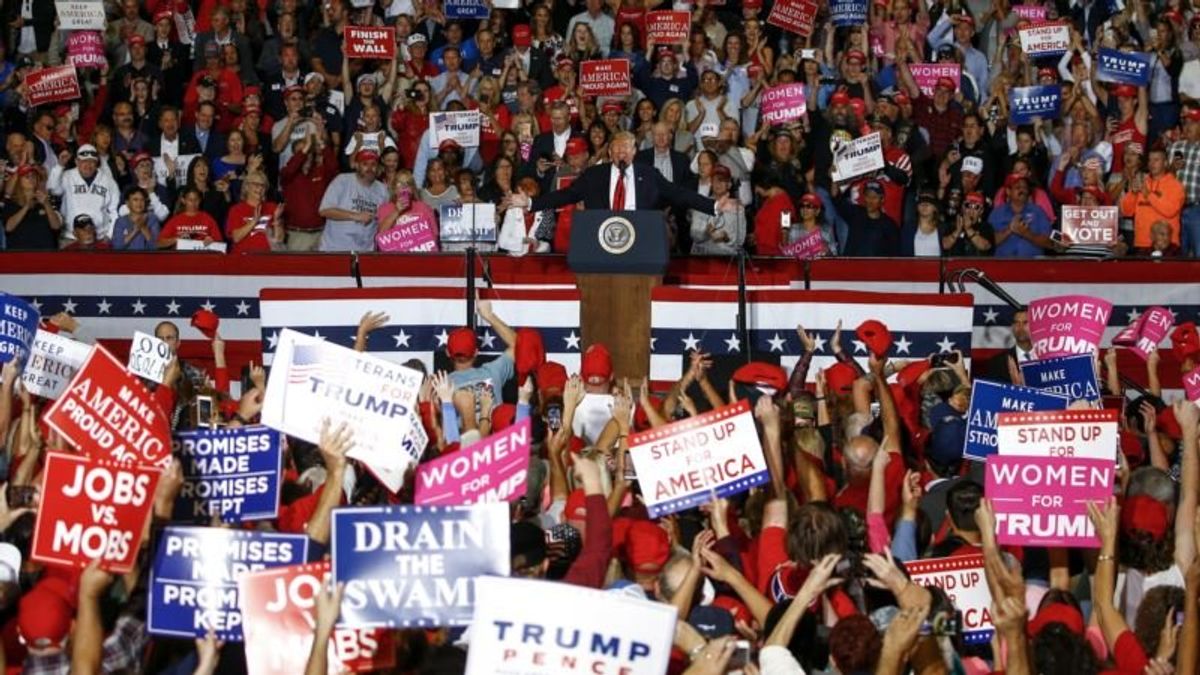 Trump, Obama Stage Dueling Rallies Ahead of Midterms
November 4, 2018, 11:23 AM
Trump, Obama Stage Dueling Rallies Ahead of Midterms
Republican President Donald Trump and his Democratic predecessor, former President Barack Obama, are staging dueling rallies Sunday to push their political party faithful to the polls in Tuesday's national congressional elections.
Trump is not on any ballot Tuesday, but has often said his policies and assessment of his 22-month White House performance are at stake, as U.S. voters elect all 435 members of the House of Representatives and a third of the 100-member Senate.
Republicans control the White House and both houses of Congress, but political analysts are predicting the opposition Democrats are poised to take control of the House, while Republicans are likely to retain their narrow 51-49 majority in the Senate, perhaps even adding a seat or two.
Democrats need to pick up 23 seats to win the House majority. Real Clear Politics, a U.S. political website, projects the Democrats as winning an additional 26 seats, while one pollster, Nate Silver, is predicting a 38-seat pickup.
A Democratic takeover of one chamber of Congress could significantly impact Trump.
Some Democrats, if they take control, are already vowing to open investigations of his business finances and policies his administration has adopted, and possibly start impeachment hearings based on the findings of special counsel Robert Mueller, who for a year and a half has been investigating Trump's 2016 campaign's links to Russia and whether, as president, Trump has tried to thwart the probe and obstruct justice.
Trump, is barnstorming through 11 rallies in the last six days before the election.
At a West Virginia rally Friday, a defiant Trump dismissed the prospect of a Democratic House takeover. "It could happen," he said, adding, "don't worry about it. I'll just figure it out."
In the closing days of the campaign, the U.S. leader has stoked fears of undocumented immigrants, claiming the caravans of Central Americans moving slowly through Mexico are set on "invading" the southern U.S. border.
Obama, reticent to attack his successor during much of his post-presidency, has reversed course in recent weeks, sharply condemning Trump's White House tenure.
At one recent rally, Obama said, "We have seen repeated attempts to divide us with rhetoric designed to make us angry and make us fearful, that's designed to exploit our history of racial and ethnic and religious division."
When pro-Trump hecklers started heckling him, Obama said, "You know what, it's an old playbook. It's one that the powerful and privileged turn to whenever control starts slipping away. They'll get folks riled up just to protect their power and their privilege, even when it hurts the country, even when it puts people at risk."
Obama is holding a get-out-the-vote rally in his hometown of Chicago on Sunday, supporting wealthy Democratic businessman J.B. Pritzker in his bid to oust incumbent Illinois Republican Gov. Bruce Rauner.
Obama then heads to the neighboring state of Indiana for a rally in Gary for embattled first-term incumbent Democratic Sen. Joe Donnelly, who is engaged in a tight contest with Republican businessman Mike Braun for a new six-year term.
Trump campaigned for Braun on Friday and is heading back to the midwestern state for another Braun rally on Monday.
Trump appears Sunday in the southern city of Macon, Georgia. He is supporting Republican Brian Kemp, the Georgia secretary of state, who is locked in a tight contest with Democrat Stacey Abrams, a state lawmaker, in their race for the Georgia governorship. Trump then heads to neighboring Tennessee to campaign for Congresswoman Marsha Blackburn, who polls say has edged ahead of Democrat Phil Bredesen, a former governor, in their contest for an open Senate seat.