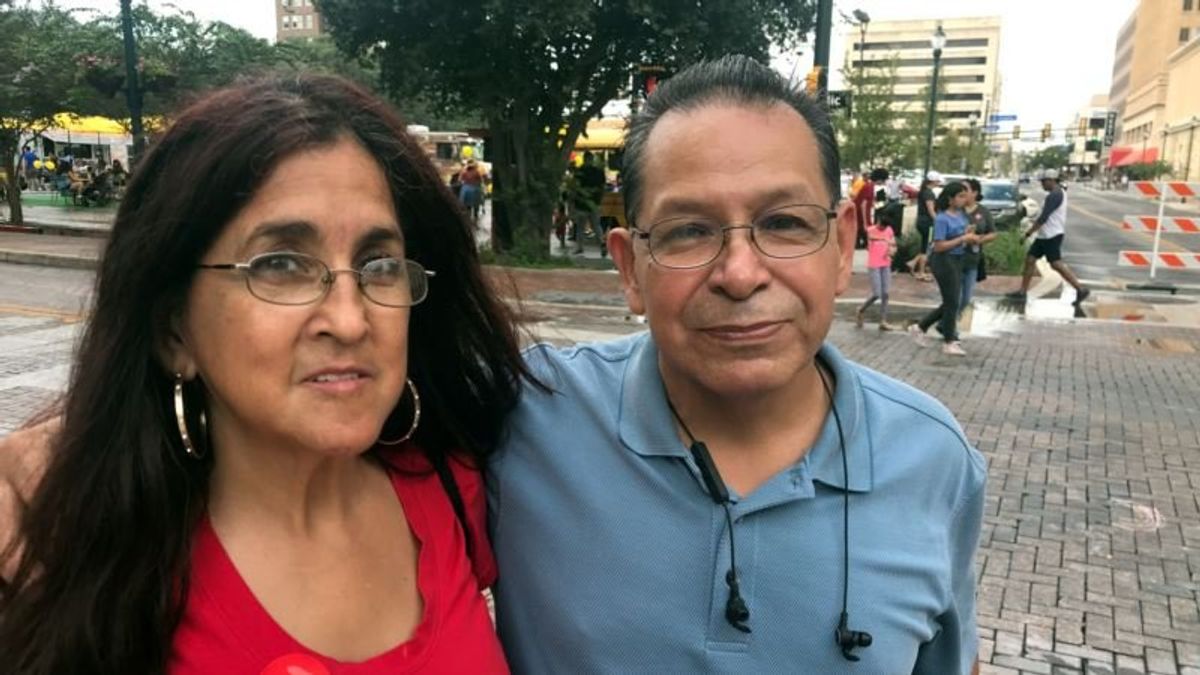 Ready for a Fight: Voter Enthusiasm Surges Among US Hispanics
Ready for a Fight: Voter Enthusiasm Surges Among US Hispanics
Hispanics are more interested in voting this year than in the last U.S. congressional midterm elections in 2014 and their enthusiasm outpaces that of all U.S. adults, according to a Reuters/Ipsos national tracking poll released on Sunday.
The poll also found likely Hispanic voters nearly twice as inclined to support Democrats for the House of Representatives as Republicans in Tuesday's elections.
Voter registration groups are using Republican President Donald Trump's nationalist, anti-immigrant rhetoric as an opportunity to drive up Latino enthusiasm.
In an illustration of their passion, one group that is part of an alliance that has reached out to more than 1 million potential voters in Arizona took its name from the Spanish word for "fight."
Most opinion polls and political handicappers expect Democrats to win the 23 seats they need to assume control of the House. Republicans are favored to keep control of the Senate.
Latinos could play a crucial role in several races, from tight Senate battles in Arizona and Texas to Florida's close Senate and governor's races. In California, the flourishing Latino population has helped put in play some Republican-controlled House districts Democrats hope to flip.
The Reuters/Ipsos poll, taken Sept. 1 to Oct. 29, found that 36 percent of Hispanic voters said they were "certain" to vote, up from 27 percent in 2014. That increase is nearly double the five percentage point rise in voter enthusiasm among all Americans over the same period, the poll showed.
Enthusiasm appears especially high among Hispanic Democrats. Forty-two percent of Hispanic Democrats said they were "certain" to vote, up from 29 percent in 2014. Among likely Hispanic voters, 60 percent said they will vote for a Democratic candidate for the House, and 32 percent would back a Republican.
Hispanics are a politically diverse group, with 55 percent of likely voters identifying as Democrats, 31 percent as Republicans and 12 percent as independent, the poll showed.
Just over half, 53 percent, of likely Hispanic voters said they were "very motivated" to pick a candidate for Congress who opposes Trump, compared with 43 percent of all likely voters, 75 percent of likely Democratic voters and 9 percent of likely Republican voters.
'Get yor voice heard'
For candidates in border states with large Hispanic populations such as Arizona, a fundamental question is whether Latino voters will turn up in large numbers on Tuesday.
The voting bloc has long held potential for the Democratic Party but often disappoints. Record-low Hispanic turnout in 2014 was a warning sign for both parties.
Bea Nevarez hopes to turn that around, registering 800 people to vote this year. In the final days before the elections, she went door-to-door to encourage people to vote in Tucson.
Nevarez, 18, works for a group called "Lucha," a Spanish word meaning "struggle" or "fight." It is a partisan affiliate of One Arizona, a broad alliance that says it has knocked on 1.5 million doors in the state this year, part of a broad grassroots effort to reverse declining Latino participation. One Arizona says it has registered 200,000 voters this year.
"I'm out here trying to get your voice heard," Nevarez tells reluctant voters.
Her persistence paid off when she knocked on the door of Jose Alberto and Norma Moreno, Mexican immigrants who are now U.S. citizens.
Sitting at his kitchen table, Jose Alberto Moreno, 62, at first told Nevarez he had no intention of voting.
"I don't believe in any of that. All politicians are liars," said Moreno, who works at a furniture warehouse.
But Nevarez insisted, engaging him in a conversation that eventually turned to healthcare, Moreno's main concern. After a few minutes, he agreed to vote.
"I'm going to do it now. She convinced me," Moreno said.
The Republican National Committee said it has also reached out to voters in Arizona this year, as part of a drive in 11 states.
America's 29 million Latinos account for nearly 13 percent of eligible voters this year, but their turnout rate has declined since 2006, according to the Pew Research Center. Only 27 percent of eligible Latinos voted in the last midterm elections in 2014, and only 16 percent of those aged 18 to 35, Pew said.
Some activists said they were motivated by watching Joe Arpaio, a former Arizona sheriff whose anti-immigrant policies brought his office multi-million-dollar penalties for racial profiling and eventually a contempt of court conviction.
He maintained that the prosecution was political, aimed at helping oust him from office. Trump later pardoned him.
"We have seen an igniting of fear, division and violence under this (Trump) administration, but that's not new to Arizona," said Alejandra Gomez, a co-executive director of Lucha. "We had the original Trump here under Arpaio."