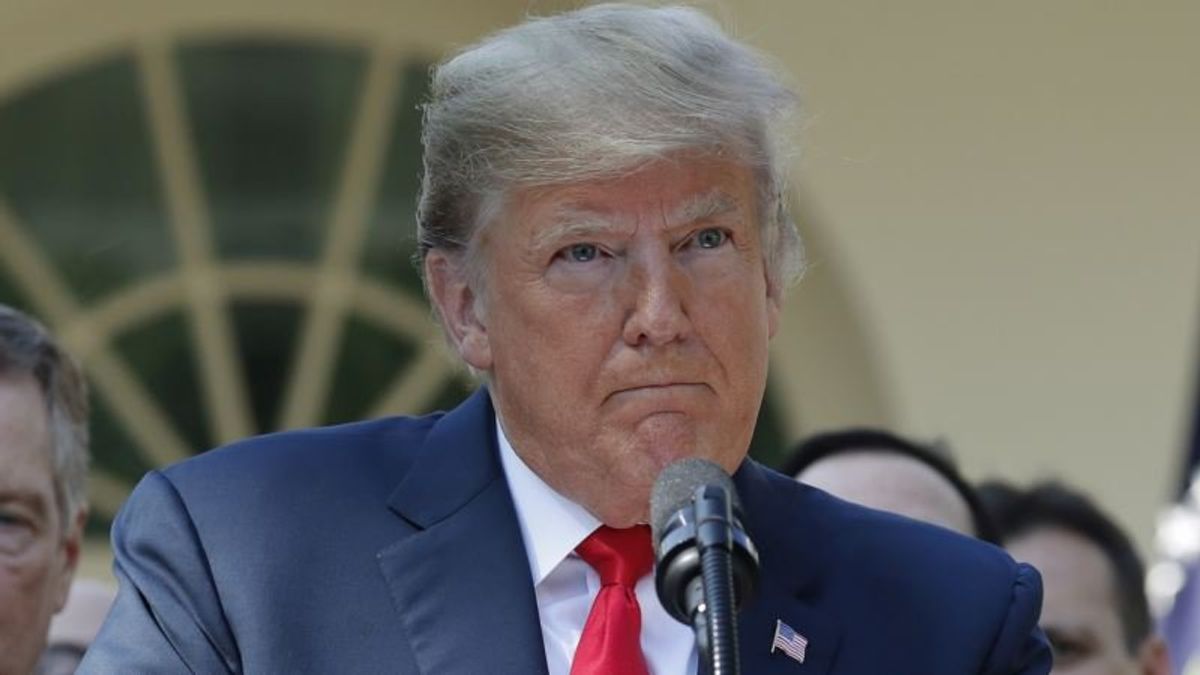 Trump: FBI Should 'Interview Anyone They Want' in Kavanaugh Investigation
Trump: FBI Should 'Interview Anyone They Want' in Kavanaugh Investigation
U.S. President Donald Trump said Monday that he believes the FBI should do "what they have to do to get to the answer" in their investigation into sexual misconduct allegations against Supreme Court Justice nominee Judge Brett Kavanaugh.
"I want them to do a very comprehensive investigation, whatever that means according to the senators and the Republicans and the Republican majority," he told reporters Monday in the White Rose Garden. Trump was referring to the FBI's probe that was launched a day after Dr. Christine Blasey Ford testified before a Senate Committee about sexual assault allegations against Kavanaugh.
The White House has continued to deny reports that it may be limiting the scope of the FBI's investigation — such as not permitting scrutiny of the claims of another woman, Julie Swetnick, who has accused Kavanaugh of sexual misconduct at parties while he was a prep school student.
Trump said Monday that it "wouldn't bother me at all" if the FBI questioned all three women who have accused Kavanaugh of sexual misconduct, saying that the agency should "interview anyone they want, within reason."
Both Kavanaugh and Ford testified separately before the Senate Judiciary Committee last Thursday. Ford told the committee she was "100 percent" sure Kavanaugh assaulted her when they were both high school teenagers in 1982, while the Supreme Court nominee angrily denied the allegations.
Rachel Mitchell, the sex crimes prosecutor brought in to question Ford and Kavanaugh last week, released a memo saying that she does not believe a "reasonable prosecutor would bring this case based on the evidence before the Committee." Mitchell said that a "he said, she said" case is difficult to prove, and that, in her opinion, Ford's case is "even weaker."
On Sunday, a former Yale classmate of Kavanaugh, Chad Ludington, issued a statement saying the judge had mischaracterized his drinking habits in college while testifying last week, describing him as "a frequent drinker, and a heavy drinker" who was often belligerent and aggressive when drunk.
Trump told reporters Monday he doesn't think Kavanaugh lied about his drinking in his testimony.
Poll results
Trump reopened the background probe into Kavanaugh on Friday at the request of the Judiciary committee. The consent for a supplemental investigation was a concession by the Trump administration and Republicans who had strongly contended that Kavanaugh had been thoroughly vetted numerous times.
Senator Dianne Feinstein, the ranking Democrat of the Senate Judiciary Committee, has written a letter to the White House and FBI asking for a copy of the written directive Trump sent about the probe into Kavanaugh.
Trump has maintained his support for Kavanaugh, saying that "hopefully at the conclusion, everything will be fine."
According to a new Quinnipiac poll released Monday, 48 percent of American voters say the Senate should not confirm Kavanaugh, while 41 percent think he should be confirmed. The number of those who do not support his confirmation has increased from 41 percent in Quinnipiac's survey last month.
Ramirez allegations
The FBI is reported to have interviewed the second woman who accused Kavanaugh of sexual assault, Deborah Ramirez. She alleged in a report published September 23 by The New Yorker magazine that Kavanaugh exposed himself at a drunken dormitory party, shoving his penis in her face and forcing her to touch it.
Ramirez said the assault occurred during the 1983-84 school year at Yale University, where they both were students. Kavanaugh has denied the allegation.
The Senate Judiciary Committee on Friday voted to send Kavanaugh's nomination for the Supreme Court to the full Senate after securing a party line vote in favor of Kavanaugh's nomination from Republican Jeff Flake, who requested a delay and investigation.
Another Republican senator, Lisa Murkowski, said she agreed with Flake in wanting an FBI investigation. Because Republicans hold a slim 51-49 margin in the Senate, they had little choice now but to slow the confirmation process.
Kavanaugh said in a statement released by the White House that he will continue to cooperate with the FBI and the Senate.
Kavanaugh needs at least 50 votes to be confirmed by the 100-member Senate. Vice President Mike Pence would cast the deciding vote if the Senate is evenly split. If all Democrats vote against Kavanaugh, two Republicans would also have to do the same to block his confirmation.
VOA's Steve Herman contributed to this report.
JOIN US ON RUMBLE LIVE NOW!