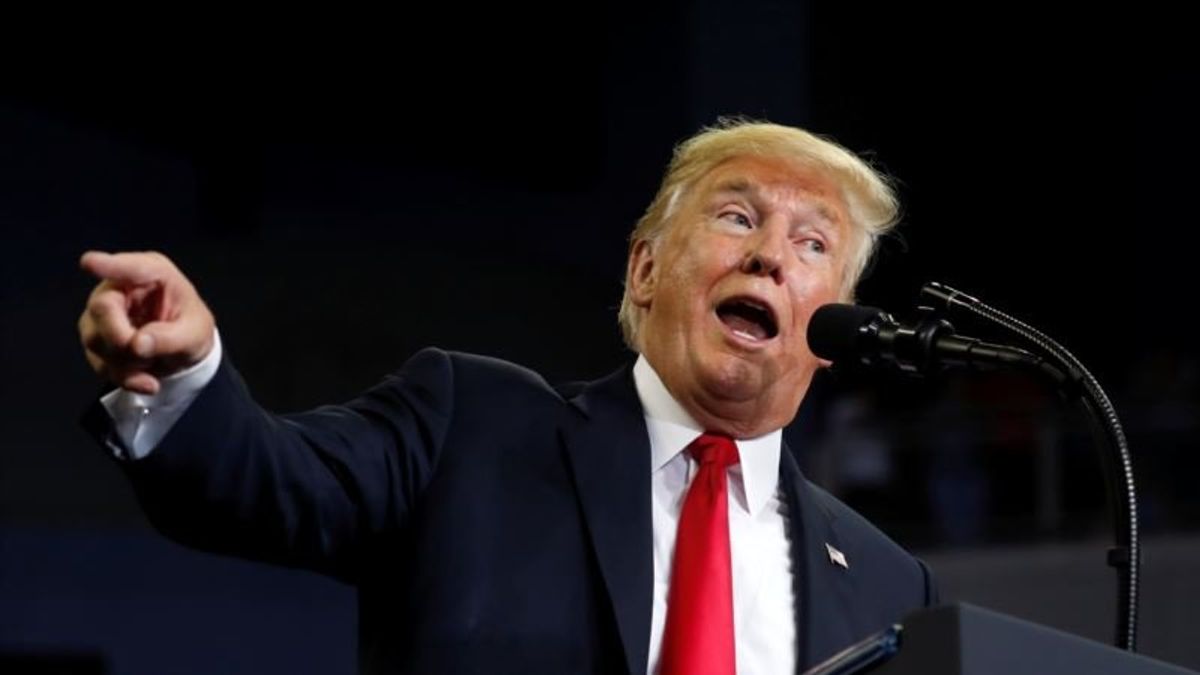 Trump Calls New Book Critical of His Presidency 'Work of Fiction'
Trump Calls New Book Critical of His Presidency 'Work of Fiction'
WHITE HOUSE —
U.S. President Donald Trump unleashed a new attack Wednesday on a book depicting his presidency and White House as chaotic and dysfunctional, calling it a "work of fiction."
Trump offered his assessment of author Bob Woodward's new book, Fear: Trump in the White House, as he talked to reporters at the White House, hours after he suggested libel laws ought to be changed to protect against what he sees as false reports.
"Isn't it a shame that someone can write an article or book, totally make up stories and form a picture of a person that is literally the exact opposite of the fact, and get away with it without retribution or cost," Trump said on Twitter. "Don't know why Washington politicians don't change libel laws?"
It was Trump's latest broadside against the Woodward book, excerpts of which first appeared Tuesday, with countless anecdotes painting Trump as dangerously ignorant of world affairs and his White House devastatingly beset by internal feuds.
Within hours of the first reports about the book, the U.S. leader started attacking it, asserting that quotes and stories in the book "were made up frauds, a con on the public."
The Republican president questioned whether Woodward, a Washington Post journalist credited with helping drive President Richard Nixon from power in 1974, is an operative for the opposition Democratic party.
The book quotes White House Chief of Staff John Kelly as describing Trump as "unhinged" and calling him an "idiot" who had "gone off the rails." Woodward's account also quotes Defense Secretary Jim Mattis as saying that Trump comprehends material at the level of "a fifth- or sixth-grader."
Both officials denied the quotes, and Trump retweeted their denials.
White House press secretary Sarah Huckabee Sanders also dismissed Woodward's book, saying, "I haven't read a lot of his books. I am into fiction like General Mattis, so maybe I'll take a look at this one."
Woodward says the 448-page book, set to be released next Tuesday, cites mostly anonymous sources.
It describes aides in the Trump White House as orchestrating an "administrative coup d'etat" by plucking documents off his desk to keep him from seeing and signing them. The author said the president's administration suffered a "nervous breakdown" during its first 19 months.
There have been previous reports by journalists and former White House staffers of upheaval in the White House West Wing since Trump's January 2017 inauguration.
Aside from Trump rejecting quotes attributed to him, Kelly and Mattis both pushed back with vehement denials of remarks Woodward quoted.
"The idea I ever called the president an idiot is not true," the White House chief of staff said, reiterating that he has "an incredibly candid and strong relationship. He always knows where I stand, and he and I both know this story is total BS."
Kelly's statement emphasizes he is committed to Trump's presidency, his agenda, and the country.
"This is another pathetic attempt to smear people close to President Trump and distract from the administration's many successes," Kelly said.
Defense Secretary Mattis said, "The contemptuous words about the president attributed to me in Woodward's book were never uttered by me or in my presence. While I generally enjoy reading fiction, this is a uniquely Washington brand of literature, and his anonymous sources do not lend credibility."
The book claims that after Syrian President Bashar al-Assad ordered chemical weapons to be used against civilians in April of last year, Trump called Mattis and said he wanted to assassinate Assad. Mattis is quoted as telling an aide, after hanging up the phone, "We're not going to do any of that. We're going to be much more measured."
The president's former lead personal attorney, John Dowd, is quoted in graphic language referring to Trump as a "liar" who will end up wearing an "orange jump suit" if he gives testimony to special counsel Robert Muller, who is looking into ties between the 2016 Trump election campaign and Russia.
Woodward repeatedly requested an interview with Trump for the book, but did not succeed.
According to a recording of a call Woodward made to Trump last month, and released by The Washington Post, Trump accused the journalist of writing a "very inaccurate book" that would not reflect that no predecessor has "ever done a better job than I'm doing as president."
Ken Bredemeier, and Carla Babb at the Pentagon contributed to this report.