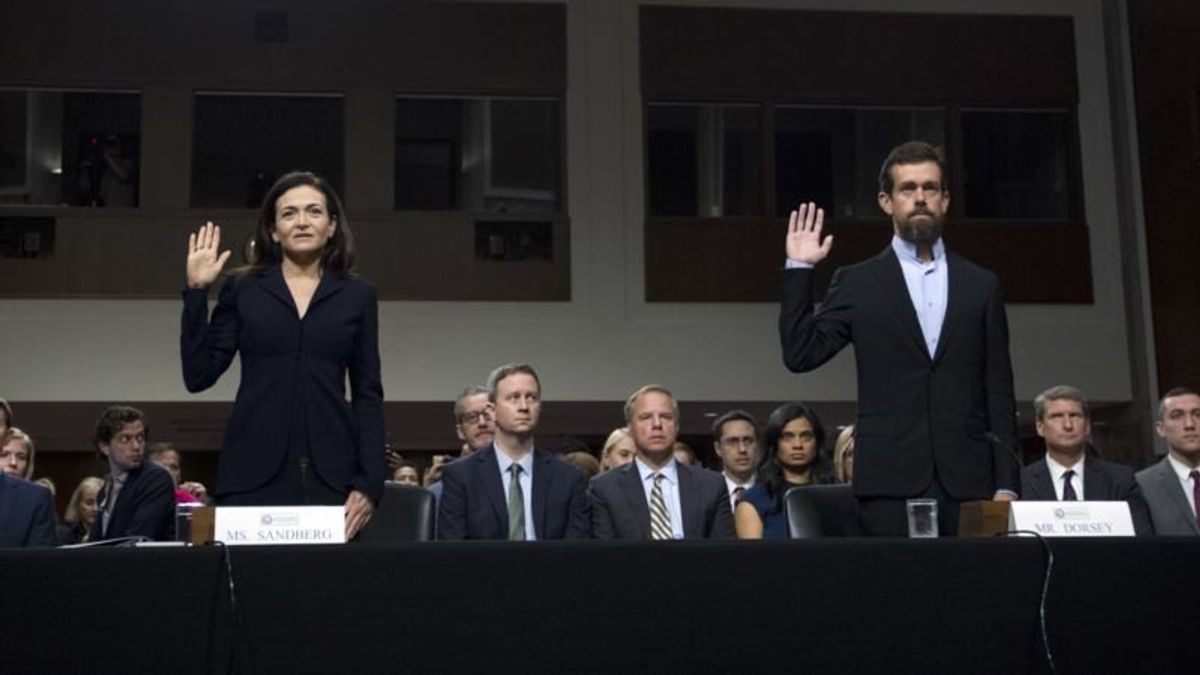 Facebook, Twitter Executives Testify on Capitol Hill; Google Absent
Facebook, Twitter Executives Testify on Capitol Hill; Google Absent
Facebook and Twitter executives are insisting in two congressional hearings Wednesday they are aggressively trying to identify foreign actors who want to inflict damage on the U.S. before the November midterm elections.
Social media companies are under pressure over foreign meddling in U.S. elections, the spread of disinformation, privacy and censorship. Congress has criticized social media companies during the past year as it became clear they were on the front lines during Russia's interference in the 2016 elections and beyond.
Facebook COO Sheryl Sandberg faces questions about foreign interference in American elections. Her prepared remarks detailed the company's response to the problem, but reiterate it was slow to notice it.
Special Counsel Robert Mueller indicted twelve Russians earlier this year on charges stemming from plans to disrupt the 2016 election by creating bogus accounts that circulated divisive issues on social media.
Sandberg's testimony also detailed efforts to remove 270 Facebook pages and other content linked to the Russians, who are members of the GRU — a Russian federation intelligence agency.
Sandberg's testimony said Facebook still has a limited understanding of Russia's activities in 2016 "because we do not have access to the information of investigative tools" the U.S. government has.
"This is an arms race, and that means we need to be ever more vigilant," she said.
Twitter CEO Jack Dorsey also faces irate Republicans who contend social media companies have been biased against conservatives. Dorsey's prepared testimony said Twitter does not consider political ideology when making decisions.
"Twitter does not use political ideology to make any decisions, whether related to ranking content on our service or how we enforce our rules," he said. Dorsey said Twitter uses "behavioral signals" that can help identify spam and abuse.
Dorsey's prepared testimony also said Twitter has continued to find accounts that may be linked to the Russians, saying 3,843 accounts have been suspended.He also says the company has seen recent activity.
While Congress has forced social media companies during the past year to focus more on the Russian interference issue, it took several months last year for Facebook and Twitter to acknowledge they had been manipulated.
Many social media companies have made policy changes that caught and banned numerous malicious accounts during the past year. But free services that find out as much about users as possible remain unchanged, prompting critics to say social media companies will continue to contend with bad actors manipulating their systems unless they change.