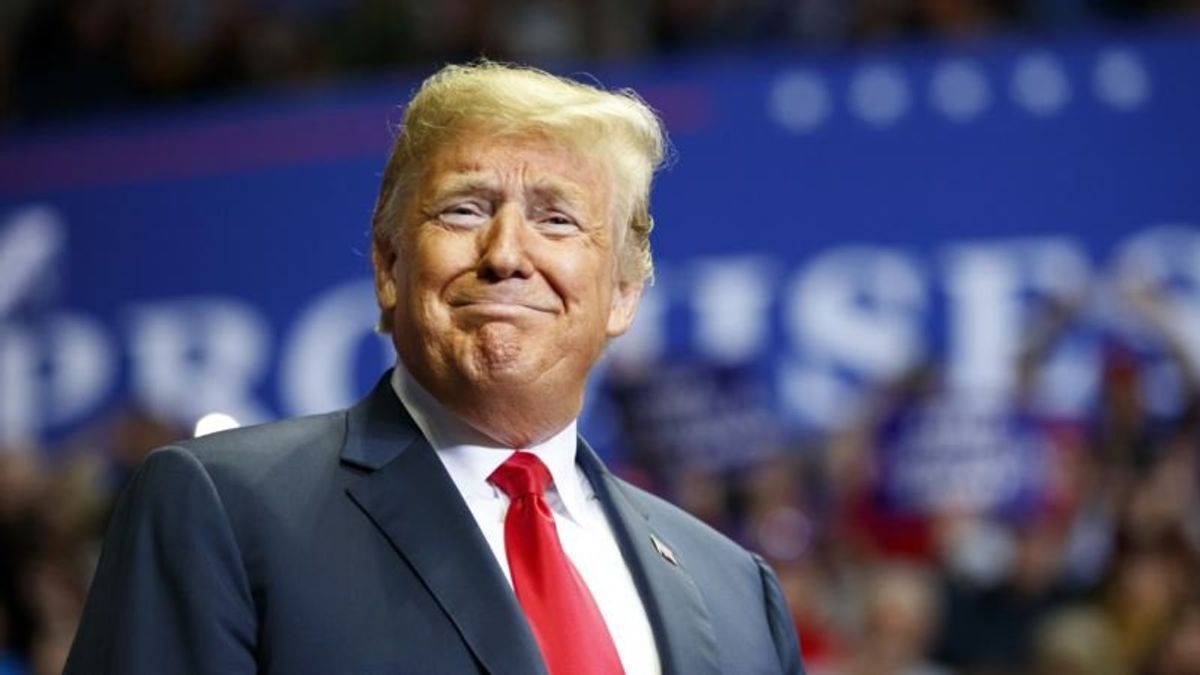 Trump Boasts of 'Very Big Win' in Elections, Even as Democrats Retake House
Trump Boasts of 'Very Big Win' in Elections, Even as Democrats Retake House
U.S. President Donald Trump is boasting of "a Very Big Win" in Tuesday's national congressional elections, after Republicans strengthened their hold on the Senate, even as Democrats took control of the House of Representatives for the first time in eight years.
"Those that worked with me in this incredible Midterm Election, embracing certain policies and principles, did very well," Trump said on Twitter early Wednesday ahead of his White House news conference on the election. "Those that did not, say goodbye! Yesterday was such a very Big Win, and all under the pressure of a Nasty and Hostile Media!"
The results make it more difficult for Trump to win approval for his legislative initiatives. House Democrats are also vowing to launch numerous investigations of Trump's finances and his administration's policies, which the U.S. leader said would be matched with Senate Republican probes of Democrats.
SEE ALSO:
Democrats Retake House, Creating Divided Congress
Trump called House Democratic leader Nancy Pelosi to congratulate her on the Democratic takeover in the House. He said Democratic lawmakers, some of whom have said the party needs new and younger leadership, should again make her the House speaker, the top position in the chamber and second in line to the presidency.
The 78-year-old Pelosi was the first woman to be House speaker, from 2007 to 2011, when Democrats last held a House majority.
"In all fairness, Nancy Pelosi deserves to be chosen Speaker of the House by the Democrats," Trump said. "If they give her a hard time, perhaps we will add some Republican votes. She has earned this great honor!"
Trump appeared determined to take credit for Republican victories, tweeting, "To any of the pundits or talking heads that do not give us proper credit for this great Midterm Election, just remember two words – FAKE NEWS!"
The split congressional outcome, which independent pollsters and analysts had been predicting for weeks, serves as at least a partial rebuke of Trump, who staged 11 political rallies in eight states in the last week of the campaign, repeatedly telling his most fervent Republican supporters the election was essentially a referendum on his 22-month presidency.
Pelosi, in claiming a House victory for Democrats, said the election was more than about Democrats and Republicans. Rather, she said, "It's about restoring constitutional checks and balances to the Trump administration."
In the House, legislative committees have strong investigatory powers. Some Democrats have suggested they will investigate whether Trump has any personal or financial conflicts of interest by demanding to see his tax returns, which he has refused to release, and look into his financial and business interests, as well as his 2016 presidential election campaign's alleged ties to Russia.
Some Democrats have called for Trump's impeachment and are waiting to see what special counsel Robert Mueller's investigation concludes about the 2016 election, and whether Trump, as president, obstructed justice by trying to thwart the probe,
University of Virginia analyst Larry Sabato said, "Big legislation with an ideological tint, left or right, won't pass for the next two years. Democrats now have the power of subpoena so Trump and his administration can expect to be investigated rather than protected by the House."
But by retaining control of the Senate, Republicans will preserve the ability to confirm Trump's judicial nominations and other key appointments. The Republican-led Senate also could prevent Congress from removing Trump from office, if the Democratic-controlled House decides to move forward with impeachment proceedings.
Enthusiasm and large turnout
Though votes are still being counted in 21 congressional districts, Democrats are projected to pick up more than 30 seats in the House, more than the 23 seats they needed to claim the majority. That is consistent with many pre-election polls.
Democrats drew largely on a coalition of minority voters, young people and those in urban and suburban swing districts, many of whom were upset over Trump's style of leadership and harsh language about immigrants and minorities.
"The demographic crisis has finally hit," says Evan Siegfried, a Republican analyst. "And in a way that is brutal and is decimating the Republican Party."
Though polls had suggested healthcare and the economy were main issues for voters, Trump was never far from voters' minds.
A CNN national exit poll suggested 55 percent of voters disapprove of Trump's performance while 44 percent approve of it. Moreover, 56 percent of those surveyed believe the country is on the wrong track and only 41 percent said it was on the right track.
However, Republicans secured at least the 51 to 49 seat majority they hold now in the Senate and are expected to add a few more seats once the final results are in.
SEE ALSO:
Thoughts on the US Congressional Elections
The White House said early Wednesday that Trump called Senate Majority Leader Mitch McConnell "to congratulate him on the historic Senate gains."
Precincts across the country reported strong voter numbers for a midterm election.
The New York Times and Michael McDonald of the United States Election Project both estimated national turnout of at least 111 million, far surpassing the 83 million people who voted in the 2014 midterms.
Elizabeth Cherneff contributed to this report.