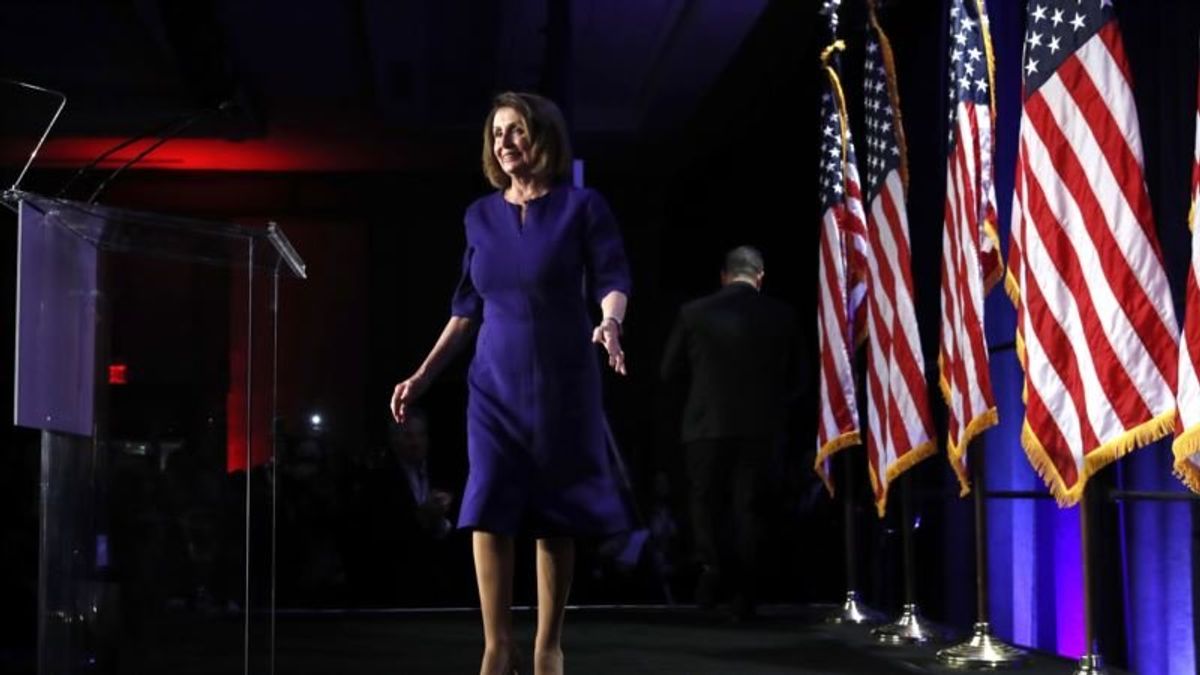 Pelosi as House Speaker Would 'Show the Power of the Gavel'
Pelosi as House Speaker Would 'Show the Power of the Gavel'
WASHINGTON —
It's a pivotal moment for Nancy Pelosi — the beginning of a triumphal return as the nation's first female House speaker, or the start of a political reckoning over who should lead Democrats in the Donald Trump era.
With Democrats winning control of the House, President Trump signaled Wednesday his support for Pelosi as speaker. In a tweet Trump said that Pelosi "has earned this great honor" and suggested the Republican party could help her secure the job. "If they (Democrats) give her a hard time, perhaps we will add some Republican votes," Trump wrote on Twitter.
Reclaiming the speaker's gavel could be Pelosi's last act, one she intends to use to restore the power of the office after GOP Speaker Paul Ryan's retirement. She wants to impress on Americans the importance of the legislative branch as a co-equal branch of government.
"People will see a Congress that is very different than we have now," Pelosi told The Associated Press while campaigning in Arizona days before the election.
The California Democrat doesn't think Americans fully understand the significance of the speaker's job — which, after the vice president, is next in line to the White House.
"What I would do next would be to say, this is what this role is: It's the leading figure in the first branch of government, it has awesome power, and we get things done," she said. You have to "show the power of the gavel."
SEE ALSO:
Democrats Retake House, Creating Divided Congress
Pelosi was in a celebratory mood Tuesday evening, declaring that "tomorrow will be a new day in America."
Few leaders have reclaimed the House speaker's office after losing it and, as the first woman to wield the gavel, Pelosi's ascent would be a milestone.
But at 78, she knows her storied tenure on Capitol Hill is likely coming to a close, even if she refuses to put a date-stamp on it. A new generation of Democratic representatives, propelled by resurgent activism, is heading to the halls of Congress. That means change is coming, regardless of whether the House flips from Republican control.
Pelosi has campaigned tirelessly this election season. Fueled by a steady diet of chocolate, she crisscrossed 30 cities in a 31-day rush aimed at boosting Democratic candidates. She endured millions of dollars in GOP attack ads and Trump's rally cry against her "radical Democratic agenda." She persuaded candidates to shut out the noise — "don't take the bait" — and stick with their legislative agenda of lowering health care costs, rebuilding the nation's infrastructure and delivering government reforms. She also tamped down liberal cries for Trump's impeachment.
"It's not about Democrats and Republicans at this point," she told volunteers in Pima County. "It's about our country."
Midterm elections are often the "lounge act" to the presidential contest, as she puts it, but the battle for the House quickly spun into the signature contest of 2018. Democratic candidates jumped into races, motivated by opposition to the president's agenda and the GOP's proposed changes to health care. Activists bypassed Pelosi's vast party apparatus, which shoveled $129 million to the Democratic campaign committee, and instead rewarded candidates through online donations and social media promotion.
As Pelosi played a starring role in GOP attack ads against them, several Democrats said flat-out they would not vote for her as leader. Some are from districts Trump won in 2016 and see the San Franciscan as too liberal, while others represent liberal strongholds that view her as too willing to compromise.
Professor Wendy Schiller, the chair of the political science department at Brown University, said even though Pelosi's legacy is as one of the shrewdest politicians of the 21st century, the younger generation doesn't "think they owe her anything."
Schiller said, "Everything about the rules of the game, about achieving power, has changed out from under her."
Pelosi comes from the old school of politics, taught by her father, the former mayor of Baltimore, and her mother, who ran a tight Italian-American household. Constituents would show up at her family's door, needing favors from her dad, who kept a file card system of requests asked and answered, a first lesson in the value of chits. A street in the city's charming Little Italy section bears her name — Via Nancy Alessandro Pelosi — celebrating the famous daughter who decamped for San Francisco and helped transform California from the state of Ronald Reagan to the headquarters of Trump resistance.
Trump, though, showed an early interest in working with her, charmed at times by her deal-making prowess. If she returns as leader, it's easy to imagine Pelosi courting Trump's support on shared priorities ahead of the 2020 election, like a big infrastructure package or lower prescription drug prices that eluded past presidents — the kind of bipartisanship voters say they want from Washington.
Yet it's that kind of middle-road tack that risks alienating Democrats who want nothing to do with Trump. Expectations are high among Democrats and "they don't expect us to go in there and play it safe," said Arizona Rep. Raul Grijalva, a progressive caucus leader who supports Pelosi's leadership bid but acknowledges the pressures.
Pelosi isn't the only member of leadership younger members want to see move along. Top-ranking leaders Steny Hoyer and Jim Clyburn are also in their mid-70s.
Rep. Seth Moulton, D-Mass., a Marine who recruited other veterans to run, said Democrats "need someone who can bring the party back together, someone who can be focused on the future and someone who is dedicated to supporting the next generation of leaders."
House Democrats will meet behind closed doors later this month to elect party leaders, and Pelosi is expected to win the most votes in the caucus. But being elected as speaker in January requires the majority of the whole House — 218 votes.
Pelosi, confident of Democrats winning the House, is hoping for a "decisive" majority, some 230 seats, and optimistic she will again be elected speaker.
The mother of five, who came to the job after raising her family, said she "never used to be such a braggart" but someone has to do it. Women, she says, shouldn't shy from a fight.
"I went from the kitchen to Congress," she said. "I know how to pass legislation, I know how to win elections and I know part of my responsibility is to make way for the next generation of leaders."