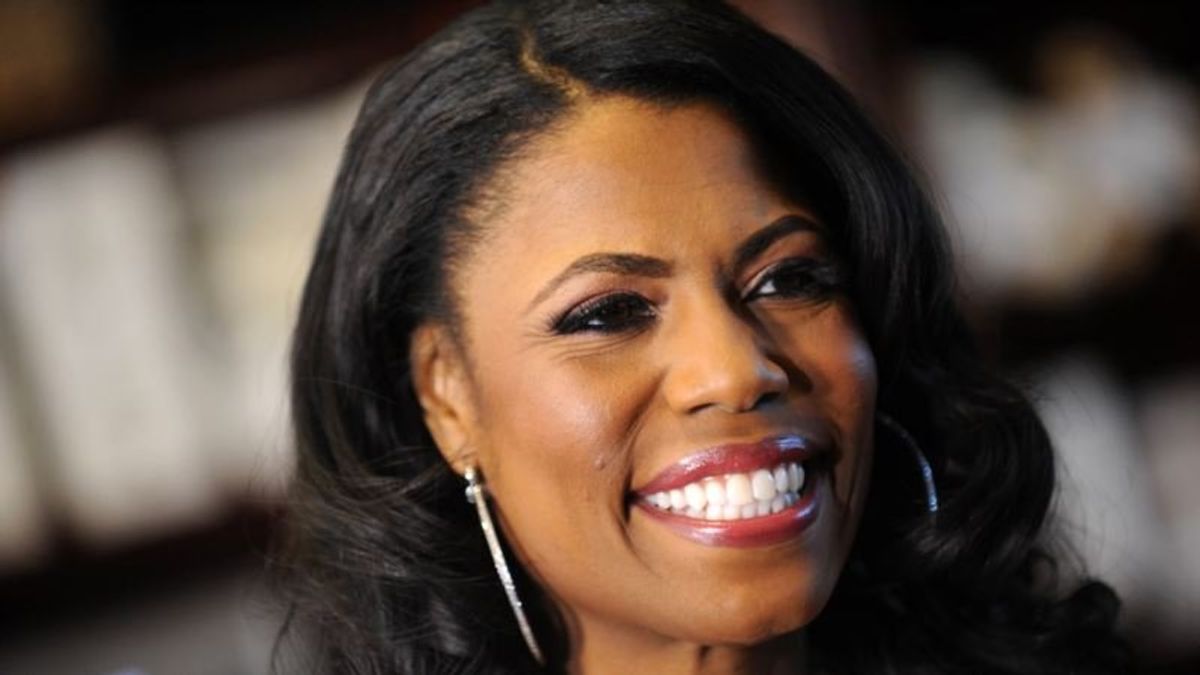 Trump Assails Ex-aide Omarosa Manigault Newman
August 13, 2018, 10:51 AM
Trump Assails Ex-aide Omarosa Manigault Newman
U.S. President Donald Trump assailed a former adviser on Monday, calling Omarosa Manigault Newman "Wacky Omarosa," after she disclosed, for the second day in a row on national television, secret tape recordings she made at the White House.
Trump, in Twitter comments, attacked the aide who for years appeared on his reality television show, "The Apprentice," before he turned to politics and won the White House.
"Wacky Omarosa, who got fired 3 times on the Apprentice, now got fired for the last time," Trump tweeted. "She never made it, never will. She begged me for a job, tears in her eyes, I said Ok. People in the White House hated her. She was vicious, but not smart. I would rarely see her but heard really bad things. Nasty to people & would constantly miss meetings & work. When Gen. Kelly came on board he told me she was a loser & nothing but problems. I told him to try working it out, if possible, because she only said GREAT things about me – until she got fired!…"
Later, he half-apologized for his comments about her.
"While I know it's 'not presidential' to take on a lowlife like Omarosa," he said, "and while I would rather not be doing so, this is a modern day form of communication and I know the Fake News Media will be working overtime to make even Wacky Omarosa look legitimate as possible. Sorry!"
Trump's remarks came a couple hours after Manigault Newman played an audio recording of a conversation she had with Trump seeming to show that the president was surprised his chief of staff John Kelly had fired her late last year.
"Omarosa, what's going on?" Trump said on the brief recording aired on NBC's "Today" show. Manigault Newman said the phone call occurred the day after Kelly ousted her. "I just saw on the news that you're thinking about leaving. What happened?" Trump says.
"Gen. Kelly came to me and said that you guys wanted me to leave," Manigault Newman replied.
But Trump said, "No. Nobody even told me about it. You know, they run a big operation, but I didn't know it. I didn't know that. Goddamnit."
"I don't love you leaving at all," he added, while not doing anything to block her dismissal.
On Sunday, Manigault Newman released a recording of Kelly firing her in the Situation Room, the supposedly secure inner sanctum of the White House where U.S. presidents discuss crucial national security issues and aides are supposed to leave electronic devices outside.
As he fired her, according to the recording, Kelly told Manigault Newman, "I think it's important to understand that if we make this a friendly departure, we can all be, you know, you can look at your time here in the White House as a year of service to the nation. And then you can go on without any type of difficulty in the future, relative to your reputation."
Manigault Newman, seeking publicity for her new book, "Unhinged," that is highly critical of Trump and his White House, claims that she was offered a $15,000-a-month retainer as she left the White House to not criticize Trump or Vice President Mike Pence and their wives, but that she turned it down. She says she has other tapes she secretly made at the White House.
Before his attack on her Monday, when asked about the book,Trump called her a "lowlife."
Trump's spokeswoman, Sarah Huckabee Sanders, said Sunday, "The very idea a staff member would sneak a recording device into the White House Situation Room shows a blatant disregard for our national security — and then to brag about it on national television further proves the lack of character and integrity of this disgruntled former White House employee."
The Republican Party tweeted: "Omarosa is … 'Unbelievable.' 'Not credible.' 'Unethical.'"