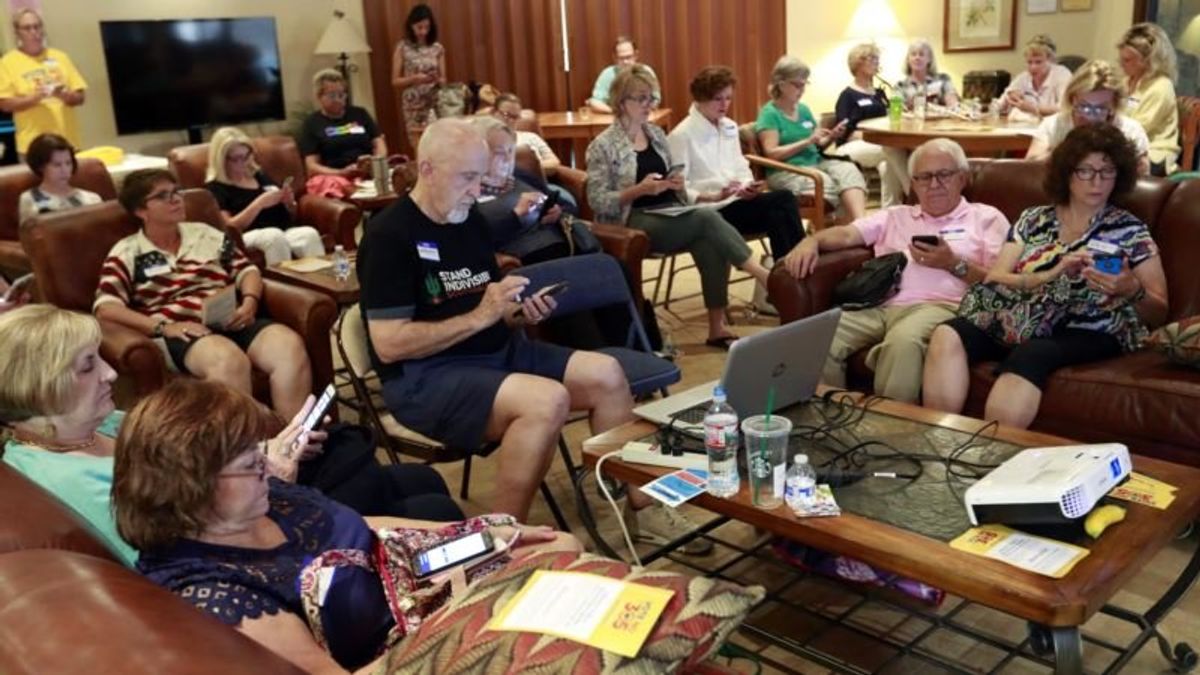 Arizona Democrats Hope to Ride Blue Wave in Midterm Election
August 13, 2018, 10:19 AM
Arizona Democrats Hope to Ride Blue Wave in Midterm Election
PHOENIX —
The blue wave that Democrats hope will crash into Arizona in November is creeping up in community centers, library auditoriums and churches this summer.
In this Republican-dominant state, many Democratic and independent voters have increased their political activity since the election of President Donald Trump. They have shown up at mass demonstrations like the women's march and March for Our Lives — as well as the historic six-day teacher strike this spring that shuttered schools and yielded more money for school districts.
In the run-up to the August 28 primary, Democrats in rural southern Arizona are joining groups to learn about candidates. And in metropolitan Phoenix, they are packing forums and crowding legislative district meetings to hear from candidates in races that previously saw few or no Democratic contenders. Some are even canvassing in the scorching summer heat.
"There is a real grassroots mobilization for a lot of things,'' said Debbie Arn, a Democrat and teacher from Phoenix. "People are just saying, `Enough is enough.'''
Arn was one of more than 200 voters who attended a Democratic candidate forum in Arizona's 6th Congressional District. It's a Republican stronghold, but three candidates are seeking the Democratic nomination.
Back in 2016, GOP incumbent Rep. David Schweikert won his fourth term with 62 percent of the vote and outperformed then-candidate Trump.
Jevin Hodge, vice chairman of the Arizona Democratic Party, said voter engagement derived from the competitive primary could boost turnout this fall.
"I see a new wave of energy,'' he said. "Folks are now understanding the value of their voice, and they're utilizing it.''
Democrats may have energy, but they are outnumbered in Arizona.
The most recent statewide voter registration data, from March 2018, said there were almost 1.26 million Republicans and 1.22 million unaffiliated voters in the state, compared with 1.09 million Democrats.
Hopeful Democrats also must overcome Republican voters' embrace of Trump administration policies and enthusiasm for Arizona's low-tax, low-regulation environment.
Chris Baker, a spokesman for Schweikert, said that while Democrats may be organizing in bigger numbers, Republican voters in Phoenix's northeast suburbs are just as motivated to stave off Democratic policies that would raise their taxes.
David Eppihimer, the chairman of the Pima County Republican Party, said he thinks talks of a blue wave are overconfident. Newly active Democrats are organizing out of fear, he said.
"If I was that scared from the other direction, I'd be mobilizing,'' he said. "We felt like they do living under eight years of Obama, and we got it changed.''
The newly engaged Democratic voters also are gathering in places like the Republican-represented Legislative District 22 west of Phoenix.
The district's Democratic committee moved its meetings to a spacious church because the previous spot became too crowded. Some members of the group focus on registering permanent vote-by-mail voters, while others host candidates at their homes to meet neighbors.
Bev Baird, an active Democrat, said the April special election for Arizona's 8th Congressional District was a high-water mark for Democratic engagement. Republican Debbie Lesko beat Democrat Hiral Tiperneni by 5 percentage points, a closer gap than some anticipated.
Tiperneni is running again for the seat. Lesko faces challenger Sandra Dowling in the Republican primary.
"We had nobody running against [former congressional representative] Trent Franks in 2016,'' Baird said. "This is all new.''
Diane Petersen, who volunteers with Stand Indivisible AZ, thinks a Democrat could beat Republican Gov. Doug Ducey in the fall. She cited momentum from the six-day teacher walkout this spring that ended after lawmakers approved a plan to give 20 percent raises over three years. Ducey unveiled the plan before the strike, but teachers still walked out and shuttered schools around the state in hopes of securing additional school funding.
"If the governor's race goes Democratic, I would give that to the teachers,'' she said.
Petersen is backing Democratic candidate David Garcia, who is running in a three-way primary against state Sen. Steve Farley and Kelly Fryer. In a sign of the national GOP-aligned support to come this fall, the Republican Governors Association has bought televised attack ads against Garcia and Fryer.
Nancy Belman, program chairwoman of the Democratic Women of Southeastern Arizona, lives in Sierra Vista, a small city in a rural and majority-Republican area about 60 miles (96 kilometers) southeast of Tucson. But she says more people are joining her group to learn about candidates, find camaraderie and work on voter outreach.
"They're angry, or frightened, and they just feel they need to do something,'' she said.
Knowing Democrats are outnumbered, grassroots organizers are focused on increasing turnout among independent voters. Meanwhile, the OneArizona coalition aims to get 200,000 new voters registered before the October 9 deadline.
Eduardo Sainz is the Arizona director for Mi Familia Vota, one of the groups involved in the registration effort. He said he sees the possibility for Democrats to be victorious in November due to Republican-backed policies that affect Latinos, working families and communities of color, including immigration and health care.
"I think the Trump administration has served as a wake-up call for the communities that we serve,'' Sainz said.
Such hopes are supported by outcomes of the 2016 election: While Arizona's 11 electoral votes went to Trump, voters in populous Maricopa County decisively denied Republican Sheriff Joe Arpaio his seventh term and voted in Democrat Paul Penzone. Statewide, voters approved a ballot initiative that raised the minimum wage and guaranteed paid sick time.
This year, the stakes for Arizona Democrats are national. The state's congressional seats play a critical role in Democrats' bid to take control of the House of Representatives. Currently, the state has five Republicans and four Democrats in the House.
Jo Holt of the Pima County Democratic Party said Arizona's second congressional district is a critical pickup for Democrats hoping to flip the House. The seat is open now that incumbent Rep. Martha McSally is running for Senate.
Holt said she's not sure what will happen in November, but she knows she has "double or triple'' the amount of volunteers that she usually has before a primary.
"There's a real concern that we're losing our country,'' she said. "And if it wasn't for all these folks who are showing up who are bound and determined to get people out to vote, I might lose faith myself.
"But we're all keeping each other going. The blue wave is reinforcing itself.''