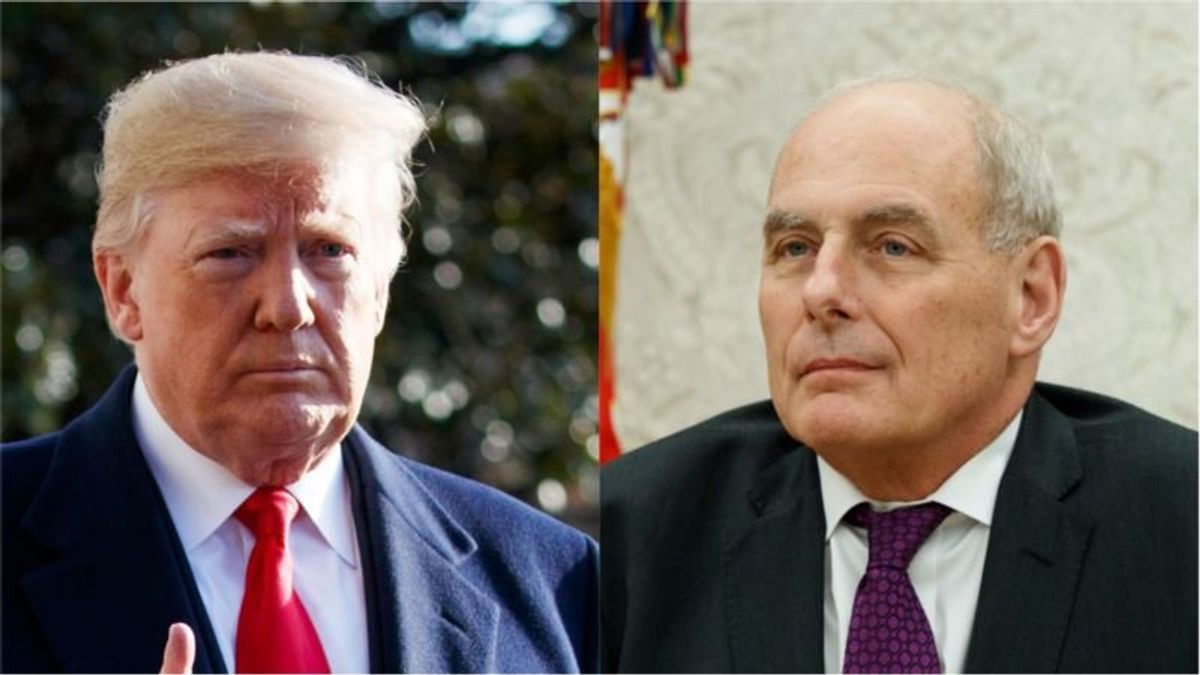 Trump Announces Departure of Chief of Staff Kelly
December 8, 2018, 6:39 PM
Trump Announces Departure of Chief of Staff Kelly
WHITE HOUSE —
The latest impending White House high-profile departure is the top official who traditionally controls access to the Oval Office.
Chief of Staff John Kelly is exiting by the end of this month, President Donald Trump told reporters on Saturday.
"John Kelly will be leaving — I don't know if I can say 'retiring.' But, he's a great guy," Trump told reporters on the White House South Lawn.
Kelly's successor is widely expected to be Nick Ayers, the young, politically savvy chief of staff for Vice President Mike Pence.
New staff
Trump, before boarding Marine One, said he would announce his next chief of staff "over the next day or two."
Kelly's imminent departure comes as no surprise. There had been speculation for months — which had grown more intense in recent days — that the former Marine general would soon exit amid a further chill between him and the president, a deterioration in a relationship that had never been described as overly warm.
"It would have been a bad fit for anybody. He was essentially tasked with mission impossible," said professor David Cohen, a presidential historian at the University of Akron in Ohio. "Trump never gave him the tools to succeed in the job," in which the chief of staff is supposed to be empowered to speak for the president and to have unfettered authority in organizing the White House and instilling stability and order.
"The cause of the chaos is Donald Trump himself, who is never willing to be reined in by anybody," and considered Kelly and his predecessor, Reince Priebus, to be more "staff than chief," said Cohen, who is writing a book about White House chiefs of staff.
Although the Trump administration has a reputation for a higher rate of staff turnover than its predecessors, Kelly's total time of 16 months in the job will not be unusually short in a high-stress position where two years is considered a decent run. Priebus lasted just six months.
"There's a lot of burnout in the position," Cohen told VOA. "More often than not the individual that's serving in that position can't wait to find a new position, in the president's Cabinet or maybe simply retiring from the rigors of the White House and a presidential administration."
The departing chief of staff, during his time inside the White House was "a force for order, clarity and good sense," said outgoing House Speaker Paul Ryan, a Wisconsin Republican. "He is departing what is often a thankless job, but John Kelly has my eternal gratitude."
Kelly's service
Kelly's tenure has been "the definition of selfless service and he served President Trump well from day one," Heritage Foundation Vice President James Jay Carafano told VOA, noting the administration's foreign policy that "has been tough, focused, realistic and successful."
A former high-ranking official from the administration of Barack Obama, Trump's predecessor, saw it differently.
Kelly "failed to contain or restrain the president, and supported and encouraged the abhorrent family separation policy as a deterrent to asylum seekers," said Jon Wolfsthal, a former senior director for arms control on the National Security Council.
Kelly previously was Trump's secretary of homeland security, where his hard-line stance on immigration earned praise from the president.
Trump in recent days has been negotiating with Ayers to succeed Kelly — who lacked experience in partisan politics — but the vice president's 36-year-old chief of staff is reluctant to make a two-year commitment to the job, according to White House sources.
Ayers has the support of the president's daughter, Ivanka Trump, and son-in-law, Jared Kushner, but some key West Wing officials will not be welcoming to the hard-charging operative, according to administration insiders.
Ayers likely would be a chief of staff who "is politically savvy and willing to help with the president's campaign operation," but his age is likely to prompt senior staff to question: "Who does this kid think he is?" Cohen said.
Asked to assess Ayers' chances of success, Wolfsthal replied, "Zero. Trump listens to Trump because he cares about his self-interest, not that of the country."
The bottom line is that Trump will soon have his third chief of staff in two years, a turnover rate for which he harshly criticized Obama in January 2012.