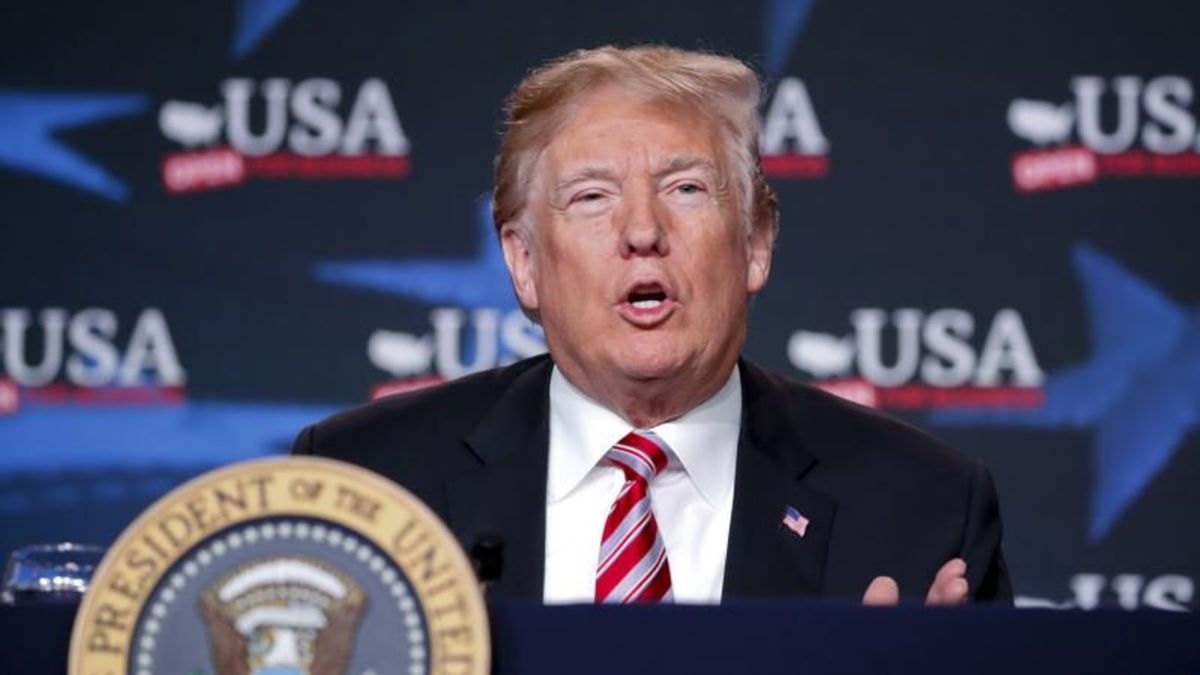 Trump Administration Facing New Investigations
November 7, 2018, 12:31 PM
Trump Administration Facing New Investigations
Democratic lawmakers taking control of the U.S. House of Representatives in January are vowing to launch wide-ranging investigations of President Donald Trump's business empire and policies he has adopted during the first two years in office.
Republicans who have controlled both houses of Congress since the Republican Trump assumed power in early 2017 have largely given him a pass, declining to hold hearings that might reflect badly on him or the officials he has appointed.
But Congressman Jerrold Nadler, a New York Democrat once described by Trump as "one of the most egregious hacks in contemporary politics," said the election results show "the American people have demanded accountability from their government and sent a clear message of what they want from Congress."

Nadler said Trump "may not like it, but he and his administration will be held accountable to our laws and to the American people."
Waste, fraud
Other key Democratic lawmakers, Elijah Cummings of Maryland, who will almost certainly head the House Oversight Committee, and Adam Schiff of the Intelligence Committee, have both called for new oversight of Trump and his administration, probes often blocked by majority Republicans in the past two years.
"I plan to shine a light on waste, fraud, and abuse in the Trump administration," Cummings said Wednesday. "I want to probe senior administration officials across the government who have abused their positions of power and wasted taxpayer money, as well as President Trump's decisions to act in his own financial self-interest."
Control of the committees – where the three lawmakers are currently the highest-ranking Democrats – will hand them the unilateral power to issue subpoenas if they wish, as well as to demand documents and testimony from White House officials and important figures in Trump's campaign team and businesses. With control of the legislative apparatus in the House, they will also have more money and staff for investigations.
Democrats have called for investigations of Cabinet officials alleged misuse of taxpayer funds, Trump's immigration policies that have separated hundreds of migrant children from their parents at the U.S.-Mexican border, the handling of last year's Hurricane Maria crisis in the island territory of Puerto Rico, and alleged conflicts of interest between Trump's businesses and his presidency.
Impeachment
Some Democrats have also called for starting impeachment hearings against Trump, but mostly appear willing to wait to see what information special counsel Robert Mueller produces from his 18-month investigation of Trump's 2016 campaign's alleged ties to Russia and whether, as president he obstructed justice by trying to thwart Mueller's probe.
Washington analysts say they expect that Mueller, now that the election is over, will soon release more information from his investigation and possibly indict more figures tied to Trump's 2016 campaign.
Trump, well aware of the Democratic intentions to investigate his personal taxes, which he has repeatedly declined to divulge, possible business connections with the government he oversees, and his administration's policies, assailed the looming Democratic-led House probes and the Mueller investigation, even as he boasted about Republican Senate candidates who ousted Democratic incumbents.
"If the Democrats think they are going to waste Taxpayer Money investigating us at the House level," Trump said on Twitter, "then we will likewise be forced to consider investigating them for all of the leaks of Classified Information, and much else, at the Senate level. Two can play that game!"
Trump also tweeted, "According to NBC News, Voters Nationwide Disapprove of the so-called Mueller Investigation (46%) more than they Approve (41%). You mean they are finally beginning to understand what a disgusting Witch Hunt, led by 17 Angry Democrats, is all about!"
Checks and balance
Would-be House Speaker Nancy Pelosi, the top Democrat in the chamber, talked about political bipartisanship in a congratulatory call from Trump and has said Democrats could embrace Trump's call for infrastructure spending across the United States to fix crumbling roads and bridges and new regulations to cut the cost of prescription drugs.
But Pelosi pointedly told supporters the Democratic victory was about "restoring the Constitution and checks and balance to the Trump administration. It is about stopping the (Republicans) and Trump administration's assault" on two government-run medical insurance programs for older and impoverished Americans "and people living with pre-existing medical conditions."