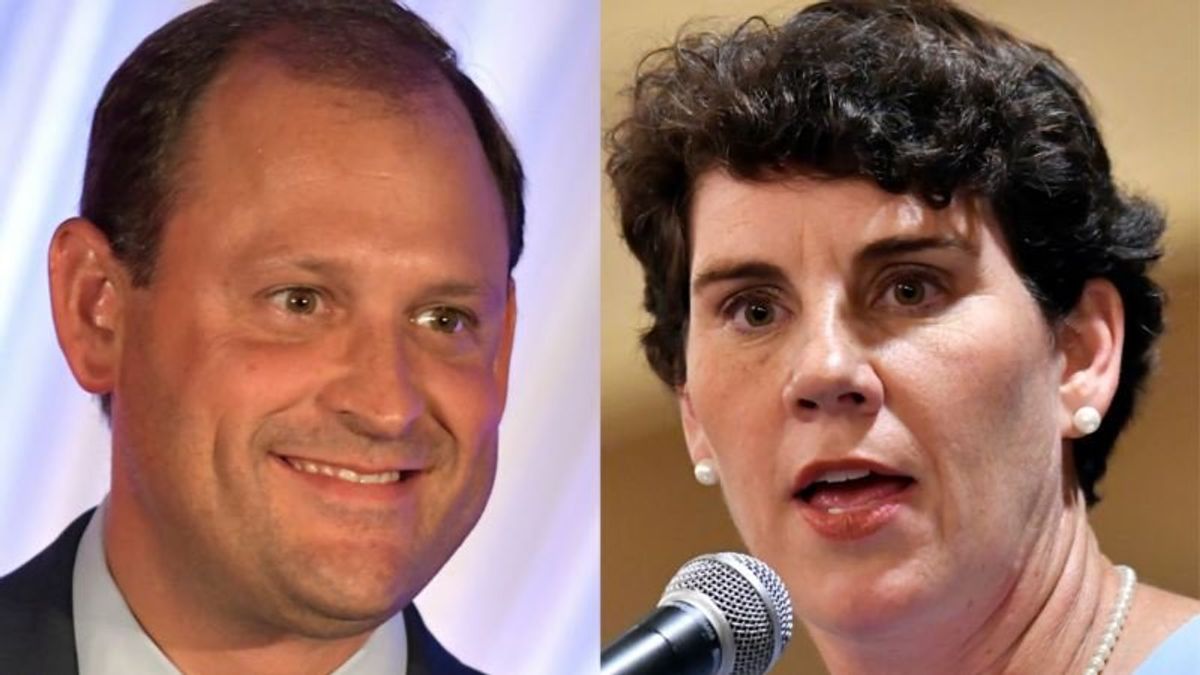 Taxes and Health Care Aside, Views on Trump Central to US Election
Taxes and Health Care Aside, Views on Trump Central to US Election
WASHINGTON —
It is a scene playing out across America as the crucial Nov. 6 congressional elections edge closer – biting attack ads portraying Republican incumbent politicians as unworthy of re-election.
With upbeat background music, the announcer on the Democratic-financed digital ad tells voters in the heartland of America that GOP Congressman Andy Barr accepted more than $2 million in campaign donations from special interests and voted for "the disastrous health care plan" advanced by Republicans that senior citizen advocates contend will cost retirees more than that paid by younger people.
"Barr gets the cash, you pay the price," concludes the ad aimed at voters in the 6th congressional district in the Mid-South state of Kentucky. "There's no escaping it. Politicians like Andy Barr are what's wrong with Washington."
The ad is sponsored by a political action committee (PAC) campaigning for a Democratic takeover of the House of Representatives, which is now controlled by Republicans like Barr, but without mentioning his Democratic opponent, first-time congressional candidate Amy McGrath.
At 43, McGrath is a retired F-18 fighter jet pilot who was the first woman to fly Marine Corps combat missions over Afghanistan and Iraq, 89 of them.
Barr, a 45-year-old three-term lawmaker who has nearly 97 percent of the time voted for measures supported by President Donald Trump, handily won his last two elections, in 2014 and 2016.
Toss-up races
But political analysts say the Barr-McGrath contest is a toss-up, one of perhaps 80 out of the 435 House elections throughout the U.S. that will determine whether Democrats can pick up the 23 seats they need to take control of the chamber.
The Democratic political action committee ad was designed to soften up Barr for McGrath's own attacks and campaign advertising.
WATCH: House Majority ad
Embed share
House Majority Pact Ad Against US Rep Barr
Embed share The code has been copied to your clipboard. width px height px
Share on Facebook
Share on Twitter
The URL has been copied to your clipboard
No media source currently available
0:00 0:00:30 0:00 Direct link
270p | 1.5MB
360p | 2.0MB
720p | 11.1MB
1080p | 8.1MB
The New York Times recently surveyed voters on the Barr-McGrath contest, with the poll giving Barr a narrow edge over McGrath, 47 percent to 46 percent, with 7 percent of voters undecided.
A Democratic conquest of the House this fall could pose significant problems for Trump in the last two years of his first term, with Democrats likely to call for widespread investigations of his administration's actions and possibly embark on impeachment hearings over alleged links between the 2016 Trump campaign and Russia, and interference with special counsel Robert Mueller's criminal investigation.
Many Democratic challengers are attacking Republican incumbents on two key issues – their support for repealing national health care policies that have proved popular, and cutting taxes that Democrats say mostly benefit the country's corporations and wealthiest taxpayers at the expense of the middle class. Barr supported the health care repeal and the tax cuts.
But there is little doubt that voter attitudes about Trump loom large over the midterm elections, and that the congressional contests are tantamount to a referendum on the president's performance and controversies swirling around him and his administration.
GOP votes
Republicans failed numerous times during the first months of Trump's presidency to repeal the 2010 national health policies championed by former President Barack Obama, Trump's Democratic predecessor. Republican lawmakers, when running for Congress two years ago, often said their first mission when they held majorities in both chambers of Congress would be to repeal and replace the law popularly known as Obamacare.
But in the end, Republicans could never amass a majority bloc of votes on just what would replace it, especially in the face of virtually unanimous opposition from Democrats who want to keep the law.
Trump, through executive orders, has chipped away at some of the law's provisions, and Congress eliminated a provision requiring that virtually all Americans buy health insurance or pay a fine.
But now, national surveys show the law remains popular and Democratic candidates like McGrath are attacking their opponents for trying to repeal it.
Somewhat the same scenario is playing out on taxes. Trump-supported tax cuts were approved by Congress in late 2017 without a single Democratic vote. With the cuts, workers across the U.S., for the most part, have seen bigger take-home paychecks since February.
But as the elections approach, Democrats continue to contend that the tax changes overwhelmingly help the richest Americans and are hammering Republican incumbents for approving the tax cut legislation.
Democrats torn
Even as the race for control of Congress unfolds, some Democrats are engaged in a debate among themselves about the best way to present themselves to the American electorate. Progressive members are offering plans calling for more government financing for health care, college education and infrastructure construction, while mainstream party members are suggesting more incremental changes.
In some urban, liberal strongholds, the progressives' views could prove decisive in House elections, but their positions have yet to gain widespread national prominence.
It is an intraparty fight that stems from the insurgent 2016 presidential candidacy of Vermont Senator Bernie Sanders, a self-described Democratic Socialist who eventually lost the Democratic presidential nomination to former U.S. Secretary of State Hillary Clinton, whom Trump in turn defeated.
The progressives have had mixed results in party primary nominating elections, winning some contests, such as Alexandria Ocasio-Cortez in New York and Ayanna Pressley in Massachusetts, but losing others to candidates with more conventional views.
The progressives are calling not just for preservation of Obamacare, but a government takeover of health care, or Medicare for All as they call it, to replace the traditional mix of private and government-run care in the U.S.
As border immigration disputes dominated the airwaves in the U.S. in recent months, some liberal Democrats also advocated shutting down the country's Immigration and Customs Enforcement (ICE) agency, but the idea quickly seemed to fade.
Republicans are not without political ammunition in trying to defend their majorities in Congress, as they point to strong economic growth in the U.S. that has occurred during Trump's tenure and low unemployment.
Political analyst Larry Sabato, head of the nonpartisan Center for Politics at the University of Virginia, said Republicans need to emphasize "the good economy, the good economy and the good economy. Republicans have to show concretely how the good economy, despite the trade war, is helping each district or state."
Democratic agenda
But Republicans are also arguing that Democratic control in Congress would upend Trump's conservative proposals.
As Barr's re-election campaign started in earnest, he said on Twitter, "My opponent is a radical progressive who will serve as a rubber stamp for the Democrats' agenda. Simply put, she's too liberal for Kentucky."
In an ad, Barr, trying to frame McGrath as out of touch with the conservative voters in the congressional district, presents a collection of stark black-and-white video clips of his opponent.
WATCH: Andy Barr campaign ad
Embed share
Political Ad by US Rep. Andy Barr
Embed share The code has been copied to your clipboard. width px height px
Share on Facebook
Share on Twitter
The URL has been copied to your clipboard
No media source currently available
0:00 0:00:30 0:00 Direct link
270p | 1.5MB
360p | 2.0MB
720p | 10.4MB
1080p | 8.1MB
"Who is Amy McGrath?" the Barr ad asks.
"Hell yeah, I'm a feminist," McGrath says. "I consider myself a progressive. I am pro-choice. I voted for Barack Obama." The ad notes she also voted for Democrat Clinton in the 2016 presidential election, whom Trump soundly defeated in the 6th congressional district en route to winning the White House.
McGrath called Trump's proposal to build a wall along the U.S.-Mexican border to thwart illegal immigration "absolutely stupid."
"Amy McGrath: Too liberal for Kentucky," the ad concluded.
The Democratic challenger immediately retorted: "When you can't run on your record, this is all you got. I sat on a runway on Sept. 11 with missiles strapped to my F-18 awaiting (presidential) orders to shoot down civilian aircraft to defend our homeland. What sacrifice have you ever made for our country over your party?"
Trump's name
While the back-and-forth political claims of Barr and McGrath may be standard political fare in the U.S., independent political analysts think that in many congressional districts, such as Kentucky's 6th and in the one-third of U.S. states where Senate races are being contested, there is an even bigger issue in the 2018 elections.
The question is whether Republican voters that national polls show overwhelmingly support Trump's White House performance turn out to vote in sufficient numbers across the country to keep Republicans in control of Congress. Or will Democratic opposition to all things Trump – his political stances, his rants on Twitter, his unpredictable relations with world leaders — and their apparent zeal to rebuke him turn the electoral tide against the U.S. leader?
Throughout recent weeks, national polls have shown Democrats with a more than 8 percentage-point edge in the generic congressional balloting against Republicans in House contests.
Political analyst Sabato thinks Democrats have a slightly better than 50-50 chance of taking control of the House while saying that Republicans remain the favorites to retain their slim 51-49 majority in the Senate.
Alan Abramowitz, a political scientist at Emory University in Atlanta, also says Democrats "have a good chance of taking over the House," possibly picking up 30 to 40 seats, while it is "certainly a longer shot" to claim Senate control.
Abramowitz said U.S. midterm elections "are becoming more nationalized" and "what we're seeing is Trump is going to be the big issue. Democrats would very much like this to be nationalized."