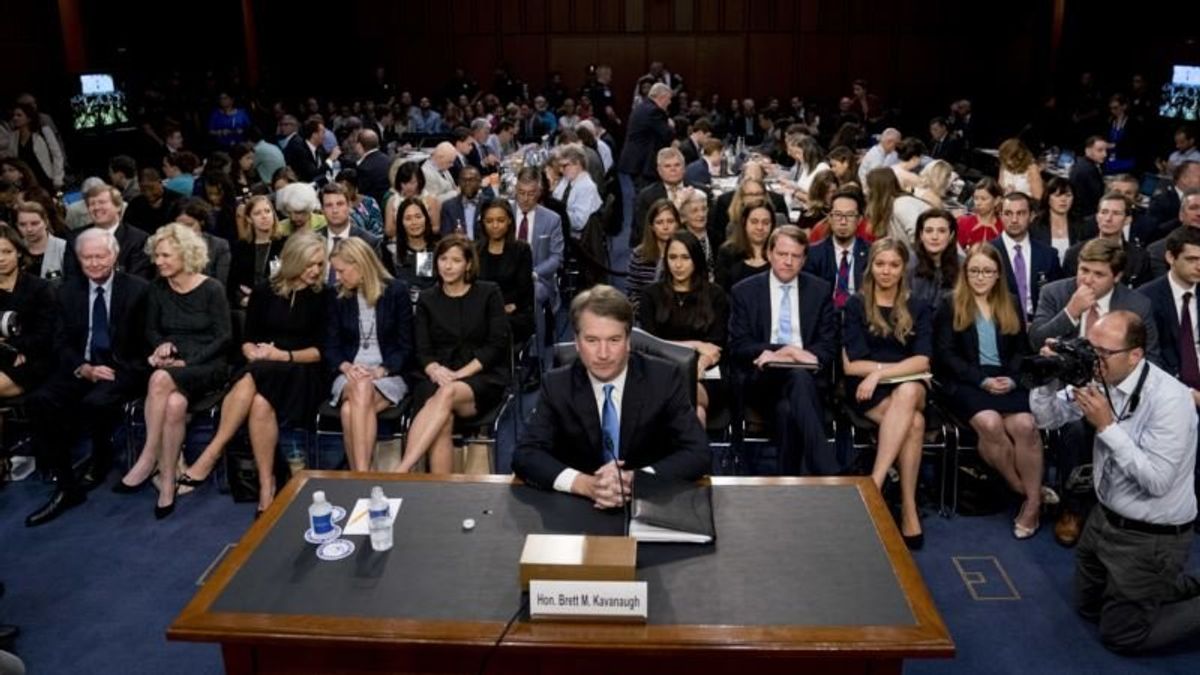 Supreme Court Nominee Kavanaugh Defends Judicial Independence
Supreme Court Nominee Kavanaugh Defends Judicial Independence
U.S. Supreme Court nominee Brett Kavanaugh portrayed himself Wednesday as an independent judge, one who would not be "swayed by political or public pressure" in deciding controversial cases.
In his first day of answering questions from the Senate Judiciary Committee at his confirmation hearings, Kavanaugh said that independence without prejudging cases is the "first quality of a good judge. I want the losing party in every case to walk out and say, 'Kavanaugh gave me a fair shake.'"
The 53-year-old appellate court judge, hoping to fill the vacant seat on the nine-member high court, told lawmakers he has not hesitated to make unpopular rulings in the past, citing his opinion in a case releasing Osama bin Laden's former chauffeur, Salim Ahmed Hamdan, from detention at the U.S. military prison in Guantanamo Bay, Cuba.
"You'll never have a nominee who's ruled for a more unpopular defendant," Kavanaugh said. He said judges should not make decisions based on who people are, but "whether they have the law on their side. My personal beliefs are not relevant."
Kavanaugh, however, declined to answer how he would rule on whether President Donald Trump, who nominated him to the high court, could be subpoenaed to answer questions from special counsel Robert Mueller about Trump's 2016 campaign's links to Russia and whether Trump, as president, obstructed justice by trying to thwart the investigation. Mueller has not subpoenaed Trump, but it remains an option in his ongoing criminal investigation of Russian meddling in the election two years ago.
Kavanaugh said he has a "completely open mind" on the subpoena question, but like other Supreme Court nominees in recent years would not answer queries about how he might decide any cases that he could face if he is confirmed by the Senate and becomes the court's 114th justice in its two-century history.
"No one is above the law in our system of justice," Kavanaugh said, describing the court's 1974 decision ordering President Richard Nixon to turn over White House tapes incriminating him in the coverup of the Watergate burglary as one of the four greatest Supreme Court decisions of all time, "a moment of judicial independence."
Vocal opposition
Numerous women's groups are opposing Kavanaugh's nomination. They fear he would vote on the court to overturn the 1973 ruling legalizing a woman's to right to abortion in the United States or weaken it by approving further restrictions to the medical procedure. Over the first two days of Kavanaugh's confirmation proceedings, dozens of women supporting abortion rights have shouted their opposition to him in the hearing room, with security officials promptly ejecting them and charging them with disorderly conduct.
Kavanaugh said he considers the Roe v. Wade abortion decision "an important decision … settled law" that has been "reaffirmed many times."
He described a 1992 decision reaffirming the original ruling as "precedent upon precedent." He said Americans "need to know the law is predictable. Precedent is the foundation of our system."
Kavanaugh also defended an appellate court ruling he made overturning an assault weapons ban, saying that he, as a judge on a court one level beneath the Supreme Court, had to follow its precedent as he understood it to uphold the U.S. Constitution's Second Amendment right to gun ownership.
Days-long hearings
Each of the Judiciary panel's 21 members is initially questioning Kavanaugh for half an hour, with more follow-up questions in the coming days.
In his opening statement Tuesday, Kavanaugh told them his philosophy is that judges should interpret the law and not make the law.
"The Supreme Court must never be viewed as a partisan institution," Kavanaugh said. "A good judge must be an umpire — a neutral and impartial arbiter who favors no litigant or policy."
He said that during his 12 years as a federal appeals judge in Washington, he decided more than 300 cases.
"I have ruled sometimes for the prosecution and sometimes for criminal defendants, sometimes for workers and sometimes for businesses, sometimes for environmentalists and sometimes for coal miners. I am a pro-law judge," he declared.
The nomination hearings are expected to last several more days, during which Democrats will likely try to portray Kavanaugh as someone too tied to Trump and who will push a conservative agenda on the high court. Republicans are expected to try to paint the nominee as an independent thinker and a principled jurist.
Kavanaugh's Republican supporters say he is one of the most qualified jurists ever to be considered for the nation's highest court.
They pointed to endorsements from fellow judges and Kavanaugh's legal associates, liberals and conservatives, including a number of women.
Democrats say they have considerable misgivings about Kavanaugh's pledge to be nonpartisan, saying he has a history of conservative political activism.
If he is approved by the panel, his nomination goes to the entire Senate, where Republicans will hold a slim 51-49 majority when Republican Jon Kyl fills the seat of the late Arizona Senator John McCain. So far, no Republicans have said they plan to vote against Kavanaugh.
If confirmed by the Senate, Kavanaugh would replace retired Justice Anthony Kennedy, a moderate conservative who was a swing vote on the court. He sided with the four liberals on such major rulings as upholding abortion and gay rights, and affirmative action to increase university admissions for racial minorities.